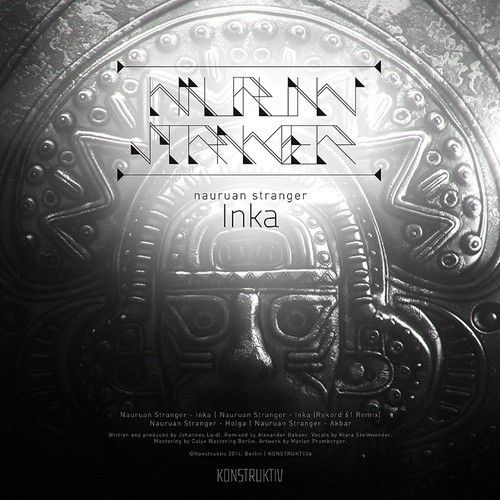 Nauruan Stranger – Inka EP
This June will see the release of Nauruan Stranger's 'Inka' EP via Berlin-based imprint Konstruktiv, backed with a remix from label-head Rekord 61.
Austrian based producer Nauruan Stranger made his mark at the tail end of 2013 with the 'Bot / Human' EP, released via the Konstruktiv imprint where he returns to here. The Berlin-based imprint's sound embraces a raw, gritty style focused on rugged rhythms, heavy bass and insistent grooves, making Nauruan's productions a perfect fit for the imprint.
The original mix of title cut 'Inka' opens up the single, seeing Nauruan embrace bumpy, off-kilter drums, murmuring, atmospheric vocal lines and penetrating chuggy bass hook. As the record progresses we see ethereal pads and sporadic vocal licks thrown into the mix, alongside analogue synth hooks and heady subs, creating a contemporary workout, which oozes warmth and charm. Label-founder Rekord 61 steps up next to rework 'Inka', the Berlin-based producer ups the tempo and instils a further grit into the original composition with menacing bass lines, baroquely evolving drum lines and an eerie tension throughout its six and a half minute duration.
On the latter half of the release we have two more originals from Nauruan Stranger, the first of which is 'Holga', the cut embraces a similar vibe to the preceding pieces, tipping the focus towards broken, dusty drum samples, whirring low-end tones and manipulated vocal snippets. The package is then rounded off with 'Akbar', this time the time signature takes on a 4/4 format with a weight kick drum and bubbling percussion, while a hypnotic 303 acid hook and intricately processed background atmospherics further fuel the mesmeric vibe of the record.
Nauruan Stranger's 'Inka' EP is out on Konstruktiv 2nd June 2014.
Tracklist
1. Inka
2. Inka(Rekord61Remix)
3. Holga
4. Akbar