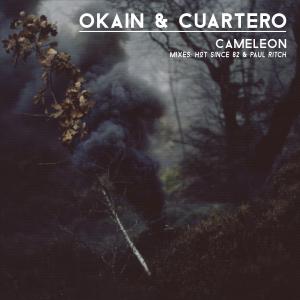 Okain & Cuartero – Cameleon
Hot Since 82 really can do no wrong. Off the back of last year's hugely successful LP 'Little Black Book', the thought­provoking video for his gorgeous track 'The End' and his appearance on the April issue Mixmag cover, Leeds­born producer and man of the moment Daley Padley last month announced his new label, 'Knee Deep In Sound'.
One release in, and it's so far so good. His single 'Don't Touch The Alarm' was named Pete Tong's Essential New Tune (Hot Since 82's second this year already!) and was received with high acclaim by DJs, the media and ravers alike. Now it's time to test his metal as an A&R!
So first up to the plate is Okain & Cuartero, a collaboration that sees two of the underground's hottest producers bang heads, beautifully connecting Paris and Malaga! 'Cameleon' is a jackathon of frenetic high­hats, surreal synths and futuristic basslines all scrupulously held together by a monolithic undertone.
"As soon as they boys sent me 'Cameleon' I had to have it. It's a crazy tune, I've been playing it out loads and it'll always be a special track for me as the first record I signed to Knee Deep!"
Remixes come from Daley himself, who turns in some of his finest work to date. You can tell the Yorkshireman's been revelling the 5­hour minimum DJ sets; this is straight up 4am journey business! And as if that was enough, Paul Ritch delivers a Carl Craig­esq rework fit for a King. Think Amnesia Terrace at 9am!
"Knee deep In Sound is something that I've always wanted to do. The idea came around after l was getting so much good music sent via facebook and twitter from artists that are just not getting the time of day from other label and that's something that I'm purely about. Giving back, giving time and my experience to others that want to live the same dream."
"The Knee Deep In Sound ethos is simple. Road­tested, forward thinking house music for the next generation. I feel like I'm in a good position now to exposure new artists and records, to give them the light of day and push them along with myself as a brand. It's all about the quality of the music: nothing more, nothing less."