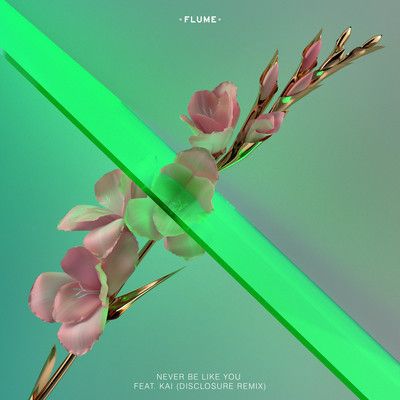 Flume - New Be Like You (remixes)
A new EP of remixes of Flume's "Never Be Like You," featuring Kai, is out today via Transgressive Records. Coming on the heels of Disclosure's rework of the track, the new EP features previously unheard versions from Wave Racer and Teengirl Fantasy. Stream the Wave Racer remix here, and get the whole EP here.
"Never Be Like You" is the first track unveiled from Flume's highly anticipated forthcoming album, Skin, coming later this year on Transgressive Records. The original has been streamed more than 48 million times since release last month, and is the first chart-topping single for the Sydney-based producer. The #1 single, which premiered on BBC Radio 1 as Annie Mac's 'Hottest Record'was subsequently added to the BBC Radio 1 B-List. "Never Be Like You" also reached #1 on Spotify's Global Viral Chart and #1 on Hype Machine, as well as climbing up the Top 100 Shazam charts.
Following a truly epic performance at the Roundhouse in London earlier this month, Flume has announced a handful of EU and North American dates this spring and summer including Parklife festival, Wildlife festival and Coachella. Tickets are available now at flu.me.
Since the 2012 release of his self-titled debut, Flume continues to receive feverish support from fans and critics alike, becoming one of the first artists to top 200 million Soundcloud plays and reaching more than 366 million streams on Spotify. Flume is 24-year-old Australian producer Harley Streten. After releasing his debut in Australia in November 2012 on Future Classic, Flume experienced wildfire success winning 2013's Triple J Award for Australian Album of the Year and four ARIA Awards for Producer of the Year, Best Male, Breakthrough Artist and Best Dance Release. He has since gone on to tour extensively worldwide including headlining Paris' Rock En Seine for over 40,000 fans and sold-out, multi-night runs in New York, Los Angeles, London and Berlin.
Flume's forthcoming tour dates are below:
9 APRIL – CEREMONIA 2016 – TOLUCA, MEXICO
17 APRIL – COACHELLA – CALIFORNIA, USA
24 APRIL – COACHELLA – CALIFORNIA, USA
14 MAY – SWEETLIFE FESTIVAL – COLUMBIA, USA
20 – 22 MAY – HANGOUT MUSIC FESTIVAL – ALABAMA, USA
3 – 5 JUNE – FORBIDDEN FRUIT – DUBLIN, IRELAND
11 – 12 JUNE – WILD LIFE – SHOREHAM BY THE SEA, UK
11 – 12 JUNE – THE PARKLIFE WEEKENDER – MANCHESTER, UK
17 JUNE – SONAR – BARCELONA, SPAIN
17 – 19 JUNE – NORTHSIDE FESTIVAL – AARHUS, DENMARK
18 JUNE – MAD COOL – MADRID, SPAIN
24 – 26 JUNE – SOLIDAYS -PARIS, FRANCE
30 JUNE – ROCK WERCHETER – WERCHTER, BELGIUM
30 JUNE – 3 JULY – FESTIVAL GAROROCK – MARMANDE, FRANCE
1 JULY – 3 JULY – MAIN SQUARE FESTIVAL – ARRAS, FRANCE
29 JULY – 31 JULY – OSHEAGA FESTIVAL – MONTREAL, CANADA
18 AUGUST – RED ROCKS AMPHITHEATRE – MORRISON, USA

SOME RECENT PRAISE FOR FLUME:

"…smoothly balancing chilled out trap effects with spacey ambient noise and future bass elements, going hard and soft at once — a duality expressed in the lyrics as well" – Billboard

"Diplo-endorsed singer Kai provides sumptuous and sterling vocals over sparkling half-time drops, like an instrumental B-side from FutureSex LoveSounds. The new R&B look is a good one for Flume" – SPIN

""Never Be Like You" heaves and shudders towards catharsis, oscillating between expressions of loneliness and forceful statements of independence" – The Fader
"It's a fragile, stuttering piece of electronic wizardry, caught somewhere between after-hours and the home studio" – Pigeons And Planes

"A spacious and defining effort from one of the world's most sought after producers" – Ministry Of Sound

"Flume has just stepped up his game about ten notches" – Indie Shuffle

www.flumemusic.com
www.facebook.com/flumemusic
www.soundcloud.com/flume
www.twitter.com/flumemusic
www.transgressiverecords.com