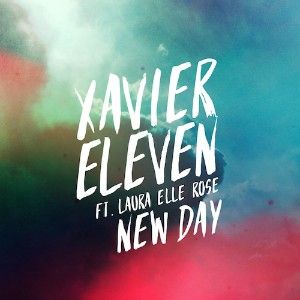 Xavier Eleven ft. Laura Elle Rose - New Day (Remixes)
Upcoming producer Xavier Eleven's 'New Day' gets the remix treatment from a trio of respected artists on this new package, due for release on the 3rd February via Nothing Else Matters – the label recently founded by renowned DJ Danny Howard and ex radio 1 figurehead Nigel Harding.
First up is both a radio and club length remix from Wookie. Widely regarded as an influential founding father of UK Garage, the renowned producer and remixer has given his touch to Xavier Eleven's original track. It's a two stepping take full of original melodies and live instrumentation, perfectly complimenting Laura Elle Rose's vocal style. The first remix to be teased from the EP, the track has already had support from Annie Mac, Mistajam, DJ Target, Toddla T and Danny Howard on BBC Radio 1.
Talented multi-instrumentalist and established producer Jakwob also puts his touch on 'New Day'; a stomping house remix with a distinctive synth melody, it's a club-ready new version of the track. He first shot to fame after the incredible popularity of his remixes of Ellie Goulding 'Starry Eyed' and 'Under the Sheets', and has since been in demand remixing the likes of M.I.A, Jessie J, Lana Del Rey, Usher and Sigma. His original productions 'Fade' and 'Somebody New' were big UK hits, reaching #5 and #2 in the Indie charts respectively.
Glaswegian duo Illlyus & Barrientos round off the package with a late night house version, the vocals taking a back seat to a grooving bassline.
Xavier Eleven was the man behind UK funky hit 'Make It Funky For Me' as one half of Attaca Pesante; this remix package ties together a number of players from across genres of the UK scene.
A multi-talented instrumentalist as well as producer, he is back in the studio producing fresh material after an inspiring hiatus exploring Asia. "Music has the power to change ones' mood and mindset in a positive way. That's why I love music, that's why I started making it."
Tracklist
Wookie Remix (Radio Edit)
Wookie Remix (Extended)
Jakwob Remix
Illyus and Barrientos Remix
About Nothing Else Matters
Nothing Else Matters is the new record label founded by BBC radio 1 DJ and former BBC colleague Nigel Harding. It launched in huge style with 99 Souls's hit 'The Girl Is Mine', and has since followed up with a mixture of both underground and radio-friendly releases, as well as a big event at London's The Steelyard. Danny said about the label: "Everyday I'm discovering new tracks and extremely talented artists. Aside from supporting them on air and on the dancefloor, I've always wanted a way in which I can help even more people hear these incredible sounds."
For more information on Nothing Else Matters, please visit
https://www.facebook.com/nothingelsemattersNEM/
https://twitter.com/nothingelseuk
https://soundcloud.com/nothingelsemattersuk
For more information on Xavier Eleven, please visit
https://www.facebook.com/xavier11music/
https://twitter.com/xavier11music
https://soundcloud.com/xaviereleven