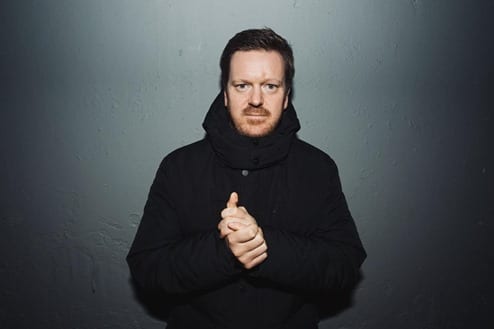 New Label 'NRTHRN XPRSS' Launches Infusing Tech House With Classic Rave.
NRTHRN XPRSS is a new label showcasing the sound of quality tech house infused with classic rave samples, a fresh sound gaining momentum across Asian dancefloors. The first release on the label, 'Acid Reflux' comes from esteemed producer Cabarza (aka one half of Pirate Copy) and shows off this sound to great effect, featuring a huge riff from a classic rave anthem. Created by respected DJs and music industry figures, DJ Ricky Stone and Jonathan M Waller, NRTHRN XPRSS aims to champion this sound, bringing together elements of driving tech house and party starting rave samples to deliver an arresting and energetic style, set to tear up dancefloors worldwide in 2018. 'Acid Reflux' is due for release on 15th December on Beatport and on all other download stores from 29th December.
A household name in Asian club culture yet originally hailing from Sheffield, DJ Ricky Stone has produced dynamic club cuts such as the likes of 'Shanghai Taxi' and 'Control The Universe'. For years, Stone's wide-ranging skills in the booth have seen him tour extensively across China, Japan and Taiwan (and then be catapulted into the illustrious list of the DJ Mag Top 100) and it was through this touring where he first recognised the rise of the tech-rave sound. Along with Jonathan Waller – the director of Strikeforce 360 Media, a distribution, publishing and management company whose clients include the likes of Circus Recordings, Selador and Kaluki Musik – the pair wanted to bring this sound to the rest of the world, and so launched NRTHRN XPRSS as the vehicle to do so. As well as sharing this international music trend, NRTHRN XPRSS aims to inject smiles and good times back into house music, harking back to a piano-laced rave sound that Stone lived through in the first wave of rave at clubs like Amnesia House and The Eclipse.
Cabarza, the man behind the superb first track on NRTHRN XPRSS, has had recent success with tracks on Stereo Productions and Circus Recordings, such as 'Degenreization' that became a big club hit climbing high in the Beatport Tech House chart. Previously, Cabarza also worked as one half of Pirate Copy and produced plenty of big tunes on labels likes Elrow and Kaluki. He has also turned out high class remixes of De La Swing, Darius Syrossian and Carlo Lio under that alias, and though now going solo, remains in demand and as fresh as ever.
The track itself, 'Acid Reflux,' is primed for the dancefloor with barrelling drums, metallic percussion, and the instantly recognisable explosive riff. It's a slamming affair that nods to the old skool yet with a personality of modern tech-house. It's a massive way to kick off this bold new label.
A remix package will follow this impressive first single, which itself is sure to catapult the vital new mix of tech-house and classic rave into the public consciousness. In the coming months, the label will bring this innovative new sound to the global dance floor, with a range of top producers already lined up for future releases.
Get on board the NRTHRN XPRSS >> www.facebook.com/NRTHRNXPRSS
PRE ORDER
www.beatport.com/label/nrthrn-xprss/67077
LINKS
www.facebook.com/NRTHRNXPRSS
https://twitter.com/nrthrn_xprss
www.instagram.com/nrthrnxprss
www.facebook.com/djrickystone