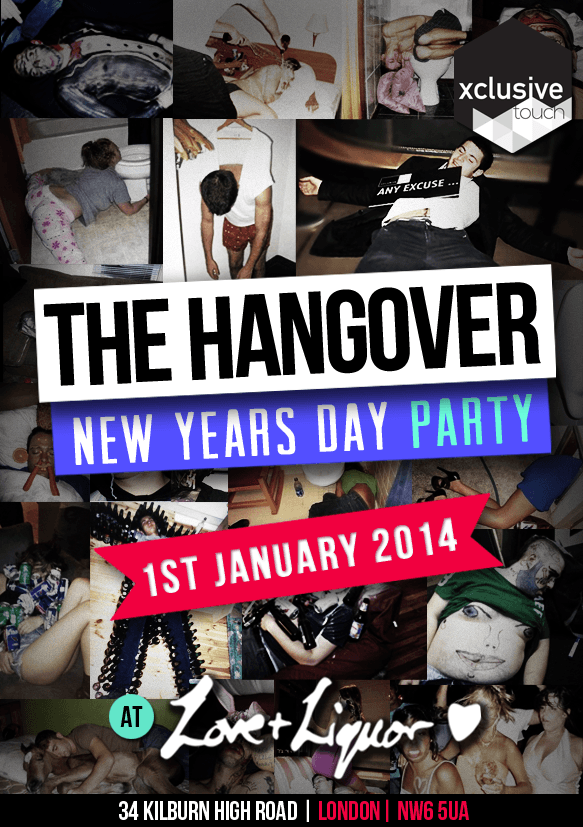 New Years Day The Hangover
Tickets https://original.pngwww.fatsoma.com/events/99452/
Kicking off the New Year with a bang our first party of 2014 will be hosted @ Love and Liquor, Kilburn. New Years Day is always a special occasion and the celebrations will be larger-than-life as the entire team parties under 1 roof.
We have carefully selected 4 of our hottest DJs for this event, namely; Rugrat, Jonny Bluestone, Sai & guest DJ Allisone – treat yourself and check out their mixes here: http://original.pngwww.xclusivetouch.co.uk/page/xclusivetouch-djs.
So if you are unsure where to party on New Years Day – look no further and nurse your hangover here.
***** A T T R A C T I O N S*****
– Prestigious London Venue
– 2 Spacious Rooms
– 4 DJ's playing a selection of music genres.
– Reasonable Drink Packages and Bar Prices
– Large VIP booths
***** E N T R A N C E *****
£10 (Early bird rate, price will rise closer to the date)
***** T A B L E S *****
Booking a table allows queue jump, a seating area for your group and 2 free entrances. Tables work on a minimum spend basis.
Regular – £150
– Reserved Table (Seats 6)
Premium – £350 (Seats 8)
– Reserved Table in Main Room
VIP – £500 (Seats 10)
– Reserved Booth in Main Room
These sections are very limited, please email [email protected] with the table and lead name you want to reserve under. No large all male groups on table reservations.
***** M U S I C *****
RnB, Hip-Hop, Ol' Skool & Club Classics in the main and Deep/Funky/Soulful House in the back area
***** D R E S S C O D E *****
Smart & Stylish. Strictly No baggy or ripped jeans, sportswear, trainers or plimsolls.
***** A D D R E S S *****
34 Kilburn High Road London NW6 5UA
TUBE: Kilburn High Road
***** C O N T A C T *****
For Guest list & Tables and Info
Email: [email protected]
Mob: 07780466113
Telephone: 020 7734 9116
BBpin: 7BEF3D7F
Follow @xclusivetouch