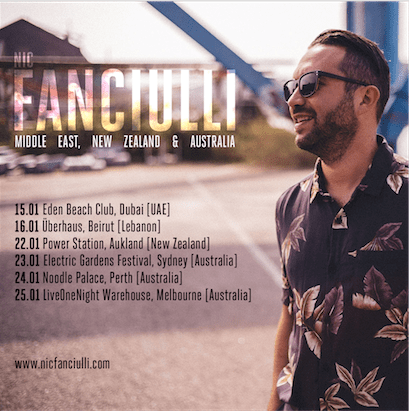 Nic Fanciulli announces six-date tour of The Middle East, Australia & New Zealand
Having celebrated a decade of Saved Records, presented his debut 'Around The World' Tour, hosted his La Familia residency at Ushuaia in Ibiza for a second year running and continued to work on his long-awaited debut album, 2015 has been a hectic year for Grammy-nominated DJ & producer, Nic Fanciulli. Now with 2016 just around the corner, he's announced a six-date stopover tour across the Middle East, Australia & New Zealand.
Starting with dates in both Dubai & Beirut at Eden Beach Club & Uberhaus, Nic will then hit up the Power Station in Auckland for his only New Zealand show, before rounding things off in Australia in the lead up to Australia Day 2016. With dates running through three of Australia's biggest cities – Sydney, Perth & Melbourne – Nic's performances at Electric Gardens Festival, Noodle Palace and LiveOneNight Warehouse will mark his first tour in Australia since championing his Balance compilation four years ago.
Please see below for a full list of dates.
Tour Dates
15th Jan – Eden Beach Club, Dubai
16th Jan – Uberhaus, Beirut
22nd Jan – Power Station, Auckland
23rd Jan – Electric Gardens Festival, Sydney
24th Jan – Noodle Palace, Perth
25th Jan – LiveOneNight Warehouse, Melbourne