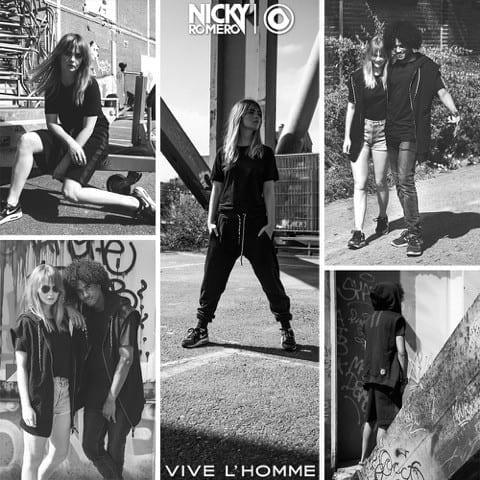 NICKY ROMERO LAUNCHES CAPSULE COLLECTION
Known for collaborating with some of the finest talents in the music world, for his most recent endeavor Dutch DJ and award-winning producer Nicky Romero – real name Nick Rotteveel – has set his sights on a very different kind of collaboration. Teaming up with one of his favorite fashion labels, Romero now launches his very own capsule collection in association with Dutch fashion brand Vive L'Homme.

Having previously worked with Vive L'Homme's founder Timothy Wattimena for his merchandise line, Romero seized the opportunity to take this collaboration one step further, working together to create a more high-end collection of simple yet iconic pieces. Marking a complete departure from his tour apparel, the NICKY ROMERO X VIVE L'HOMME collection sees Romero step into the role of designer, handpicking a variety of wardrobe staples that would appeal to even the most fashion conscious.

Comprised of seven carefully selected items of clothing ranging from a sleeveless fleece and sweat pants to a long oversized hoody and even a limited edition fan tee for his loyal supporters, each piece has been made in Italy using only the highest quality fabrics to ensure they are not only fashionable but comfortable and long lasting too. With the utmost attention to detail given to ensure the very best design and fit and featuring very discreet branding, Romero has delivered a classic and timeless line for an effortlessly stylish and laidback look with his latest venture.

As someone who spends his life on the road, Romero recognized the need for fashionable attire that combines comfort and style. Speaking about his line, Nicky said:

'Vive L'Homme has always been a label I've worn, be it on stage, at dinner or at home. Collaborating with my team on a small collection with Tim Wattimena was an awesome experience and I'm super happy with the collection. I guess the hoody is my favorite piece, it gets more attention than I do!'

Launched at Miami Music Week during an exclusive event at a special pop up store in La Street the collection is now available at shop.nickyromero.com and coming soon to selected retailers worldwide.