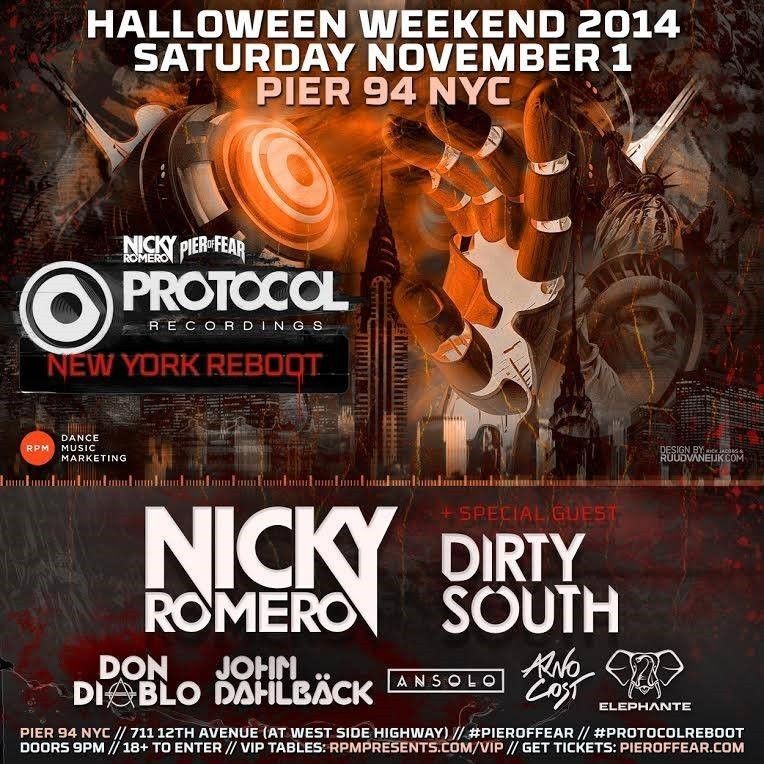 NICKY ROMERO & PROTOCOL RECORDINGS PRESENT PIER OF FEAR NEW YORK REBOOT
With Halloween just around the corner, Pier of Fear featuring Nicky Romero and Dirty South is THE show of this upcoming Halloween weekend and this is your last chance to get tickets to this truly epic event! As this is Nicky Romero's final performance in New York for 2014 and the first time Dirty South has played there since the Spring, it's promising to be one hell of a night that cannot be missed.

BUY TICKETS TO 'PIER OF FEAR'

Taking place on All Saints' Day, this is the perfect excuse to get dressed up and celebrate Halloween to a soundtrack crafted by two of dance music's finest. The ideal site for this larger-than-life gathering, Pier 94's open warehouse feel and cutting edge sound system perfectly compliments the big-room sound that Team Protocol have become so famous for.

As if Nicky Romero and Dirty South were not enough, other acts include Protocol team mates Arno Cost, Don Diablo, John Dahlback, Ansolo and Elephante.

"Pier of Fear has historically been one of the biggest & best parties of the year, and we're continuing the tradition this year with some of the hottest acts in dance music Š we're working the clock to present the best Halloween weekend New York has ever seen." – Eddie Dean. Owner of Pacha New York

Last year's Pier of Fear was an overwhelming success with the likes of Krewella, Knife Party, Steve Aoki and many more taking over the venue for a weekend of pure madness.

This is an 18+ event and the doors open at 9pm. The last remaining tickets are available at www.pieroffear.com, so head over there to make sure you don't miss out!

Check out the Protocol Reboot Summer 2014 Recap to get an idea of what's going to go down in the Big Apple this weekend!