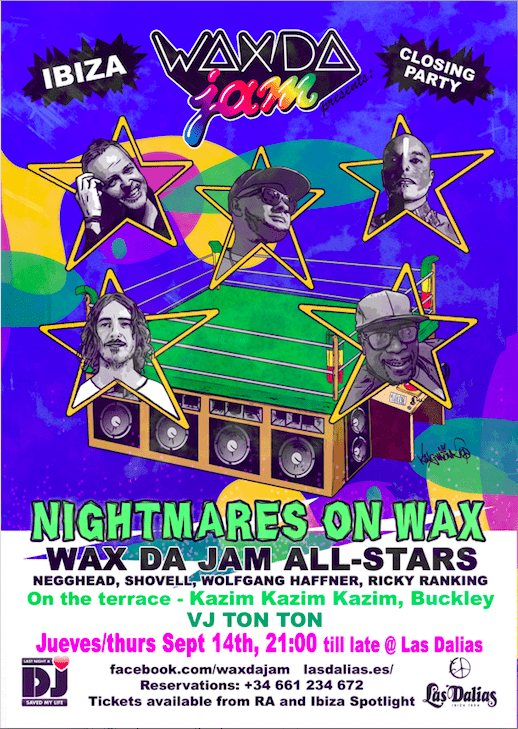 Nightmares On Wax presents: Wax Da Jam Ibiza grand closing
For the grand finale of season number eight Wax Da Jam is going back to its roots to deliver a special party that pays homage to how it all began. The idea behind its conception was to incorporate DJs and MCs with drummers and percussionists and encourage them to all come together in one jam session, and for the grand finale they will be doing just that with the original line up. These guys have been part of the Wax Da Jam fabric for eight years, and when they get together it's magic. May the brotherhood reunite to take you on a musical journey all night long.

The décor and theme of this summers events has given each a memorable and personal touch, and the send off is going to be in full on party mode. Welcome to carnival!

"Wax Da Jam is eight years old. Eight is the number of continuity, a full cycle.
So we're closing the season in style with the original crew that started Ibiza's people's party at Aura, its original home. Starring Shovell on percussion, Wolfgang Haffner on drums, Ricky Ranking on the vocals, Negghead my DJ partner in vibezzzzzz and myself Nightmares On Wax as the Spiritual conductor. Those that know, know! Those that wish they were there have this great opportunity to feel the foundations of what Wax Da Jam is all about – A Good Fun Loving Party! "– (DJ E.A.S.E) Nightmares On Wax

Wax Da Jam delivers their eighth season in Ibiza, offering something different and alive from the island's oldest discoteca, Las Dalias, with four special events, and the theme 'season of giving' – with 10% of their profits going to Last Night A DJ Saved My Life going towards building a well in Africa or India.

Wax Da Jam welcomes any age from 16 and over and the party happens inside and out, with good food, market stalls and so much more from 9pm to 6am. For the 2017 season, Wax Da Jam is offering the 'season of giving' as the motto. An ambassador for Last Night a DJ Saved My Life, a charitable organisation who create opportunities for the dance music industry to make a positive impact on children in crisis, George will be involving the foundation much more this season.
TREATS ON THE TERRACE
Las Dalias Restaurant
https://web.lasdalias.es/restaurante
Bookings: +34 971 32 68 25
Nightmares On Wax presents:

Wax Da Jam @ Las Dalias Ibiza "Season of Giving"

September 14th – Grand Closing Party
Wax Da Jam All-Stars

9pm – 5am

In The Club
Negghead
Nightmares On Wax
Shovell
Wolfgang Haffner
Ricky Ranking
On the Terrace
Kazim Kazim Kazim
Buckley

Visuals by VJ TON TON
Tickets: : Resident Advisor / Ibiza Spotlight
Check out footage from the first two Wax Da Jam events of 2017 with Fat Freddy's Drop and Seth Troxler
https://www.youtube.com/embed/QPtYisIi3xQ
https://youtu.be/WLK_D7fejRM