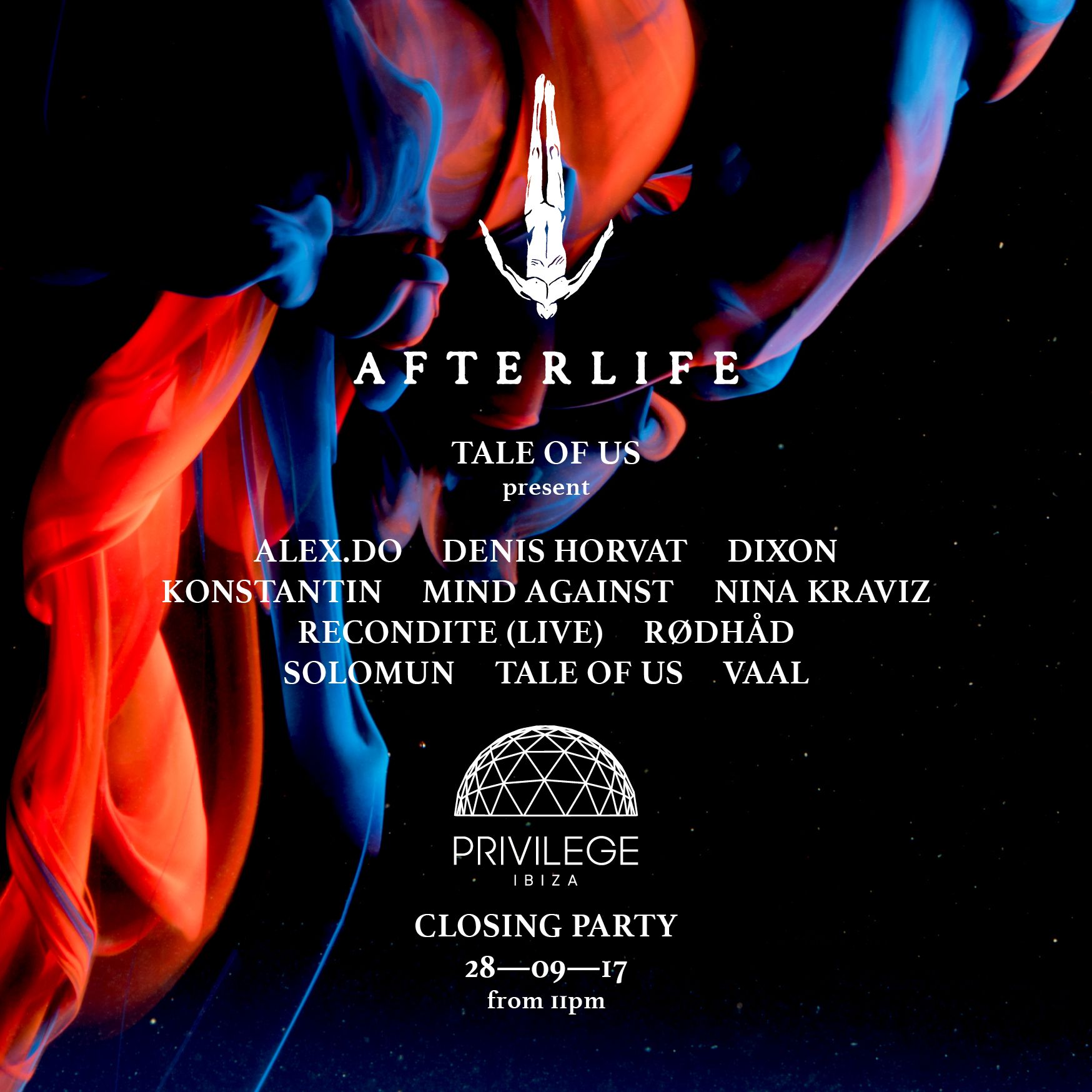 Privilege Ibiza and Afterlife Closing Party
Privilege Ibiza and Afterlife drop massive lineup for the 2017 Closing Party. 28th September is your last chance this season to experience the Afterlife odyssey at Privilege Ibiza and the unparalleled atmosphere at the biggest club in the world.
ALEX.DO / DENIS HORVAT / DIXON / KONSTANTIN / MIND AGAINST / NINA KRAVIZ / RECONDITE (LIVE) / RØDHAD / SOLOMUN / TALE OF US / VAAL
Thursday 28th September will bring the perfect close to a very successful 2017 summer for the biggest club in the world as it gears up for one last event this season together with one of the most forward thinking and unique concepts to ever land at Privilege Ibiza – Tale Of Us´ carefully curated Afterlife…14 weeks of musical bliss bearing the Italian duo´s trademark dramatic and emotional sound.
For this special occasion Privilege opens all doors. The cavernous Main Room, properly entitled the Hall for this night and adorned with the Afterlife production which gives that special vibe to their events, will play host to stellar acts and a special second appearance from Afterlife hosts Tale Of Us. The Closing Party will also see the Italian duo gracing the decks in their usual spot at Vista joined by Mind Against and Recondite, while Alex.Do, Dennis Horvat and Vall will take over the intimate Chamber.
To make this a truly memorable night Techno stalwarts Dixon and Solomun have also been added to the bill.
This is your last chance this summer to dive into the depths of the most immersive blend of techno that you´ll ever experience on the White Island. Early bird tickets are now on sale at privilegeibiza.com at the special price of 40 € for a limited period of time. Don´t miss out.
Info & Tickets
Follow us
Facebook PrivilegeIbiza
Instagram privilegeofficial
Twitter privilege_ibiza