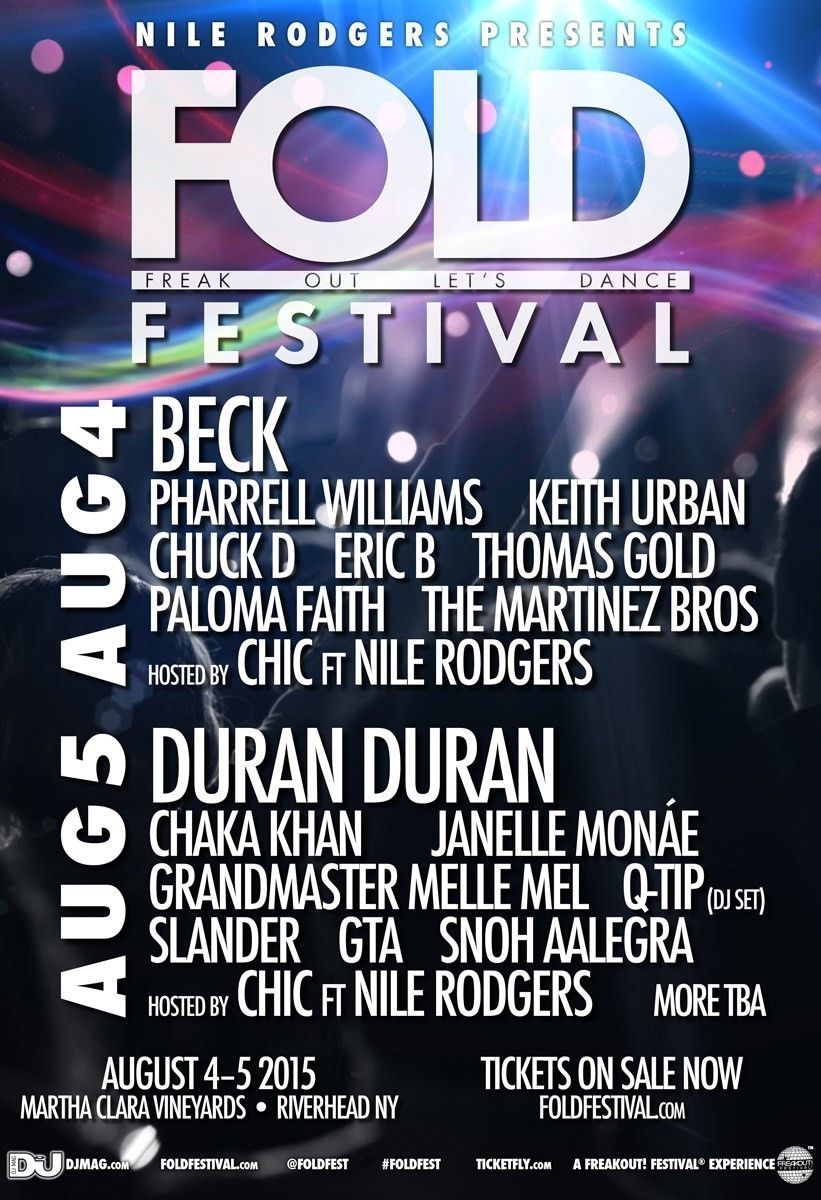 Nile Rodgers star-studded FOLD Festival
Grammy-winning composer, producer, arranger, and guitarist Nile Rodgers will produce, perform, and host the FreakOut! Festival®, an all-star concert to be presented at Martha Clara Vineyards in Riverhead, Long Island on August 4 and August 5, 2015. Co-produced by music industry veteran Michael Ostin and Peter Herman of Nile Rodgers Productions, the FreakOut! Festival® is a unique, once-in-a-lifetime event that will feature Rodgers and his multi-platinum band CHIC sharing the stage with music legends and contemporary trailblazers like Beck, Duran Duran, Paloma Faith, Grandmaster Melle Mel, Chaka Khan, Janelle Monàe, Q-Tip, Keith Urban, and Pharrell Williams, among other artists. In both scope and size, it's the first music festival of its kind on Long Island. It will be the ONLY time you will see the two most recent Grammy® "Album Of The Year" winners (Nile Rodgers/Pharrell, 2014 and Beck, 2015) perform together on the same stage and for some artists, the first time you will be able to see them perform live in 2015.
Destined to be the premier music event of summer 2015, the FreakOut! Festival® will bring the live music experience to a whole new level of spontaneity and excitement. The constellation of performers Nile Rodgers has invited to appear is truly world-class. Over two nights, Rodgers will create the ultimate mash-up between each artist's distinctive sound and his own groundbreaking style as a songwriter, producer, and founder of CHIC. The FreakOut! Festival® is the only place to see this roster of incredible acts join Rodgers, and in some cases, perform a set of their own hits with CHIC. In conjunction with this extraordinary two-day event, Rodgers will also conduct recording sessions with featured artists at a private studio outside the festival grounds.
Michael Ostin and Peter Herman have each collaborated with Rodgers in various capacities over the years. Ostin's esteemed career in music spans more than three decades as a former senior executive at Warner Bros. Records and DreamWorks Records, and co-founder of Rodgers' new Land of The Good Groove label distributed by Warner Bros. "I've worked with Nile for over 16 years," says Peter Herman. "We have created, performed and produced hundreds of concerts and festivals worldwide. I am thrilled to now co-produce The Nile Rodgers FreakOut! Festival® with Nile and Michael Ostin. Additionally, I have the great pleasure to be working with the awesome Town of Riverhead and to be a part of this culturally cool environment."
A special part of this two-day event will be the onsite DJ Magazine "DJ Tent" that will host the most cutting edge and notable DJs on the scene today, including: Autograf, Bad Royale, EC Twins, Eric B Greg Cerrone, GTA, Lea Luna, Lenno, Slander, Thomas Gold, The Martinez Brothers and Q-Tip. With a heritage spanning over two decades, DJ Mag has helped shaped the tapestry of the $6.9 billion dollar market dance music is today. Bold stories, big interviews, cutting edge technology, events and polls that set the industry standard, it is the definitive global dance music media brand.
As the last exit off the Long Island Expressway, the Town of Riverhead is the gateway to both The Hamptons and the North Fork of Long Island, and offers the perfect backdrop to enjoy and appreciate the uniqueness of the FreakOut! Festival®. Riverhead is known for its commitment to cultural events, as well as being a warm, friendly, and welcoming township distinguished by its vineyards, good wine, good food, and good people with an appreciation for the arts. The Suffolk Theater in downtown Riverhead will also be hosting The Official FreakOut! Festival® After Party from 11pm to 4am. Hotels and the Riverhead business community as well as The East End Arts are involved in the festivities. There is easy downtown access for ticket holders to Martha Clara Vineyard via Festival Bus Shuttles — Shuttles will pickup and return to the Riverhead Train Station and The Suffolk Theater hourly from 3pm to 12 am. (Free Parking can be found downtown and at the Train Station.)
The Town of Riverhead will receive a special allotment of Festival tickets at a special local price. Local tickets can be purchased with Riverhead Township government issued Resident Identification (i.e. drivers license or birth certificate) at the following locations:
Martha Clara Vineyard Box Office
6025 Sound Ave.
Riverhead, NY 11901
Phone: (631) 298-0075
The Suffolk Theater Box Office
118 E. Main St.
Riverhead, NY 11901
Phone: (631) 727-4343
All other FreakOut! Festival® tickets may be purchased through Ticketfly by visiting ticketfly.com. (Search: FOLD Festival.) All ages are welcome. Three-tiered ticket packages are available for this monumental cross-pollination of music:
GA — $137: General admission into the event • Parking or Transportation Shuttle from Downtown Riverhead (Suffolk Theater and Riverhead Train Station).
VIP — $399: Access to "The VIP Garden" featuring: Shaded VIP relaxation area • Complimentary VIP appetizers and dinner with two (2) beverage tickets and cash bar • Private, air-conditioned and flushable restrooms with attendants • Express VIP festival entrance and opportunity for exit and re-entry • Parking or Transportation Shuttle from Downtown Riverhead (Suffolk Theater and Riverhead Train Station). • And much more.
Ultra VIP — $999: Access to the Ultra VIP private viewing area at the main stage and Artist Compound featuring: Complimentary cuisine with top-shelf open bar, bag check, massages • Access to the Wine Tent with tastings for Super VIP guests • Private golf cart transport throughout the festival • Access to "The VIP Garden" ft: Complementary daily appetizers & dinner with two (2) beverage tickets and cash bar • Private VIP restrooms • VIP entrance & exit and re-entry • Dedicated concierge • Parking or Transportation Shuttle from Downtown Riverhead (Suffolk Theater and Riverhead Train Station).
Martha Clara Vineyards is located at 660 Herricks Lane, Riverhead, NY 11901 and is accessible by the Long Island Railroad (LIRR). Riverhead Train Station is approximately 15 minutes by car from the Vineyard.
TUESDAY, AUGUST 4, 2015
Parking Opens: 4:00 p.m.
Doors Open: 5:00 p.m.
Show Begins: 6:00 p.m. (ends at 11:00 p.m.)
Beck
Pharrell Williams
Keith Urban
Chuck D
Eric B
Thomas Gold
Paloma Faith
The Martinez Brothers
Hosted by: CHIC ft. Nile Rodgers
more artists TBA
emcee: Grandmaster Melle Mel
WEDNESDAY, AUGUST 5, 2015
Parking Opens: 4:00 p.m.
Doors Open: 5:00 p.m.
Show Begins: 6:00 p.m. (ends at 11:00 p.m.)
Duran Duran
Chaka Khan
Janelle Monáe
Grandmaster Melle Mel
Q-Tip
Slander
GTA
Snoh Aalegra
Hosted by: CHIC ft. Nile Rodgers
more artists TBA
emcee: Grandmaster Melle Mel
About Nile Rodgers
Rodgers has remained culturally relevant throughout his 40-year-career by constantly traversing new musical terrain and successfully expanding the boundaries of popular music. The co-founder of CHIC, Rodgers pioneered a musical language that generated chart-topping pop hits like "Le Freak" and "I Want Your Love," sparked the advent of hip-hop with "Good Times," and gave Sister Sledge the smash "We Are Family." His work in the CHIC Organization and his productions for artists like David Bowie and Madonna have sold over 200 million albums and 50 million singles worldwide, while his innovative, trendsetting collaborations with Daft Punk, Avicii, Disclosure, and Sam Smith reflect the vanguard of contemporary music. Fueling four decades of pop anthems with more than 200 production credits to his name, the scope of Rodgers' peerless influence is undeniable. Rodgers reflected on his extraordinary life and career in his 2011 self-penned autobiography Le Freak: An Upside Down Story of Family, Disco and Destiny, which Rolling Stone chose as one of its "23 Greatest Rock Memoirs of All Time."
If 2015 is any indication, Nile Rodgers is setting more precedents in his own illustrious career. Signed to Warner Bros., Rodgers will release It's About Time in 2015. It's the first new CHIC album in nearly 25 years, an historic undertaking that bridges two generations of CHIC, including late co-founder Bernard Edwards, drummer Tony Thompson, and Luther Vandross. "I'll Be There," the album's first single, went to #1 in the U.K. and topped the Billboard dance chart, while the accompanying video generated nearly three million views in less than a week. Rodgers also debuted "I'll Be There" in the U.S. during his highly anticipated appearance with CHIC on Jimmy Kimmel Live. Earlier this year, "Le Freak" was inducted into the 2015 Grammy Hall of Fame. Rodgers was recently elected to the NARAS Board of Governors and received the President's Merit Award during the Recording Academy's 8th Annual Grammy Week Celebration for the Producers & Engineers Wing of NARAS. He also appeared on the season 14 finale of American Idol as a performer and guest mentor to the Top 11 finalists.
Additional artists to be announced. For FreakOut! Festival® updates and additional information, please visit FOLDfestival.com and follow on social media:
Twitter: @NileRodgers, @FOLDfest, #FOLDfest
Instagram: @FOLDfest
Facebook: /FOLDfest, /NileRodgersOfficial