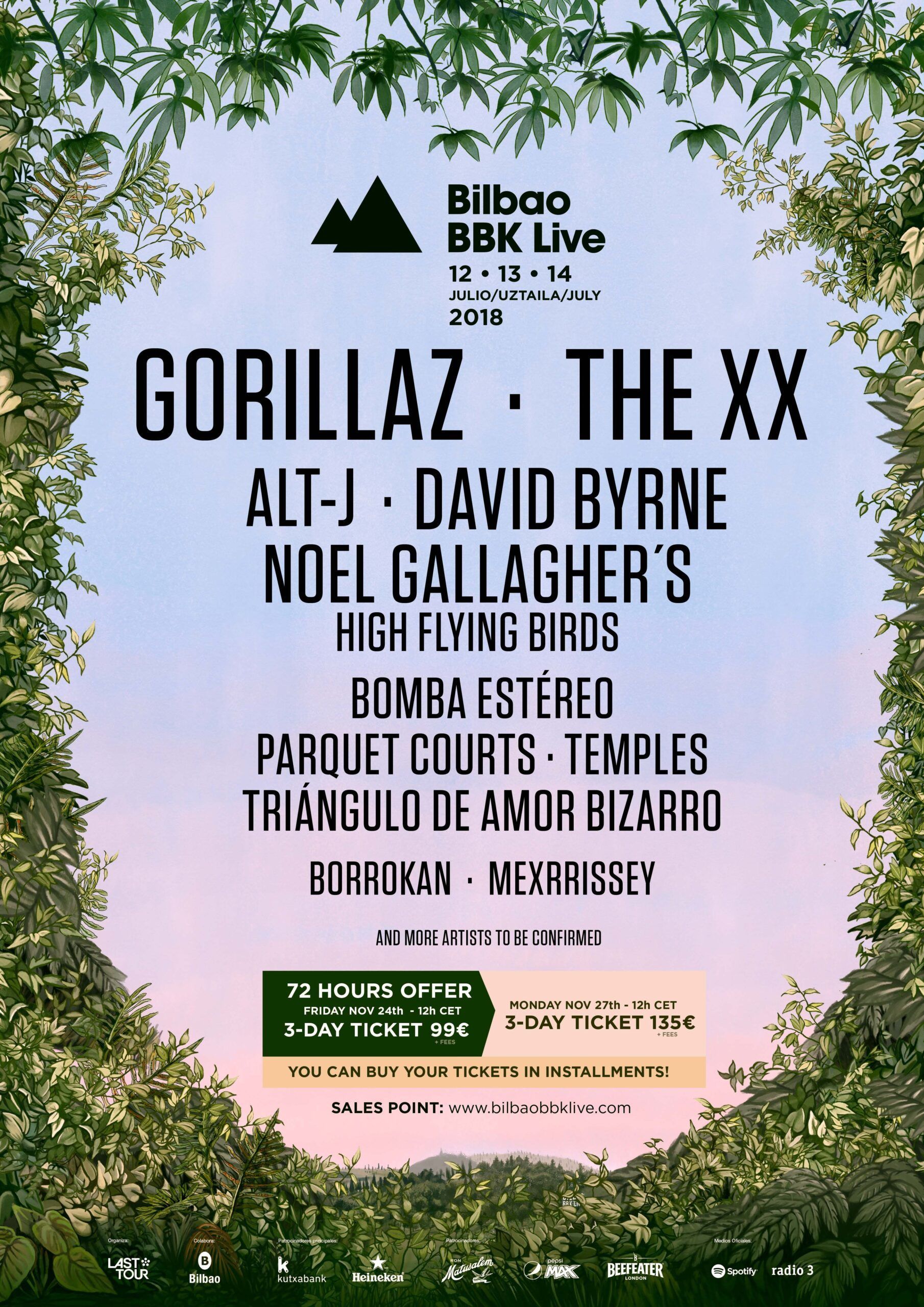 Noel Gallagher, alt-J and David Byrne lead new additions for Bilbao BBK Live 2018
Bilbao BBK Live unveils the second wave of acts for 2018. Noel Gallagher, alt-J, David Byrne, Bomba Estereo, Temples and more are set to join previously announced acts The xx and Gorillaz, on Bilbao's Kobetamendi Mountain in the heart of the Basque Country, from 12-14 July 2018.
With these new confirmations, the festival also announces a special 72 hour ticket offer, giving fans the chance to snap up a 3-day festival pass for just €99 + bf, before the price rises to €135 + bf at 1200CET on Monday 27th November.
Noel Gallagher is set to perform on an exclusive date in Spain at Bilbao BBK Live. Responsible for writing some of the most iconic hits of a generation, the former Oasis star continues his remarkable solo career today, with the release of highly anticipated new album with the High Flying Birds, Who Built The Moon', rated by Q magazine as his best work in the last decade.
Mercury prize winners alt-J continue their unstoppable musical career. With a number 1 record in the UK, nominations for Brit and GRAMMY awards, and the quality of their live performances, the band has forged a solid reputation. Now returning with their third studio album 'Relaxer', described by critics as a new classic of our time, they are sure to be a festival highlight.
Few active musicians manage to maintain the respect generation after generation as David Byrne. Founder of Talking Heads, prolific solo artist, composer, author and label head, Byrne never stops creating and innovating. Expect a very special production with a lot of surprises in store.
Bomba Estereo reinvented Latin musical culture and exported it to the whole world with electronics, rhythm, great songs and fantastic live shows. The Colombians, who have toured with Arcade Fire and been given props from Barack Obama no less, are guaranteed to put on a spectacular show on Kobetamendi.
Temples have enjoyed a meteoric rise since breaking onto the scene with their first demo on YouTube. Signed to Heavenly, the band's second album, 'Volcano', published this year, has consolidated them as one of the most relevant Psychedelic rock groups of the moment, with supporters that include Noel Gallagher, Suede, Kasabian and The Vaccines.
Also joining the line-up are Brooklyn rock band Parquet Courts; Triángulo de Amor Bizarro, one of the biggest acts on the Spanish independent scene; Mexrrissey, famous for reinterpreting the songs of the former leader of The Smiths with a Mexican touch; and experimental Spanish band Borrokan.
The new acts announced today join Mercury Prize winners The xx and Damon Albarn and Jamie Hewlett's Gorillaz, with lots more acts still to be announced.
With the festival taking place just moments from the city, there is plenty to explore before the music starts each day. Take a trip into culture-rich Bilbao to wander the winding streets of the old town, devour delicious pintxos, sample the famous michelin-starred Basque gastronomy scene, visit the impressive galleries and museums including the imposing Guggenheim, or soak up some sun on the beach. 3-Day Tickets start from just 99€. Book now at bilbaobbklive.com
BILBAO BBK LIVE
July 12, 13 and 14, 2018
Kobetamendi, Bilbao
Line-up
GORILLAZ
THE XX
ALT-J
DAVID BYRNE
NOEL GALLAGHER'S HIGH FLYING BIRDS
BOMBA ESTEREO
TEMPLES
PARQUET COURTS
TRIÁNGULO DE AMOR BIZARRO
MEXRRISSEY
BORROKAN
Tickets
General Admission 3-Day Ticket | 99€ + booking fee (special 72 hour offer only)
General Admission 3-Day Ticket | 135€ + booking fee (from 11am on Monday 27th July)
3 Day Campsite Access | 10€ + booking fee
You can also buy your 3 day ticket in 2 or 3 installments.
Book now at bilbaobbklive.com
Connect
Website http://bilbaobbklive.com
Facebook https://www.facebook.com/bilbaobbkliveoficial
Twitter https://twitter.com/bilbaobbklive
Spotify https://play.spotify.com/user/bilbaobbklive
Instagram https://www.instagram.com/bilbaobbklive