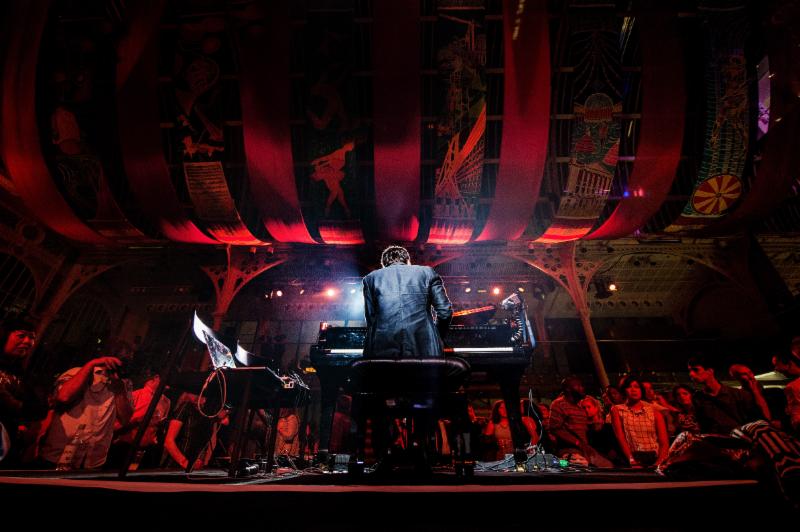 Nonclassical Presents: Rise Of The Machines
Following on from the success of previous large scale events, including Pioneers of Percussion and Pioneers of Electronics, Nonclassical presents Rise of the Machines in April 2016. This series has developed from ongoing societal discourse on the mechanisation of jobs – from factory workers to surgeons – and aims to place the debate in a musical context.
The centrepiece of the project will be an orchestral club night at Ambika P3 (University of Westminster), developed in collaboration with Southbank Sinfonia, on Friday 15 April 2016. The programme will include works that explore the mechanical in orchestral music from different perspectives, opening with a performance from pioneer of prepared piano, Klavikon and culminating in the UK premiere of Gabriel Prokofiev's Concerto for Turntables, Percussion, Trumpet and Orchestra, described by French critic Nathalie Krafft as "one of the finest scores composed for trumpet for a long time".
Other works include Alexander Mosolov's Iron Foundry (1927) – the orchestral grandfather to mechanical music – and the brilliant Alarm Will Sound arrangements of electronic wizard Aphex Twin's Cock Ver. 10 and Blue Calx, as well as Leroy Anderson's The Typewriter. The programme will also include the Fifth Movement of Gabriel Prokofiev's Concerto for Turntables – one of this year's BBC Ten Pieces. The orchestra will be conducted by Gerry Cornelius and the featured soloists include 4 times world DJ champion Mr Switch and percussionist Joby Burgess.
Other events in the series include an interactive schools' performance for KS3 students (11-14 year olds) on the afternoon of Friday 15 April, with a special focus on the BBC Ten Pieces' Concerto for Turntables and Orchestra. And on Wednesday 13 April, the Nonclassical Monthly Night at The Victoria (Dalston) also adopts the 'Rise of the Machines' theme, and features performances focussing on machine-based music and electronics from Tom Richards, Dead Fader and Nonclassical's 2016 Battle of the Bands winners Ensemble x.y
By enjoying the tension of human performers exploring mechanical rhythms, the series explores the relationship between orchestral music and technology, the future of robotics in music, and the potential of mechanised musical instruments to create innovative new music spanning several genres.
Full Programme
Gabriel Prokofiev, Concerto for Turntables, Percussion, Trumpet and Orchestra (UK premiere) Aphex Twin, 'Acoustica': Cock ver10
Aphex Twin, 'Acoustica': Blue Calx
Alexander Mosolov, Iron Foundry
Leroy Anderson, The Typewriter
Larry Goves, 'The clouds flew round with the clouds' for orchestra & electronics
Gabriel Prokofiev, Concerto for Turntables and Orchestra (5th movement)
Dmitri Shostakovich, Symphony no. 10 (Scherzo)
Klavikon, live, solo set
Tickets can be purchased online NOW at:
Wednesday 13th April 2016 | The Victoria, Haggerston
www.residentadvisor.net
Friday 15th April 2016 | Ambika P3, Marylabone
www.eventbrite.co.uk
LINKS & FURTHER INFO
Nonclassical Presents: Rise Of the Machines
Date: Wednesday 13th April 2016
Venue: The Victoria, 451 Queensbridge Road, London, E8 3AS
Doors: 8pm – 11pm
Date: Friday 15th April 2016
Venue: Amika P3, 35-100 Marylebone Rd NW1 5
Doors: 7pm – 10.30pm
WEBSITE:
www.nonclassical.co.uk