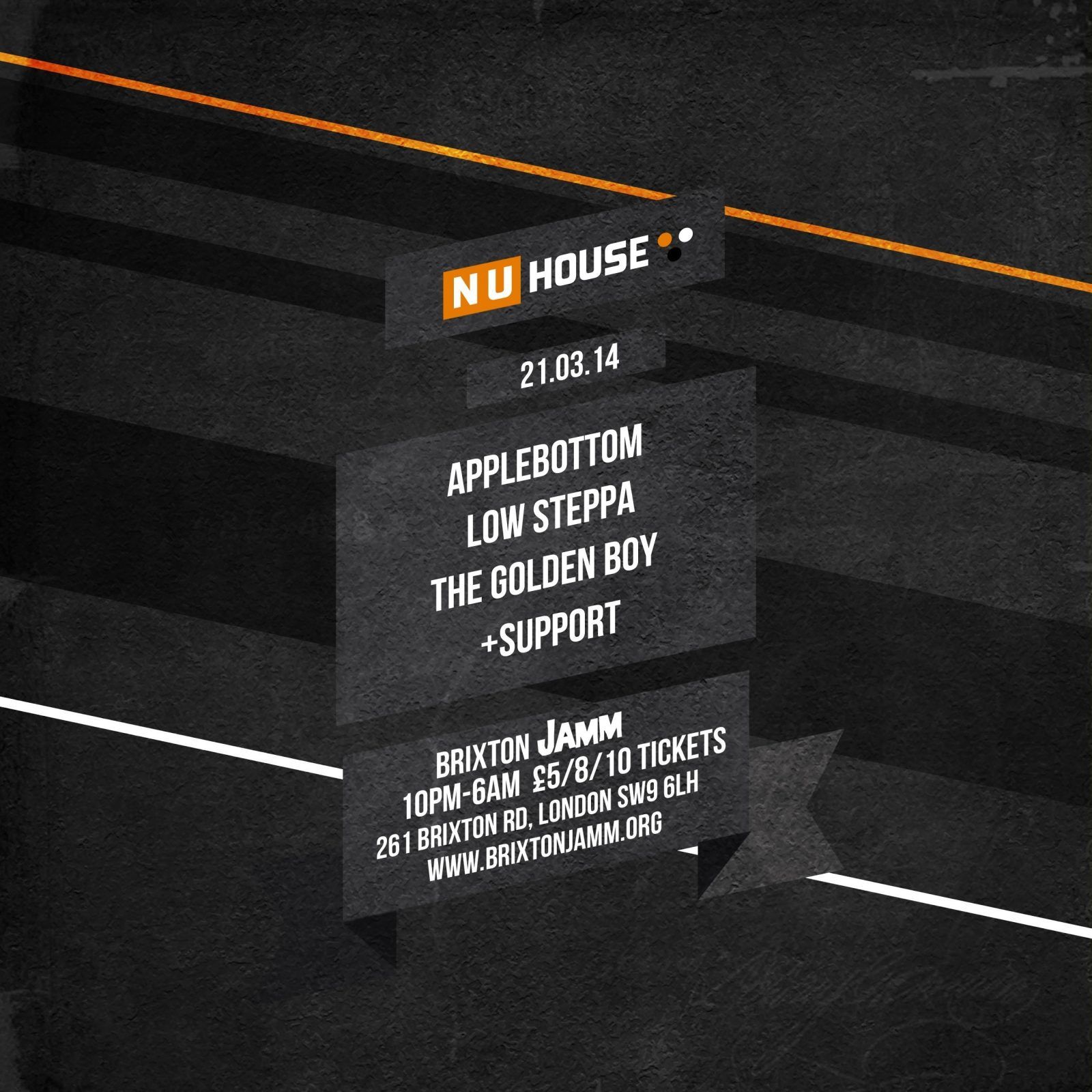 NU House Presents: Applebottom + Low Steppa + The Golden Boy @ Brixton Jamm
Tickets from Resident Advisor:
http://www.residentadvisor.net/event.aspx?563893
Early bird £5.00
1st release £8.00
2nd release £10.00
Exciting times for a new club night that brings to the fore a sound of house music that is as up front and forward thinking as they come. Influenced from the Garage, Bass and Jackin' end of the house spectrum, this sound with a distincly deep vibe is given pride of place at this ever growing party, Nu House.
Starting life as they meaned to go on, Nu House created their first parties by setting up a DJ stall at Allen Park in Brick Lane, only to see their sound and vibe attracting the whole park to get involved and with everything getting a little crazy, the Police was forced to shut the party down. They soon went on to support top artists such as Hannah Wants, Kolombo, and Martin Ikin in a series of shows. It is about time they became the focus and we can't wait to see the foundations shake at Brixton Jamm.
With a top class line up with some of the UK's finest house DJs and producers, there is no doubt this launch night for Nu House as a solo entity will be the start of something very special.
the line up:
Applebottom: https://soundcloud.com/applebottommusic
Every scene has its stars, and as far as this new generation of house enthusiasts goes, Joe Arthur aka Applebottom is undeniably one of its stars. His style is oft-imitated but never bettered, and his productions stand out for being anthemic in a sophisticated way, full of texture and detail, as well as laden with hooks and melody.
Since breaking through less than a year ago, Applebottom has been selling out club shows Nationwide week-in week-out, and this summer sees him play in Ibiza and Outlook festival in Croatia as well as countless festival gigs. Undeniably One of the stars of two of arguably the most exciting and dynamic labels of 2013, Kerri Chandler's MadTech and Eton Messy (on whose Youtube channel some of his tracks are close to a million views), it really does feel like the sky's the limit for this young Bristolian.
Low Steppa: https://soundcloud.com/low-steppa
Since the early years of this millennium he's been producing some of the finest bass music around under various guises, whilst touring the globe and rocking some of the world's best parties – from EDC in Los Angeles to Womb in Tokyo and his own record label Simma Black Records.
The Golden Boy: http://www.soundcloud.com/thegoldenboy1
Taking out the time to remodel the various strains of UK bass into a master class style of his own, it's safe to say the The Golden Boy knows his sub-text theory. While you were shuffling at the back, he was up front slinging big hitter licks, dropping signature taste maker moves, and realigning the profile of the dancefloor.
Check out the Nu House Youtube channel – https://www.youtube.com/nuhousepromo