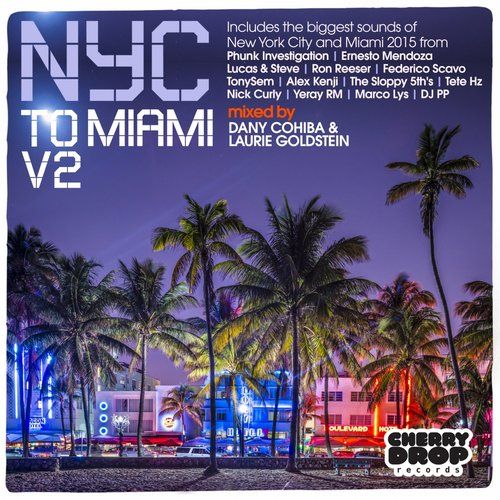 Mixed By Dany Cohiba & Laurie Goldstein - NYC To Miami V2
Oozing the allure of Miami's pool parties with the dark and esoteric sounds inspired by New York City's after hours. NYC To Miami Vol. 2 includes brand new exclusive tracks from Ernesto Mendoza, Angel One, Tony Chem, Tete HZ (Tete Hernandez), Yeray RM and exclusive remixes of Phunk Investigation 'Return of The Phunk' by Laurie Goldstein and Jesus Dominguez 'Sometimes' by The Sloppy 5ths. Mixed by Dany Cohiba & Laurie Goldstein.
With more than 20 years in the music business as DJ / record producer and more than 150 releases, Dany has gained the support of artists including Bob Sinclar, Erick Morillo, Stonebridge, Bob Sinclair, Tocadisco, Roger Sanchez, Peter Gelderblom and ATFC. Dany has worked with artists including Cher, Deep Purple, Jessica Sutta (The Pussycat Dolls), Crystal Waters, Eddy Cabrera, Peter Gelderbiom, Eddie Amador, Jerry Ropero, Ron Carroll, Eddie Amador and D.O.N.S.
Laurie Goldstein is a night crawler, party thrower and after hours deviant. Based in Brooklyn, Laurie DJs and throws party's in the big city and has produced records and remixes under various names for Crystal Waters, The Scumfrog, Pitbull, Luca Guerrieri, Phunk Investigation, Abity, Jay Saunders, Elaine S.U.Z.Y. Scott and Roland Clark.
Now available on all major digitial stores and streaming services including iTunes, Beatport, Amazon, Juno Download and Spotify
NYC To Miami Vol 2
NYC At Night Mix By Laurie Goldstein
1.0 Nick Curly – Hiya Power (Original Mix)
2.0 Federico Scavo – Pra Nao Dizer Que Nao Falei das Flor (Marco Lys Remix)
3.0 Abity – NR-2 (Laurie Goldstein Remix)
4.0 Ernesto Mendoza & Angel Heredia – Meeting (Angel Heredia Remix)
5.0 Alex Kenji – Channels (Original Mix)
6.0 Ernesto Mendoza & Angel One – Be The Same (Original Mix)
7.0 Steve Michael – Nothing (Original Mix)
8.0 TonySem – Street Kid (Original Mix)
9.0 Jesus Dominguez – Sometimes (The Sloppy 5th's Remix)
10.0 Tete Hz & Yeray RM – Feel My Drums (Original Mix)
11.0 Phunk Investigation – Return of The Phunk (Laurie Goldstein's After Hours Rework)
12.0 Continuous Mix
Miami Poolside Mix By Dany Cohiba
1.0 Liberty Klaud – Schmatz (Original Mix)
2.0 Dany Cohiba – Just Keep Movin (Original Mix)
3.0 2Elements – Cause You! (2Elements Mix)
4.0 Afriat & Maximus Bellini – Let It Free (Original Mix)
5.0 Christian Nielsen – Foxy Foxy (Original Mix)
6.0 Tete Hz, Yeray RM – Marea (Original Mix)
7.0 Vidaloca, Piem Feat. Marlon – Wicked Game (DJ PP Remix)
8.0 Ron Reeser, Tall Sasha feat. Elle Vee – Indigo Sky (Lucas & Steve Remix)
9.0 Toca Me – Fragma (Inpetto Remix)
10.0 Continuous Mix