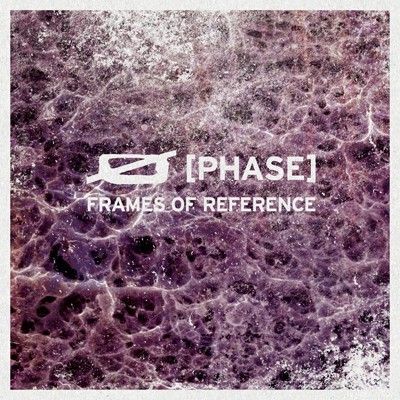 Ø [Phase] – Frames Of Reference
'Frames of Reference' is the some 12 years in the making debut album from UK based techno producer Ø [Phase].
Best known by his work on the Belgium based Token Records his style ranges from gritty minimal techno to Detroit influenced material. His debut 'Module Overload' was released on London's Lost/Cosmic records in 2000 and was followed by a string of productions for London's Surface/Inceptive Records and Ben Sims Ingoma imprint.
The move to Token came in 2007, he shortly after began DJing professionally and has since performed at parties across the globe whilst becoming a regular guest at Berlin's techno Mecca, Berghain performing alongside esteemed peers and supporters such as Marcel Dettmann, Len Faki and Ben Klock. His continued works have seen constant support throughout the techno world and have featured in CD mixes by Dave Clarke, François Kevorkian and Fumiya Tanaka amongst others. Alongside his production work Ø [Phase] is also a mastering engineer and on/off artwork designer. Starting out at London's prestigious Sony Music/Whitfield Street Studios, he has cut records for numerous underground dance acts as well as working on projects for mainstream artists.
Now after a string of acclaimed releases on Token and a selection of remixes for the likes of Robert Hood, Mark Broom and Peter Van Hoesen comes Ø [Phase]'s debut long-player 'Frames of Reference'. Opening with the brooding and building swirl of 'Binary Opposition (Process 3)' Ø [Phase] sets out his template of evolving, richly textured atmospheres underpinned by shards of dark and light. 'The Bwiti Initiate' revolves around a bouncing techno rhythm that could most certainly traverse the house/techno divide whilst 'Distracted' and 'Misaligned' are the kind of unadulterated, pummeling, cavernous techno tracks that have made Lost such a party institution.
Then we have tracks like the soft beating 'Just Another Dance' providing a lighter edge, embellished with warmth and strings and the thick, densely woven tapestry of 'Shadow Caster' which goes from experimental to dancefloor and back again with consummate ease. The off-kilter lilt of 'Perplexed' drags us further into the dark before keys and a hint of a melody draw us back upwards for air whilst the fat driving bass of 'Dirtro II' and funkier edged menace of 'On The Edge' show a virtuoso producer at the top of his game. The closing introspection of 'Self Deceit' wallows in subtle nuances before a mid section synth and string intervention pulls us back from the brink before finally descending into the void.
"I've intended to do an album for a long while. The tracks draw upon ideas going back to various points over the last 12 years or so – some of the hooks I wrote years ago other bits are brand new. In some ways I wanted it to reflect a personal arc and the way I tend to do things – never rushed!"
CD / 2LP incl. CD out on Token / N.E.W.S. in October | Cat.nr: TOKEN33CD
GIGS
07/09 Stereo, Glasgow
14/09 Berghain, Berlin
11/10 Mr. Wong, Brussels (Token label night)
16/11 Doornroosje, Nijmegen (Token label night)
Click here for the latest updates.

LINKS
www.facebook.com/ashleyphase
www.residentadvisor.net/dj/phase
www.tokenrecords.com/
www.facebook.com/tokenrecords?fref=ts
www.residentadvisor.net/record-label.aspx?id=1310
https://soundcloud.com/tokenrecords