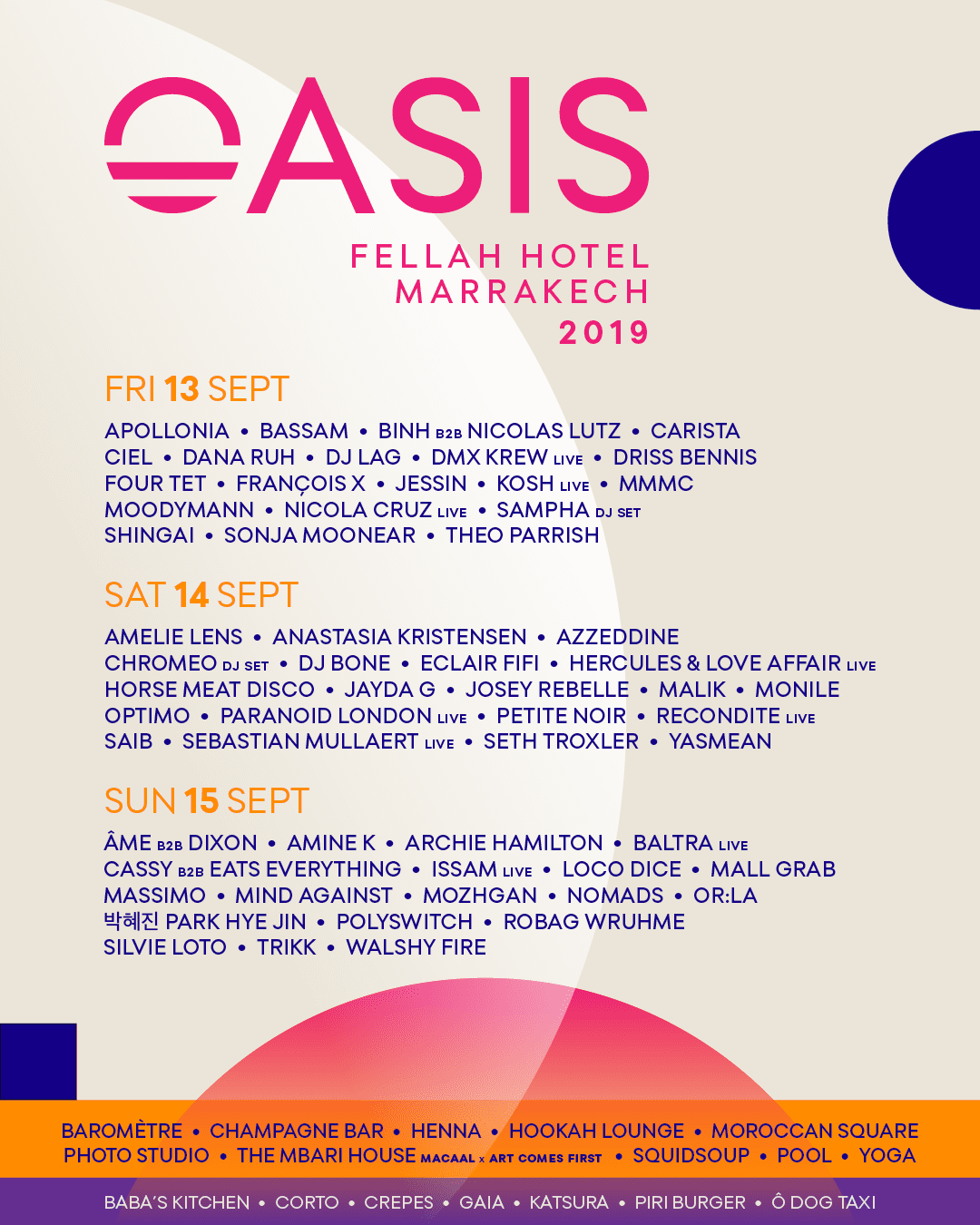 Oasis Festival 2019: Art Comes First X Macaal Present The Mbari House
Morocco's Oasis Festival turns 5 this year and unveils a new arts & culture space featuring music from Sampha, Petite Noir, Walshy Fire, DJ Lag and Issam, art and photography from influential African artists, panel talks, and lots more.
13-15 September 2019
Marrakech, Morocco
3-day festival tickets from 200€
Theoasisfest.com
Morocco's Oasis Festival unveils the 2019 arts and culture programme, including The Mbari House, a collaborative art space presented by the Museum of African Contemporary Art Al Maaden (MACAAL), Art Comes First (ACF) and Marché Noir, and a special installation from arts collective Squidsoup.
Launched in 2015, Oasis ignited a now thriving festival scene in Morocco, setting the bar high with world class headliners and high quality production, tempting adventurous travellers to dance somewhere different. The pioneering event will continue to be a source of local inspiration and global acclaim this September when the landmark fifth edition plays out in the shadow of the Atlas Mountains.
For this special anniversary edition, Oasis has invited MACAAL and Art Comes First to curate the programme for the festival's newest space 'The Mbari House'. Since first opening in 2016, not-for-profit art museum MACAAL, which is dedicated to the promotion of African art, has become a vital player in Marrakech's resurgent cultural scene. Together with London-based creative collective Art Comes First, led by Sam Lambert and Shaka Maidoh they have brought together a rich music, arts and culture offering for Oasis 2019. A tribute to The Mbari Club, the Nigerian arts, music and literary hub founded by Ulli Beier, The Mbari House will bring together the best of music, art, fashion and design from Morocco and beyond.
Music sessions come from Mercury Prize winner Sampha (DJ set), Noirwave innovator Petite Noir (Live), acclaimed Moroccan rapper Issam and Jamaican producer Walshy Fire, better known as one-third of influential, reggae/dancehall-inspired EDM outfit, Major Lazer. South African GQOM pioneer DJ Lag, Casablancan beatmaker Saib, Shingai, and ACF duo Voodoo Gents also join the bill, along with a whole host of surprise guest appearances throughout the weekend.
The Mbari House will exhibit artworks from French-Moroccan photographer Leila Alaoui, Malian photographer Malick Sidibé, Marrakech-based photographer M'hammed Kilito, Kenyan photographer Cyrus Kabiru, Moroccan artists Mohamed El Baz and Mustapha Akrim, along with live ceramic painting from Moroccan designer Bouchra Boudoua. 
Guests can also enjoy a series of insightful panel talks, including ACF (Sam Lambert, Shaka Maidoh), Marché Noir (Amah Ayivi), M'hammed Kilito and Bouchra Boudouaon the importance of sustainable design and Oasis founder Marjana Jaidi on the festival's five-year evolution from dancefloor getaway to multi-disciplinary cultural event. Finally, the pop-up store at The Mbari House will feature vintage treasures courtesy of Marché Noir, clothing by Art Comes First, a Polaroid Photo Project with Art Comes First and much more.
Elsewhere in the festival, Squidsoup, a UK-based, international collective of artists who create unique, dynamic light installations around the world, will make their Moroccan debut. The team, who have previously exhibited their work at leading galleries and festivals including TATE Britain, Sydney Opera House, Sonar, Burning Man and Glastonbury Festival, as well as collaborating with Four Tet on a series of events, will present two installations at Oasis.
As Oasis turns 5 there's plenty of musical treats in store for the festival. Headline sets come from Four Tet, Amelie Lens and Dixon B2B Âme, plus there's debut performances from party-starter Seth Troxler, BBC Radio 1 favourite Jayda G, Parisian trio Apollonia, Australian house maestro Mall Grab and Korean selector 박혜진 Park Hye Jin. Detroit heroes Theo Parrish, Moodymann and DJ Bone mix with Berlin tastemakers Dana Ruh and Anastasia Kristensen, and naturally there's an abundance of Moroccan talent on show, including Casa Voyager founder Driss Bennis, eclectic selector Yasmean, Moroko Loko founder Amine K, rising star Monile and acts including Polyswitch, Malik, Massimo and Nomads. 
Some of dance music's finest live shows will also land at Oasis Festival, including throwback house and disco act Hercules & Love Affair, downtempo Andean-electronic producer Nicola Cruz, master of techno melancholy Recondite, raw, lo-fi warehouse specialists Paranoid London and the expertly nuanced electronics of Baltra. Ibiza favourites Cassy and Eats Everything drop in for a back-to-back session and there's sets from Loco Dice, Optimo, Silvie Loto, Archie Hamilton, Or:la, Horse Meat Disco, Josey Rebelle, Sonja Moonear and many more.
Soak up the sun, dance beneath the stars, cool off in crystal clear swimming pools and enjoy breathtaking views of the North African landscape, all soundtracked by a forward-thinking line-up of electronic music's finest. The fifth edition of Oasis Festival is an utterly essential date on this year's festival calendar. 
Oasis 2019 takes place from 13th – 15th September 2019. For a taster of what to expect watch the Oasis Festival 2018 aftermovie. Book your place and keep up to date with all of the latest news at theoasisfest.com.
Oasis 2019 Line-up
Âme b2b Dixon | Amelie Lens | Amine K | Anastasia Kristensen | Apollonia | Archie Hamilton | Azzeddine | Bassam | Baltra (Live) | BINH b2b Nicolas Lutz | Carista | Cassy B2B Eats Everything | Ciel | Chromeo (DJ Set) | Dana Ruh | DJ Bone | DMX Krew (Live) | Driss Bennis | Eclair Fifi | Four Tet | François X | Hercules & Love Affair (Live)  | Horse Meat Disco | Jayda G | Jessin | Josey Rebelle | Kosh (Live) | Loco Dice | Mall Grab | | Malik | Massimo | Mind Against | Monile | MMMC | Moodymann | Mozhgan | Nicola Cruz (Live) | Nomads | Optimo | Or:la | Paranoid London (Live) | 박혜진 park hye jin | Polyswitch | Recondite (Live) | Robag Wruhme | Sebastian Mullaert (Live) | Seth Troxler | Silvie Loto | Sonja Moonear | Theo Parrish | Trikk | Yasmean 
ART COMES FIRST X MACAAL PRESENT THE MBARI HOUSE
Artists & Installations
Art Comes First x Marché Noir Pop-up Shop
Bouchra Boudoua (Morocco) | Cyrus Kabiru (Kenya) | Leila Alaoui (France – Morocco) | M'hammed Kilito (Morocco) | Malick Sidibé (Mali) | Mohamed El Baz (Morocco) | Mustapha Akrim (Morocco) 
Music
Petite Noir | Sampha (Dj Set) | Walshy Fire | DJ Lag | Issam (Live) | Saib | Shingai | Voodoo Gents | + Surprise Guests
Panels
Sustainable Art and Community
A discussion on the sustainability of culture, fashion, and design on communities at a global scale, and the role that artists play in driving this awareness. 
Speakers: ACF (Sam Lambert, Shaka Maidoh), Marché Noir (Amah Ayivi), M'hammed Kilito and Bouchra Boudoua
Moderator: Janine Gaëlle Dieudji, Exhibitions Director at the Museum of African Contemporary Art Al Maaden (MACAAL).
Five Years Of Oasis
Oasis founder Marjana Jaidi sits down with the festival's media director Ross Gardiner to chat about Oasis' five-year evolution from Moroccan dancefloor getaway to multidisciplinary cultural festival.
LISTEN
Oasis 2019: The Mbari House Playlist
CONNECT
w:  theoasisfest.com  | fb: @theoasisfest  | ig: @theoasisfest  | tw: @theoasisfest