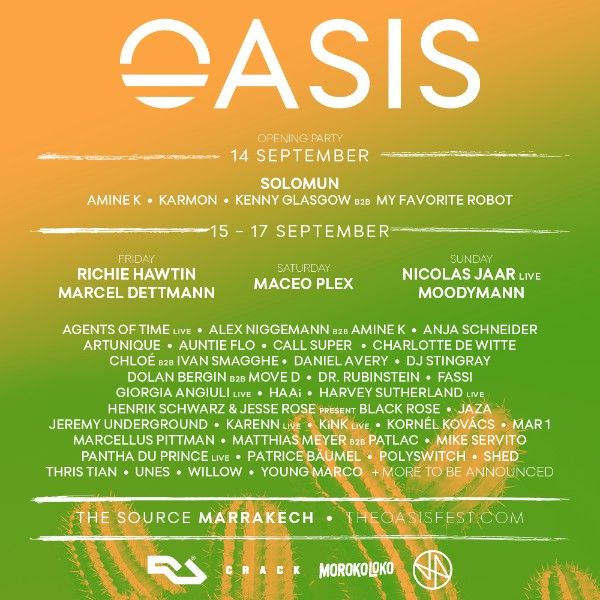 Oasis Festival Morocco adds even more acts!
All eyes will be on Morocco this September as Oasis festival returns to Marrakech for its third edition, bringing a world-class music line-up to music resort The Source. The third wave of acts are revealed today, including Agents Of Time (live), Black Rose, Call Super, DJ Stingray, Dr. Rubinstein, Pantha du Prince, Shed, Willow and more. With acts including Richie Hawtin, Maceo Plex, Nicolas Jaar, Marcel Dettmann, Anja Schneider, Moodymann, KiNK and Charlotte de Witte also on the bill, this is set to be the biggest edition to date. Check out the teaser video for more confirmations: https://youtu.be/-BR9Uu-RIB8
There's not many festivals in the world where you can ride a camel in the desert by day and dance beneath the stars by night, soundtracked by the biggest stars of the electronic music scene. Founded in 2015, Oasis has put North Africa firmly on the map as the must-visit festival destination of the moment. Nestled on the outskirts of the bustling city of Marrakech, the festival continues to showcase the finest international talent, as well as shining the spotlight on the flourishing Moroccan electronic music scene.
DJ Stingray has been an innovative force in the world of Detroit techno for over twenty years. Through his unconventional techno offerings, the balaclava-clad DJ has captured the attention of alternative audiences worldwide. As a blanket of darkness envelops the Atlas Mountains that backdrop the festival, his distinctive high tempo, high impact sound will set the tone, making for an intense and electric atmosphere at Oasis 2017.
Underground techno specialist Call Super also makes the journey to North Africa for Oasis festival this September. The British Producer recently dropped his Fabric 92 mix to a stellar reaction from fans and media alike, with Resident Advisor slating him as 'one of the most striking artists in electronic music right now' and Pitchfork praising his 'spellbinding selections'.
Performing live at Oasis are Dial regular Pantha Du Prince, analogue protagonists Agents Of Time and Italian multi-instrumentalist Giorgia Angiuli. Plus, Made to Play label head Jesse Rose will join previously announced German producer Henrik Schwarz as they bring their emotive collaborative project Black Rose to the main stage.
Manchester DJ and producer Willow also stars. Since 2015 breakthrough track 'Feel Me', the wax-loving selector has been marked out as one of the most unique talents on the house scene, not least by supporter and house heavyweight Move D who also makes an appearance at this year's Oasis, joined in a B2B set by Electric Minds' Dolan Bergin. Other notable B2B sessions announced today include Chloé b2b Ivan Smagghe and Alex Niggemann b2b Amine K.
Shed will make his Oasis debut this September. The Hard Wax and Ostgut man is one of techno's most respected producers, with latest LP 'The Final Experiment', released through Modeselektor's Monkeytown label, receiving wide-acclaim. Fellow Berlin techno selector Dr. Rubinstein also joins the bill, along with rising star of the London scene, HAAi.
The new acts revealed today join an incredible roster of talent at Oasis from 15th-17th September, including techno pioneer Richie Hawtin, Ellum label founder Maceo Plex, Chilean-American musician Nicolas Jaar, Berghain resident Marcel Dettmann, Detroit selectors Moodymann and Marcellus Pittman, and hardware maestros KiNK and Karenn. Moroccan electronic music ambassador Amine K returns for his third appearance at Oasis, along with fellow Moroccans Jaza and Unes, plus there's festival debuts from Anja Schneider, Auntie Flo, Charlotte de Witte, Chloé, Daniel Avery, Jeremy Underground, Kornél Kovács, Mike Servito, Patrice Bäumel, Polyswitch, Thris Tian, and Young Marco. All this, plus the festival's official Opening Party, which features a special 4-hour set from Ibiza main man Solomun, Kenny Glasgow b2b My Favorite Robot, Amine K and Karmon.
With sun-kissed days and starlit nights soundtracked by an impressive league of house and techno talent in the luxurious surroundings of The Source, Oasis is made complete with stage-side swimming pools, daily yoga sessions, lush gardens, adventures in Marrakech, and stunning views of the nearby Atlas Mountains. Oasis brings the finest slice of festival paradise to the ancient world of Marrakech, creating a truly unique cultural experience.
Watch the magic from Oasis Festival 2016 in the aftermovie: youtu.be/r9qW2l6rzb0
Oasis Festival Marrakech. Where the desert meets the dancefloor. Packages (inclusive of hotel and festival wristband) start from €209 EUR + BF. Book your place at theoasisfest.com.
OASIS FESTIVAL 2017
14-17 September
The Source, Marrakech, Morocco
Theoasisfest.com
OPENING PARTY (14th September)
Solomun, Amine K, Karmon and Kenny Glasgow B2B My Favorite Robot
LINEUP (15th – 17th September – new acts in bold)
Agents Of Time (live) | Alex Niggemann b2b Amine K | Anja Schneider | Artunique | Auntie Flo | Call Super | Charlotte de Witte | Chloé B2B Ivan Smagghe | Daniel Avery | DJ Stingray | Dr. Rubinstein | Giorgia Angiuli (live) | HAAi | Harvey Sutherland (live) | Henrik Schwarz & Jesse Rose present Black Rose | Jaza | Jeremy Underground || Karenn (live) | KiNK (live) | Kornél Kovács | Maceo Plex | Mar1 | Marcel Dettmann | Marcellus Pittman | Matthias Meyer B2B Patlac | Mike Servito | Moodymann | Move D b2b Dolan Bergin | Nicolas Jaar (live) | Pantha du Prince (live) | Patrice Bäumel | Polyswitch | Richie Hawtin | Shed | Thris Tian | Unes | Willow | Young Marco
TICKETS
Opening Party (Thursday) | Tickets from €52 on sale now at www.theoasisfest.com/tickets/opening
Weekend Pass (Friday – Sunday) | Tickets from €179 at www.theoasisfest.com/tickets
PACKAGES
Packages (inclusive of hotel and festival wristband) start from €209 EUR + BF.
Book now at www.theoasisfest.com/packages
Flight packages are also available at www.theoasisfest.com/travel/flight-packages