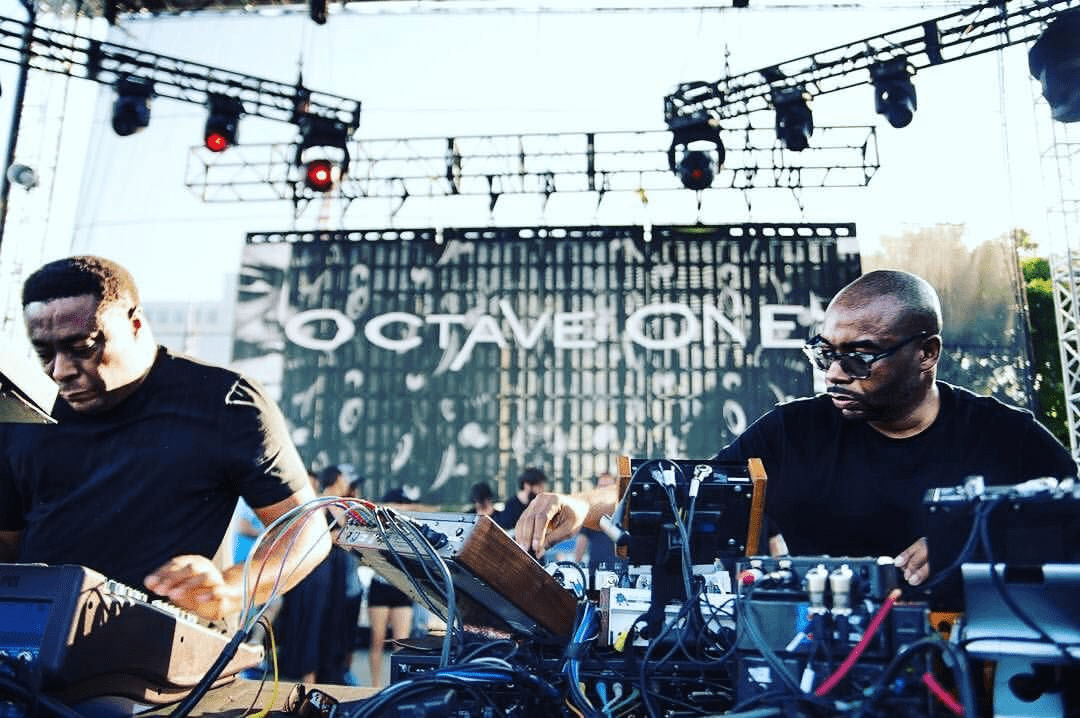 Octave One presents Random Noise Generation
Fresh for 2018, pioneering Detroit techno legends Octave One are set to release some exciting new music this spring via their much loved Random Noise Generation alias, as well as announcing two North America shows this May. Known for their incredible live analog sets, the duo have been busy in the studio with two upcoming releases on their highly respected 430 West imprint in the form of a double A-side single 'N2 The Enfinate' out April 6 off their upcoming album Endustry due for release on April 27.

The brain child of core members and brothers in rhythm Lenny and Lawrence Burden, Octave One burst onto the Detroit techno scene in 1990 with early support from Derrick May. In 1991 they dropped their first release under the moniker Random Noise Generation titled "Falling in Dub" as well as launching their own label 430 West which provided a key platform for indie artists in the 90s. Frequently joined by contributions from siblings Lynell, Lance, and Lorne Burden, Octave One is one of the most unique techno collectives in underground dance music today. Their 2002 hit "Black Water" has sold over one million copies worldwide with the Burden brothers counting industry heavyweights Danny Tenaglia, Jeff Mills, Louie Vega and Richie Hawtin as fans from the beginning. Fast-forward 28 years and the veteran producers of hypnotic beats are just as fresh and innovative as when they got started.

The single EP 'N2 The Enfinate' out in early April, explores a retro energy in the title track alongside a mesmerizing melody and rolling baseline. The second track on the release "Rock My Soul" (Reborn Vocal Remix) is a fresh remake of the original which starts with a stronger intent and weighty bassline, paving the way for precise and bright chord stabs.

Something of a new take on their creative process, the Burden brothers made the album Endustry on the road while they toured over the past year, allocating time in each country they visited to influence, inspire and record each track.

'We were tucked away in so many hotel rooms that we decided to make sure we brought enough extra equipment so that we could set up a true lab to create from country to country and make the grooves that we wanted to experiment with on the dance floor" -Lawrence Burden.

Composing all tracks with the classic Octave One emotion and energy, the result is a stunning album, demonstrating their expertise as true masters of their craft who constantly test the boundaries between space, sound, and the possibilities of music in real time.

'"Alkalyze'" more than any other tracks on the project, embraces the original spirit of Random Noise Generation as the 'machine' seemed to really guide the creative process. Much of the foundation of the composition was very accidental, but inspirational, with various musical devices interpreting data in a very unexpected result. It actually came together quite quickly but things just fell into place so naturally" -Lenny Burden

Incorporating two US dates into their spring tour, Octave One will touch down on Friday, March 25 at Analog BKNY which boasts one of the best sound systems in New York built by legendary audio engineer Craig 'Shorty' Bernabeu. Heading back to their hometown of Detroit, Octave One will also make an appearance at a Movement after party on Sunday, March 27 at popular nightspot Magic Stick.