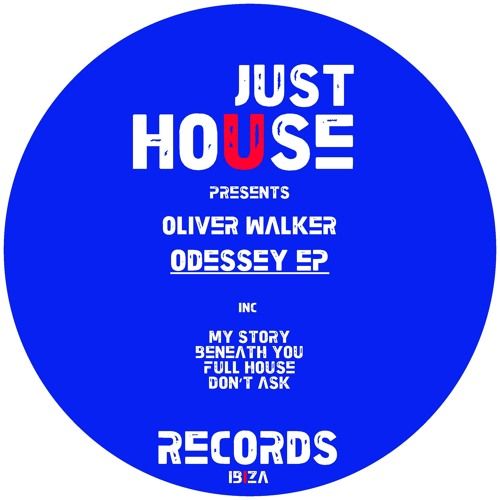 Oliver Walker - Odessey EP
The label owners Sol Kara & Mike Becker want to push the music in the direction they believe House music should go and be today. It's a label built by them for the love & passion of House music that has brought them together to a friendship and business partners to build the label.
The label is focusing on releasing good quality House music, it also reflects on all sub genres around such as, Deep House, Tech House, and Minimal House. The sound of the label is a combination of old and new House grooves, rhythms and hypnotic beats.
All artist's on the label are carefully selected and have been in the industry for over 20 years or just 5 years, all that counts for Just House Records is the quality of music and focusing on how the tracks reflect on the dance floor, so for the first release they have the young talented Oliver Walker who as a very wide spectrum of musical knowledge from underground, experimental to laid back lounge vibes.
He has been creating a multi genre based musical library which is unleashed on this release, easily mastering multiple genres by being resident at Pacha Ibiza, Boom, Sankeys Flying Circus, Sushi Point, Sash Australia, Global Radio, Sonica Radio, 'Where Is', Basura, Pete Tong's Wonderland, Meadows in The Mountain and many more…
He has come up with a beautiful EP, the 4 tracks take you through various emotions and different journeys with hypnotic synthesizers, abstract drums patterns and big room pads.
The first track of this wonderful written EP is called 'My Journey'starting with a dark drum groove which grows into a groovy drum rhythm with abstract synths sounds who slowly take you to the beautifully constructed ambient pads which makes the track sound one spiritual journey.
Second track 'Beneath You' is pure summer vibes with Jazzy trumpets making you feel like you was on an exotic beach, warm vocals making the track sound cozy, the guitar riff is introduced after two minutes following great ambient noises which makes the track complete.
For the third track 'Full House' he combined 80's synths with a modern version of chilled out house with an upbeat tempo to keep the Ibiza vibes in this EP.
The last track on the EP 'Don't Ask' is written with a DC10 day time vibe felling, with a hypnotic flute taking you to comfortable state of mind, planes travelling throughout the track and with a very abstract but in tune breakdown which takes you through a Balearic ride.
We hope to hear more from Oliver Walker and Just House Records which soon will announce more releases.