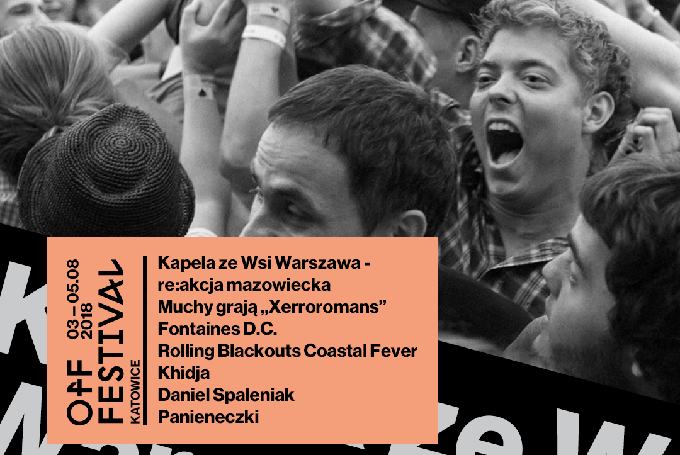 OFF Festival Katowice 2018: Final Acts Announced
Here at the OFF Festival, we always enjoy reminiscing: there's the 2007 debut by Muchy, and the songs of our forefathers as reinterpreted by the Warsaw Village Band. But we also look boldly into the future, as personified by a pair of excellent debut artists: Rolling Blackouts Coastal Fever and Fontaines D.C.
Warsaw Village Band – mazovian re:action
No one has done more to demystify folk music in the ears of popular young audiences than the Warsaw Village Band (known in Poland as Kapela ze Wsi Warszawa), who often resort to audacious experiments that draw the ire of their own musical milieu. No one has been bolder when it comes to combining local roots with musical shoots growing all over the world and in all eras. Only they could spice up a Slavic melody with a voice from India, a solo by an Iranian virtuoso, and a electronic beat lifted from a London dance club. On Warsaw Village Band's latest album, mazovian re:action (a late 2017 release that's already scored a Fryderyk Award), the artists head home from their distant travels, playing Mazovian songs learned from old masters and sharing those tunes with the world.
Muchy performing Xerroromans
This Poznań band made their memorable debut in 2007 with Terroromans, an album that launched Muchy into immediate indie-rock stardom. More than a decade later, the group returns with the same lineup, the same material (and an extra track on the re-edition of Terroromans), and the same drive. Their "Xerroromans Tour" is stopping at the OFF Festival, and what makes this show special is that it takes place almost exactly ten years after Muchy's first appearance at our festival, in Mysłowice in 2008. An audience of hundreds gathered in the Radio Three Tent to witness a concert that would become a milestone in the band's career. This might be another one.
Rolling Blackouts Coastal Fever
A long name from a faraway land (Australia), but you'd better remember it, because their upcoming album Hope Downs, slated for release in mid-June on Sub Pop records, is expected to be the new hope of guitar rock. On the heels of two critically-acclaimed EPs, Talk Tight and The French Press, comes a release by a band that's already earned a reputation as the best indie-rock phenomenon Down Under since The Go-Betweens — have a listen to their excellent songs, and you'll agree. They say their live shows is where this Melbourne trio truly shines.
Khidja
Behold the power of multiculturalism! Flore and Rusu come from Romania, but they met in school in Germany. Their collaborative project Khidja draws on traditional Romanian music with nods to the Turkish sounds brought along by the Ottoman Empire when it conquered the duo's homeland. Khidja is also clearly inspired by the dark sounds of Krautrock and the club sounds of Berlin, i.e. house and techno. This is neither old or new: it's entirely unique.
Daniel Spaleniak
Life is Somewhere Else, the title of Spaleniak's latest album announces, but that's not true. This music is steeped in life, even if it is obscured by a thick layer of gloom and inspired reflection. Daniel Spaleniak is among Poland's most charismatic young songwriters, and he has the international acclaim to prove it: his work has been featured on the soundtracks of several American TV shows. And with music this vivid, suggestive and imaginative, it's really no wonder.
Fontaines D.C.
A Dublin quintet that causes quite a stir wherever they take their rascally punk'n'roll. They've yet to record an album, but thanks to their successful singles and KEXP video sessions, this Irish band is the season's hottest festival attraction.
Panieneczki
Five feminine personalities with a range of experience: from jazz explorations to TV talent shows. Together they discovered the musical power of the Polish countryside. Their original interpretations of Kuyavian melodies combine tradition and modernity, violins and synthesizers, but what really matters is their sheer energy.
This year's edition of the OFF Festival also features the following artists, previously announced:
M.I.A, Charlotte Gainsbourg, Grizzly Bear, Jon Hopkins Live, Ariel Pink, Aurora, John Maus, Turbonegro, The Brian Jonestown Massacre, Kult performing Spokojnie, David August, Clap Your Hands Say Yeah performing Some Loud Thunder, Skalpel Big Band, Marlon Williams, Zola Jesus, …And You Will Know Us by the Trail of Dead performing Source Tags & Codes, Big Freedia, Egyptian Lover, Le Mystère Des Voix Bulgares (The Mystery of the Bulgarian Voices), Oxbow, Bishop Nehru, King Ayisoba, Housewives, Or:la, Jacques Greene, Harry Merry, Gary War, coL, The Mystery Lights, DJ Paypal & DJ Taye, Wednesday Campanella, No Age, Unsane, Sensations' Fix, Derya Yıldırım and Grup Şimşek, Hańba!, Furia, The Como Mamas, Coals, Moses Sumney, Yasuaki Shimizu, Yellow Days, Legendarny Afrojax, Adam Strug, ARRM, Wojciech Bąkowski, Nanook Of The North, Bass Astral x Igo, Sorja Morja, Sonbird, Good Night Chicken, Min t, tęskno, Pokusa, Lonker See, Sierść, and Meek Oh Why?
The 2018 OFF Festival Katowice will take place August 3–5 at Three Pond Valley.
Tickets
Three-day passes are now available at the OFF Shop for 330 PLN. This price lasts until June 10 or until the third batch of tickets is sold out! Campground tickets are also available for 70 PLN.
Website: http://off-festival.pl/en