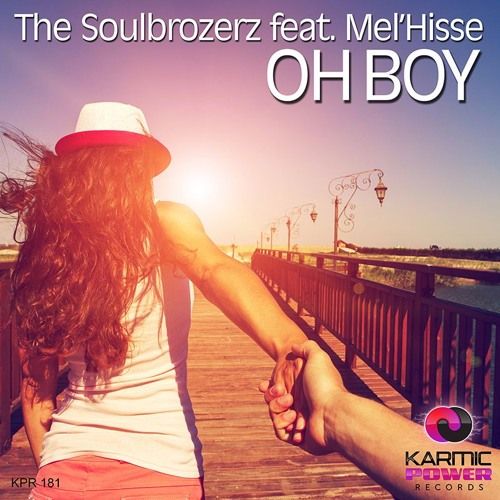 The Soulbrozerz feat Mel'Hisse - Oh Boy
This release will soon become a futuristic classic with its arpeggiating bassline. Edgy vocals and deep pads make this a strong track to pull out as one of your secret weapons.
1. Original Mix
2. Instrumental Mix
3. Radio Edit
BIOGRAPHY SOULBROZERZ:
JEAN-JEROME
To all those who wonder how our beloved Jean-Jerôme got there, here the path of DJ who became the specialist in sunny morning and most evenings on Radio FG.
1992 was the starting point, "the first slap" (dixit Jean-Jerôme), immersion in a medium with electro trend, the discovery of his Detroit at parties "Cosmos Factory" to Mozinor (Montreuil/France). During this year, attendance of Jean-Jerôme to follow the techno scene is impeccable. He listens Radio FG on 94.4FM(Paris) at the time and spends his weekends in "Rave party".
Decided, rash and is a fan of Hardcore in December 93 Jean-Jerôme becomes DJ, he mixes in "Free party" unofficially until 95. It's also time for him to discover the joys of radio through young associative antenna: "Radio Lucrèce" in Evry (91) with a transmitter 100% Hardcore every Friday night (23h-1h). The resolutions of the year grow in early 1995 Jean-Jerôme Hardcore definitely stop and it was in February of that year he arrives at Radio FG. After a 5 month internship, approved without difficulty, he began working in the afternoon and then quickly pass on another time range (7 am to 9.30 am), accompanied by "Gwenola" he created the show "Radio-Clock".
Always on the rise, Jean-Jerôme took the opportunity to prove himself when the "Matinées FG" (from 9:30 to 12:00) is left without resident. This proved decisive … he became daily host of "Paradise Session" in the morning and "Matinées House". "Alloungez-Vous" to "FG Classics" to "FG DJ LIVE" in the evening and also the now legendary "CLUB FG" alongside the famous Didier Sinclair for over 10 years.
During these years, Jean-Jerôme alongside many Djs who advise (Thank Dj Gregory!) for the equipment, techniques or labels which, over time, lead to more exchanges than good.
Jean-Jerôme then started mixing in the biggest clubs and bars in the French capital (REX, Hell, Queen, Gibus, What's up bar …) and puts its name as a quick reference for "House music".
It continues and persists in this environment by finding her true calling: record production. He released his first EP Drum & Bass in 1997 under the pseudonym DJ DECAY and Hard-house remix with Sextoy (RIP) for the hymn of the Gay Pride that year. Arriving in 1998, he released a remix on a French label (Recall) as the Mellow D.
With Gil Chabert (Klubfilter), Jean-Jerôme released his first House EP in 1999, in KIF Records (Pepe Bradock Trouble Men …) under the name "Dog's Biscuits" (+ 5,000 copies to date).
Thereafter it is behind the alias "Kut'n'Paste" he officiates and confirms his talent on different labels: SERIAL RECORDS, PARADISE, MILKSHAKE, ILLMATIC and also through various remixes by renowned artists such as: CESAR JUAN DEL RIO & MAGAN, LAURENT WOLF, Bustafunk, JEAN MARIE K, FIZZ, KURAKI May…)
Compilations Radio assure him a beautiful and widely promoted among the public French (FG DANCEFLOOR FG 1.3 SUMMER 2003) and abroad through many licenses on prestigious labels. (Ibiza with KM 5, Thailand for Lucile, Switzerland with the compilation Street Parade, Mexico, Holland for Chemistry…)
He always wants more; in 2001 this is a new collaboration that was born with Cedric.C the "PURPLEHEADZ" will be born…
The first EPs are quick (ILLMATIC records, records with the hit MILKSHAKE RAMBLE) as well as CD compilations (MORNING BEATS 1 AND 2 LOUNGE ASIAN, DANCEFLOOR FG 3 and POWER HOUSE for France and the LUCILE for Thailand).
This is a new stage begins…
The two stooges do not stop there; they test the joys mix of 5 decks in Thailand (LUCILE, DIABOLO, LUCIFER) then Singapore to finish on the best dancefloor Parisians (QUEEN, NEW CASINO, GIBUS, COUCH WORLD). Their collaboration ends in 2010.
In 2014 after a several pause, a new project is born: ITSIC.
A French duet composed with his friend and new teammate Digitarmix…only one year after they started, those funny guys made 2 remixes from Hydrogen Records and an EP for Pumpz Music.
Right now, in 2016 another great collaboration was born with his longtime friend, Dj Braddy…The Soulbrozerz!
Inspired by the New York House and also the Detroit Techno sound, they wanted to mixes all these influences in their productions. The result is a fantastic EP with the participation of the singer Mel'Hisse on Karmic Power Records, "Oh Boy" released in the middle of this year.
Now solo or on group, he hopes to continue to be talked about around the world…
XAVIER PICQ
For Braddy all started during his many travels across the world.
Passionate about music since childhood, he began to cultivate a love for Electronic music, especially for House and Techno in the early 90s through compilations and mix of famous artists and labels.
It is later, in early 2000, during a trip or accompanies 2 DJ producers PURPLEHEADZ, Thailand, he discovers the world of DJing.
During this journey he makes friends with the resident DJs, the 2 clubs or friends will occur, DJ CHRIS DJ IZE … it will allow him to realize a longtime dream, giving the opportunity to perform in his club. LUCILE club in the most desirable location for local clubbers, ROYAL CITY AVENUE. This experience gave him the desire to invest in this artistic medium, he makes his return to France, by purchasing his first DJ set up, 2 TECHNICS MKII, Numark mixer. It is getting many dj shop in the capital, but not only, in search of new sounds across the planet , to enrich his mixes.
This flyer will browse the shop around the world, it is on this occasion that meeting NEW YORK one of his mentors, dj producer, ALIX ALVAREZ, also in store VINYLMANIA Records on Carmine Street.
A few months later, he returned to BANGKOK, find his Thai friends, who offered to occur in many clubs in the city but also the country. During these evenings, he becomes aware of his potential by the many positive feedbacks from the public but also local DJs. It will also initiate the production, for the first time, with Fruity Loop DJ software IZE uses. The years will follow and we will find him on the decks regularly at various venues in Paris or elsewhere.
During 2009, it is fortunate to be invited to RADIO FG by JEAN-JEROME (ex PURPLEHEADZ), which broadcast his mixes on the air.
This iconic DJ resident and radio host of the station (1996-2013), a longtime friend, DJ / producer, invited him to his studio for a first collaboration : "Braddy'S MOOD".
Only a few years later he immerses himself in the world of production using the Ableton Live software. In 2015 he finds, on the occasion of a joint project, his friend JEAN-JEROME, THE SOULBROZERZ will be born, and a first signature will follow on the prestigious LENNY FONTANA'S Americain label, KARMIC POWER RECORDS in 2016.
BIOGRAPHY MEL´HISSE:
Born in 1986 in Nantes a Malagasy father and a French mother, Mel'Hisse grew up in a culturally open family universe dedicated to music. Her guitarist father used to organize musical sessions with friends which permitted her to awake and refine her musical sense. Since her 4 years old she was behind a synthe keyboard singing popular songs of that time, and it is with the savings of her birthdays, at 8 years old that she bought her first voice recorder. Her musical culture grows over the years of her childhood with Jacques Brel, Charles Aznavour, Maria Carey. Admitted to college, she climbs the group «The Little Devils « inspired by groups like Telephone, Noir Desir, Nirvana and Queen. As a teenager, she discovered the Hip Hop culture in which she immersed completely herself by the discovery of Graff and the practice of break dance in a group from the West Coast. The Beat and the flow of artists such as I Am , NTM , 92i , Public Enemy , Dr. Dre, Wu Tang clang , Ol 'Dirty Bastard , Method Man , Xzybit will accompanied her in different contests and Hip Hop Battles.
From 2000 to 2004, Mel'Hisse integrates GOSPEL choir of her high school in order to interpret titles of figures from Soul Music such as Nina Simone and Etta James, and many singers who paved the way and marked music, like Lauryn Hill, Alicia Keys and Ayo. In addition to her growing interest and involvement in music, she continued her studies in Languages and Tourism at the University of Nantes financed by working in a night club for which she found electro artists. It is through an internship in animation in a ski resort in the South West of FRANCE that she discovered the Basque Country she falls in love with the area and settled there in 2007. Evolving still the world of night parties, little by little she met all electronic music producers who play locally (DSF, PRISM, Stand 'Art …). Mel'Hisse creates links leading her to become involved in the organization and advertising of many events on the Basque Coast. The realization of her taste revealed for electronic music is done at the international festival SONAR in Barcelona; it shares among others with his friend Dj DEMIAN (Correspondant), resident REX CLUB (Paris). In 2013, she met Xavier aka Braddy and JEAN -JEROME (ex PURPLEHEADZ), duo since become THE SOULBROZERZ. Their connection is immediate and gives birth to a beautiful friendship. Beginning 2016, in search of a new artistic expression, Mel'Hisse begins self-taught guitar for personal enjoyment and it is natural that the two friends asked her to participate Featuring their new project, OH BOY on the Label of LENNY FONTANA, KARMIC POWER RECORDS (NYC). At present, Mel'Hisse is working on several projects with different artists involved in electro music and others. To be continued…