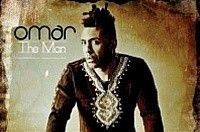 Omar – The Man
A household name with a career spanning over 30 years, having collaborated with some of the world's most renowned artists such as Stevie Wonder and aquiring Erykah Badu as one of his many super fans, he is an unstoppable UK talent that just keeps giving.
He has also recently been made an M.B.E for ongoing cultural services to the UK.
Fresh from live sessions and heavy rotation on Gilles Peterson (BBC 6 Music), Jamie Culllum (BBC Radio 2) , NTS Radio, Trevor Nelson (BBC Radio 2), Robert Elms (BBC London) Omar launches his new album next week with 2 back to back album launch gigs at London's infamous Jazz Cafe 27th & 28th June, followed onwards by a UK tour.
There are precious few, if any contemporary UK artists whose creative credentials and influence extend as far and so consistently wide as Freestyle Records most recent signing Omar. Since first breaking through to worldwide renown all the way back in 1991 with his first releases on Gilles Petersons seminal Talking Loud label, and going onto work with all manner of musical legends including a certain Stevie, Erykah Badu, Angie Stone, Syreeta Wright, Common, and Carleen Anderson. With willing, enthusiastic and supportive collaborators like that, it's undeniable that Omar maintains his reputation as a soul music Don par excellence.
Fast forward to 2013, and Omar's reputation for being a thoroughly original artist following his own individual path remains undiminished. After recently picking up an M.B.E for his outstanding contribution to the UK music scene, even the British Establishment has now acknowledged what many already appreciated & understood for many years.
And in a most timely fashion, Omar returns with a brand new album that many say is without doubt the strongest of his entire career. The buzz generated by the single release of the albums title track 'The Man' (FSR099) confirmed beyond doubt that Omar is very much at the top of his game, with everyone from 6 Music's' Gilles Peterson, Radio 2's Trevor Nelson and Jamie Cullum giving both major support and high praise for the simply magnificent new high point for Omar's renowned ability to write devastatingly catchy melodies, coupled with the more live, funkier production exemplified by this brand new, yet already classic song.
Across the rest of this new album, the musical treats just keep coming and are too many to list! Opener 'Simplify' sets the template, with its luscious & majestic, string backed introduction raising the curtain on this deep, hard grooving number which gives Omar the chance to display the full range and capacity of his unique voice.
Getting down and dirty, Omar joins forces with Germany's Hidden Jazz Quartett on High Heels, growling organ spars with the tough, jagged drum beat on this tough, funk driven collaboration, the story of a man who knows his woman is doing him wrong which is 'making him crazy' and is reflected in the contrasting dark & uplifting passages on this killer groove.
Latin textures & rhythms have always been part of Omar's far reaching musical vocabulary, and within this collection and on Come On Speak To Me and Ordinary Day restless south American beats underpin the crisp and fresh melodies, with the latter track evoking samba fuelled, carnival vibes that simply sizzle with energy, and will wear out discerning dance-floors for years to come for certain.
Soul II Souls' Caron Wheeler distinctive voice features on the duet Treat You, a tale of troubled love that is mirrored by the delicate, subtle beats and minimal backing which allows these 2 legendary voices unite beautifully.
Completing the circle that began all the way back in the early 1990's Omar has re recorded his classic love song 'There's Nothing Like This', which this time features bass player to the Gods Pino Palladino.
The touching sentiment remains undiminished, but the addition of soaring strings, soulful, jazzy horns, a vibrant live & acoustic feel, and an extended and new arrangement, Omar has done the impossible; improved upon the un-improvable, that is likely to become the definitive version of an already much adored classic.
This release will surely become known as his most eclectic, confident, mature and soulful album of his career. After all, Stevie Wonder knows, Erykah Badu knows….and now everyone knows, Omar is The Man.