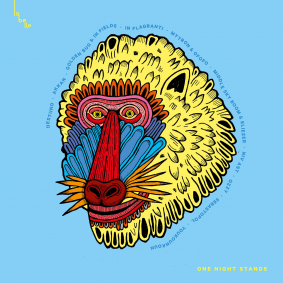 One Night Stands
Esteemed Parisian label La Belle Records welcomes a whole host of talents to a new 10 track compilation album that brims with inventive grooves from names like In Flagranti, Sebastopol and Middle Sky Boom amongst many others.
Opening up the compilation is French legend and La Belle label boss Golden Bug who links here with In Fields for the track 'Blind', it is a cosmic cut with slow, spacious drums sinking you into a richly melodic groove. Cult duo In Flagranti are Codek and Gomma regulars who here rework a soulful classic into a bendy disco jam that will warm any floor. London/Paris based duo Mytron & Ofofo come with a broad sonic spectrum appeal and layer up pop melodies with boogie bass to great effect on 'Asante Sana' while Tel Aviv's Middle Sky Boom links with Eliezer for a track with rugged bass and drunken synths that is sure to stand out in any set.
Following from a big 12" of edits on Edit du Plaisir late last year, Youkounkoun offer 'Desert Nights', an excellently intoxicating go-slow groove of tumbling drums and middle eastern instrumentation. Niv Ast is another Tel Aviv based artist who brings plenty of regional sounds to his superbly chugging disco bomb 'Jungle Marvin' and DESTIINO—a new experimental side-project by Yuksek—impresses with the gorgeous chords and subtly uplifting drums of 'Petit Soleil'. Closers from Ozzy and Sebastopol explore inventive, off kilter bass music that has real swagger and dub tinged afro disco respectively.
This is a broad array of summery sounds from a fine array of talent all carefully pulled together by the always on point La Belle Records.
Tracklist:
1. Golden Bug & In Fields – Blind
2. In Flagranti – Set It Out
3. Mytron & Ofofo – Asante Sana
4. AKKAN – El Mutal
5. Middle Sky Boom & Eliezer – A Tricky Time
6. Youkounkoun – Desert Nights
7. Niv Ast – Jungle Marvin
8. DESTIINO – Petit Soleil
9. Ozzy – Disco Cant Stop
10. Sebastopol – Ully