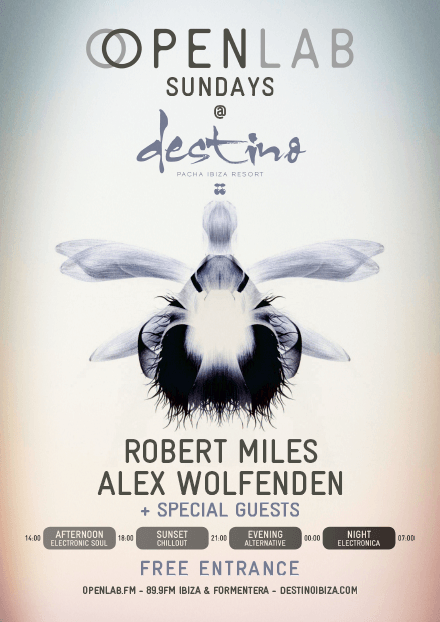 OpenLab Sundays @ Destino
OpenLab Radiohas been playing the best in new, alternative, electronica and experimental music, across the Balearic Islands in FM and online to the world, since February 2013.

Its 21st century take on the eclecticism for which Ibiza was originally famous, curated by electronic music pioneer and station founder Robert Miles, quickly making it the destination of choice for international music fans at the cutting edge, and alternative music partner of 2014's Ibiza International Music Summit (IMS).

This summer OpenLab will be taking it to the next level with:

OpenLab [email protected] Destino,a weekly series of LIVE events throughout the summer at Destino, the breathtaking new venture from the world-renownedPachagroup. Opening Party – Sunday, June 1st.

The release of OpenLab's first compilation album – OpenLab Morning Vol.1 – on Monday, June 2nd, the debut release on OpenLab Records.
______

OpenLab Sundays @ Destino- For 18 Sundays this Summer, the Destino Pacha Ibiza Hotel and Resort will be the live home of OpenLab and a season of weekly events taking Ibiza into the 21st century with breathtaking visuals and innovative music.

OpenLab DJsRobert Miles & Alex Wolfenden will be in residence each week along with special guest DJ's and live artists:

OpenLab Afternoons & OpenLab Sunsets will take place in the resort's oasis – surrounded by palm trees, gazing out across the Mediterranean Sea from the cliffs of Cap Martinet – with the legendary Ibiza sunsets as the backdrop to the very best in electronic soul and alternative chillout music.

OpenLab Nights move underground in every sense with the latest electronica in the exclusive TOX Club.

17 hours of the best alternative music each week – from 2pm to 7am, non-stop!
______

OpenLab Morning Vol.1 – captures the fresh, bright mood of the OpenLab's 7AM – 1PM playlists with a mix of established and up-and-coming new artists:

Fink, Jono McCleery, Szjerdene, Liota, Richard Walters, Big Search, Channel Two, JBM, Kendra Morris, Lily & Madeleine, Mattis & The Grand Trunk Road, Potatohead People, Oliver Libaux, Midlake, Flying Ibex, Balthazar, Laura Veirs.

OpenLab Morning Vol.1will be released worldwide in MP3 and FLAC formats, the latter bundled with a hi-res booklet of the visual art that is a signature feature of the OpenLab website.

The album is the debut release in a rolling series of quarterly compilations to be drawn directly from the station's programme playlists.

Each track on each album will be personally selected and sequenced by Robert Miles.
______

Key to the OpenLab philosophy is that beyond being a radio station, OpenLabis a platform for a like-minded community spanning countries and continents – its worldwide audience currently topping half a million people and increasing daily.

To provide a focus for this community, augmenting its radio and digital operations, OpenLab plans to open physical centres – OpenLabHubs – in Ibiza, London and Berlin. The first of these, set in the unspoiled countryside of northern Ibiza, scheduled for 2016.

"As OpenLab celebrates innovative music, visual art, technology and forward thinking people, we celebrate the long bright future this champion of the new millennium has ahead of it…" Essential Ibiza