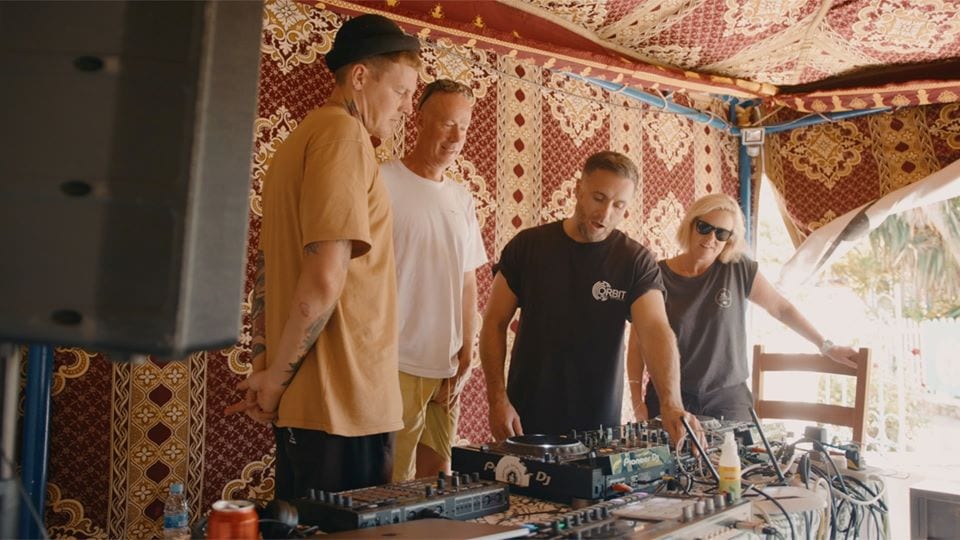 Orbit DJ Retreats return to Ibiza with two editions in 2020
Last year saw the launch of a brand new venture between some of the international music scene's leading minds in the form of Orbit DJ Retreats, which brought an immersive and holistic learning experience for DJ's, producers and music industry enthusiasts to elevate their skills and knowledge to the next level.

After the huge success of its debut last year Orbit DJ Retreats return to the gorgeous setting of Fred's Finca Ibiza, nestled in the centre of a stunning UNESCO protected national park near Salinas beach. This year Orbit DJ Retreats will present two five day experiences, with the first retreat running over the Ibiza openings period May 16th – 21st, and the second over Ibiza closings October 11th – 16th.

During the five day retreats, students will be mentored by a collection of the most successful and innovative names in electronic music and beyond whilst also having the opportunity to immerse themselves in wellness workshops. The programme will cover all the essentials to succeed in the music industry, including; using DJ equipment at the highest level of performance, mastering production and software skills, marketing, social media and branding, business and career development, plus workshops and classes focused on health, meditation and wellbeing.
DJ, Producer and Orbit Co-Founder Doorly will be joined by mentors such as promoter and music industry legend Rob Da Bank; Moonharbour's Hauswerks; Drumcode DJj and producer Juliet Fox; Pioneer DJ's Mo Funk, GAWP from Dirtybird Recordings, Ableton's Mark Burnett, Davina Moss from Hot Creations, Data Transmission founder Grahame Farmer & many more.
Doorly, Orbit co-founder says: After Last Summer's retreat the Orbit team and I have been over the moon with the response from our students and the success stories that we're already having with our alumni. Many signing to their favorite record labels, and playing dream gigs. I've even signed a few to my own label which was a nice bonus, to find such amazing un-tapped talent like this is a really special thing.  Watching their success invigorates us, and that's what this is all about!
So we're extremely excited to launch 2 dates for this summer in Ibiza in May and October for the opening and closing of the season. As last year we will be giving a free scholarship to one very talented applicant and one free spot to the winner of a remix competition which we will be launching soon. We will also continue to build on our ethos of being more than just a DJ and production retreat focussing heavily on well being, Physically and mentally to prepare our Students for Long, Prosperous and Positive careers in Music with a full team in place to support them along the way from every angle.
Mentor Testimonials
Matt (Gorgon City)
"The retreat was an amazing week for teaching and learning for me. I met some amazing people and made some friendships for life! The attention and time that the students get is really good and the setting is beautiful. I even signed some tracks to our record label. If you want to improve your skills or just meet some great people – orbit DJ retreats is the place!"
Rob da Bank (Sleep Retreat) 
"Orbit in Ibiza was such an incredible event. To be part of that process of watching DJs learning, helping each other and working so hard but healthily was a joy to see and to host my own Sleep Retreat wellness platform there was the icing on the cake"
Sam Beck (RÜFÜS DU SOL & Flight Facilities artist manager – Leisurely) 
"Orbit and my time in Ibiza was incredible. To play a small part of the retreat was such an honour to say the least. The retreat was a great place to learn every facet of the industry, direct from the people living and breathing music. Chatting with all the attendees and mentors, I got the sense this was something really special. If you have the chance, make the time and get to Orbit Retreats."
 Oliver Portamento, (GAWP / Logic Pro) 
"The Orbit retreat in Ibiza was one of the most influential environments I've ever been to. What a place share my musical knowledge and experience, Everyone came from all corners of the globe to enhance their careers and skill sets by some of the industry's leading mentors and I can honestly say… one week at the Orbit retreat created more than just an educational week, it also created a musical family, with great futures ahead."
Orbit DJ Retreats will offer a fresh approach to learning the skills it takes to be successful in the music industry, with a focus on developing core attributes of students to build and maintain a long, healthy and successful career. Orbit will offer not only a comprehensive technical programme but also universal experience and knowledge of maintaining a healthy lifestyle in the music industry.
Teaming up with the mental health awareness campaign We Are Hummingbird, co-founder and trainer; Ian Hurst will deliver workshops, information and advice throughout the retreat and beyond to help students on their journey through the often challenging landscape of the electronic music world.

The 5 day immersive learning retreat including accommodation at the Orbit Finca starts at £1799 per person. For more information on Orbit DJ Retreats please visit: www.orbitdjretreats.com