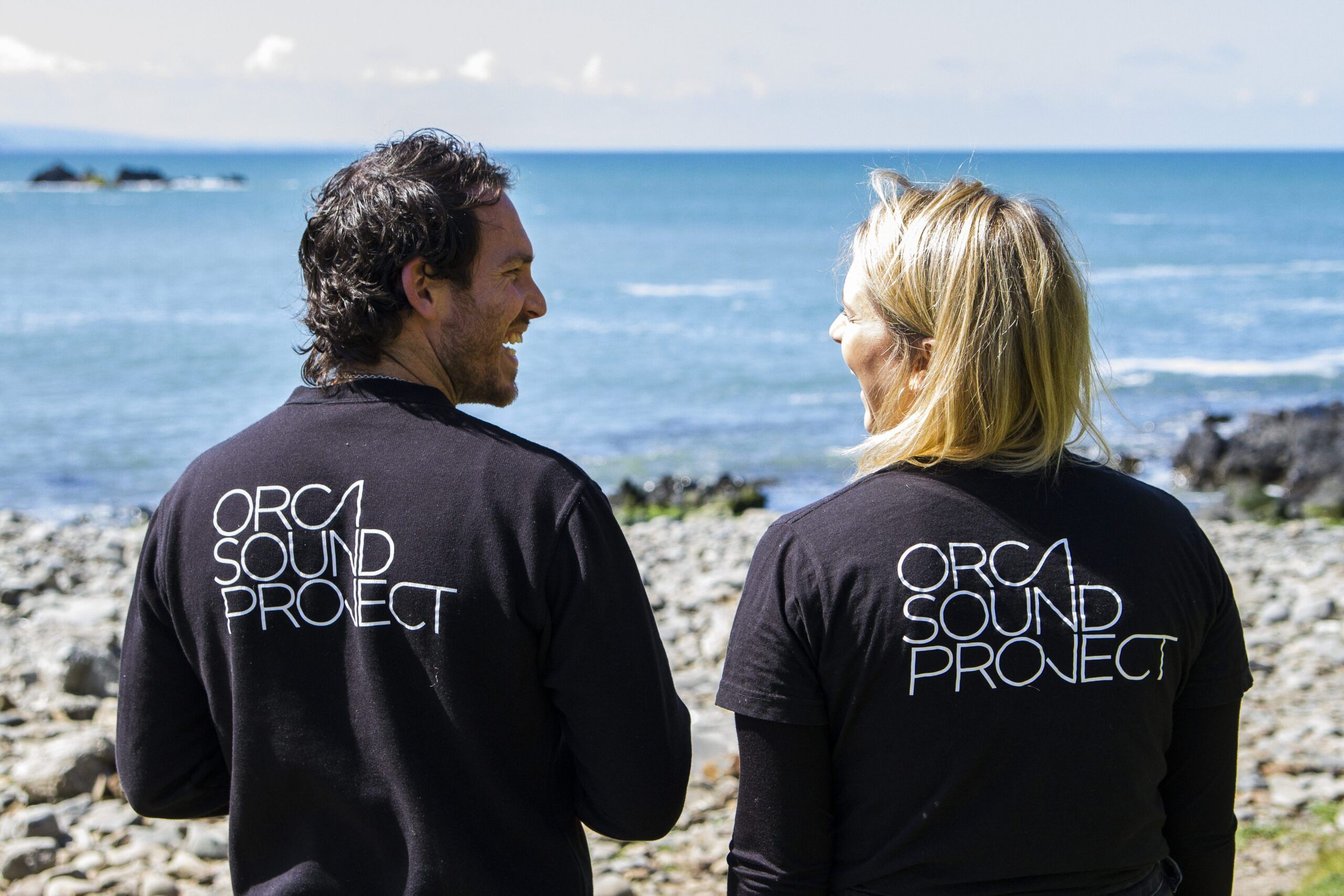 Orca Sound Project interview
Hi Orca Sound Project, welcome to I House U 🙂
Thanks, it's a total pleasure to be here 🙂
Can you tell us who you are and what you do?
Orca Sound Project is a consultancy for sustainable innovation, collaboration and activation founded by Jolyon Klean and Posey Collis.
We engage audiences to become actively involved within sustainability, providing businesses, brands and individuals with reactive strategies and solutions.
How we contribute to saving our planet is personal, each and everyone one of us across the globe is now affected by major environment issues. Even though we know about the science, heard the facts and seen the pictures that has not been enough. To feel engaged, create serious behavioural differences and action change we need to create an inclusive platform and new technologies to inspire and lead the way. We use our platform to tell a story, deliver the message and bring about change.
Orca Sound Project – how did the name come about and what does it stand for?
The name Orca Sound Project comes from a long standing obsessions and intrigue of the ocean and a love for orcas. The Native Orca Symbol or Killer Whales symbolises family, romance, longevity, harmony, travel, community and protection, they communicate through songs and clicks and this is what bonds them together and sits at the heart of their community, their tribe. Founder Jolyon DJs under the name Orca Sound and fundamentally what Orca's symbolise mirrors the ethos of our personal beliefs and embodies within the Orca Sound Project.
The environmental crisis is a huge one that sometimes seems insurmountable. Can you really make that much of a difference?
Yes of course you can make a difference! Orca Sound Project creates strategic opportunities to come together as a community and to tangibly be able to see the impact we are making through our efforts. OSP gives people the opportunity to make a difference and allows them to see the effects of their impact. Take the Glasto strategy of collecting 10 tonnes of plastic litter which will be recycled into building materials. The difference here comes through the opportunity to become engaged. We have engaged the south west of England to instigate their own clean-ups resulting in the plastic collected being recycled which would otherwise end up in landfill. We put a call out for help from the public to collect the 10t of waste needed to build the stage and they responded immediately with over 100 of our "dumpy bags" registered for in the first 36 hours! This shows the urgency and the desire of people to want to be involved in making a difference and are constantly looking for ways to do so. OSP gives people the need to get behind a transparent concept. Every minute counts, we are armed with knowledge and awareness and it is our mission to create projects where people can now act.
You're working with Shangri-La at Glastonbury this year which sounds exciting! How did that come about?
Jolyon first met Robin one of the creative directors over a cider in the back of a pick up truck in Shangri-La 10 years ago the rest is history!! Since then we have worked on numerous projects from designing nightclubs, a collab between Rita Ora x Adidas. Orca Sound debuted on the heaven stage over 6 years ago. Posey and Jolyon then took this concept and beach clean strategy to Shangri-La, including Kaye Dunnings and Moses Power back in October 2019 and have been working on delivering the project ever since. The 360 degree stage will be a visible symbol of our collective environmental impact and ability to create behavioural change.
What is it exactly that you're doing at Glastonbury? Will you be DJing there as well?
OSP are providing Shangri-La with the building materials made from the plastic litter, a vast majority of it being focused on marine plastics collected over the past 3 months thanks to Neil, the legend behind Ocean Recovery Project and Keep Britain Tidy. We are also programming the Saturday night of the festival which includes: Bicep, Sub Focus, Dimension, My Nu Leng x Redlight x DJ Zinc + Dread MC, Archie Hamilton and of course Orca Sound will be closing the night
Your overall aim is very ambitious. How do you go from great intentions to actually making something like this happen? Are people into it, or do you have to bulldoze doors to make it happen?
You are right, it was ambitious, but we wanted to do something where we could make a visible difference and engage communities of all ages. We wanted people to feel the impact of their actions, and it took time to find the right partners for the project but thankfully we did not have to bulldoze too many people on our journey. Thanks to some great friends of OSP, the Lister Charitable Trust, we were introduced to Keep Britain Tidy and Ocean Recovery Project who have enabled us to reach our mission of collecting 10 tonnes of plastic litter. A special thank you goes to Neil, who has worked around the clock to ensure we reached the target. The team have cleaned over 40 beaches in the SW of England. Our dumpy bag strategy had 100 subscriptions in 36 hours and included the likes of Matt Bellamy filling a bag of plastic which has now been sorted, shredded and will be added to the material which will be used on the Gas Tower arena. The partnership with Shangri-La has given us the platform to raise awareness and then it is the artists who give us the voice and ability to engage and activate large numbers of people. Never before has the artist platform been more relevant. It is the creativity of Kaye Dunnings and her team that has allowed us to deliver what we believe to be the most forward thinking active strategy in sustainability and music globally.
The environment is obviously the hottest topic in the news right now, and rightly so. Have you noticed a difference in the kinds of people that want to talk to you lately?
The most exciting part of our journey to date has been the people we get to meet. We are talking to people across all sectors of industry from music to construction, brands, individuals, global leaders, record label bosses, schools across the UK, communities and a cross sector of generations. Like music, activism is a global language. People are talking to us because they want to experience sustainability and feel actively involved. The rise of experiences over material possessions is set to continue according to research by Barclaycard.
Why choose the music industry as your 'mode of transportation'?
Music is an accessible vehicle for innovation, a global language transcending cultures and generations. in this current political flux there has never been a more necessary time for unity, one tribe that responds to the same beat.
Which artists are you working with to help get the message out?
We want and are working with a wide range or artists include our Glastonbury Saturday line up and founding ambassadors Goldfish along with Sam Feldt, James Blunt, Martin Iken, Betoko, John Monkman. However we have also had incredible support and response from the labels, management and agents including: echo location, warner music, higher ground….
Are there any other projects you're currently working on aside from Glastonbury that we should be on the lookout for?
We do have some exciting project in the pipeline more will be revealed post Glasto but these might include working with the likes of Warner Music and a global art project soon to launch.
Finally if our readers are feeling inspired and want to get involved, how can they?
We are looking for as many people as possible to get involved so please do get in touch. We will soon be launching our next clean-up series – follow us on instagram for more news @orcasoundproject. If your brand aligns with our mission and you want to maximise awareness of what your is already doing then get in touch to see how we can create unique activity and awareness together.
Thanks so much, a pleasure talking to you!