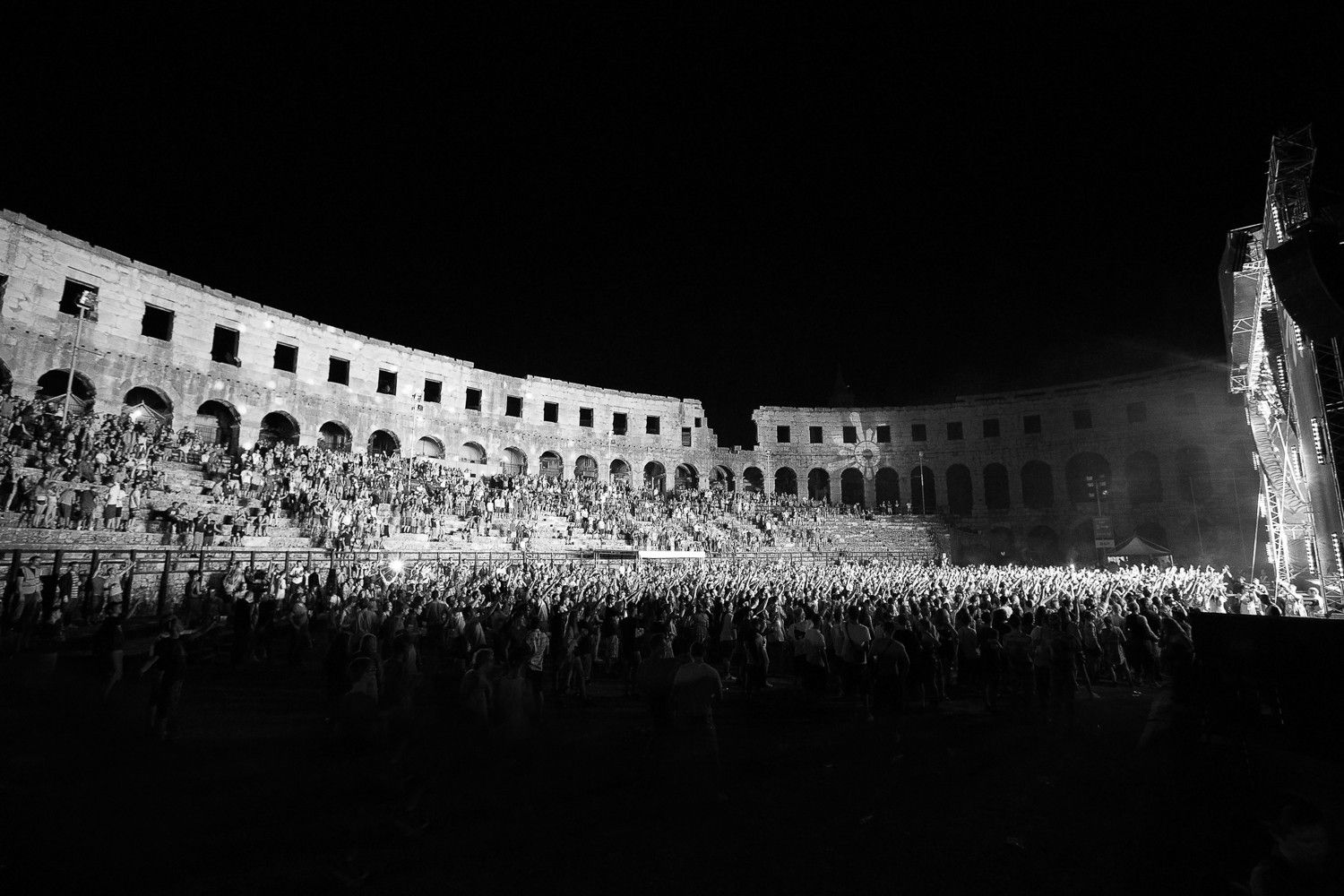 Outlook Festival Croatia announces new names for summer 2014
The incredible Outlook in Croatia, taking place this September, has just announced its second wave of names. A unique celebration of bass music culture on the glittering Adriatic coastline, the festival unites a global array of stars for an unparalleled party in an abandoned 19th century fort, close to the historic city of Pula which hosts the spectacular amphitheatre opening concert.
The latest headliners include Congo Natty, the true jungle originator who has recently signed to Ninja Tune/Big Dada, whilst Massive Attack legend Daddy G DJs in the gorgeous Croatian sunshine on the beach stage. Nonplus Records founder Boddika also stars; fusing garage, house and bass sounds with electro, D'n'B and breakbeat creates his unique sound, and he has been lauded for consistently reinventing the underground UK music scene. Then there's Dub FX, a critically acclaimed beatboxer crafting hip-hip, reggae and drum and bass through his incredible voice, a crowd-rousing vocalist of immense talent, and Slovenian star Gramatik blends many genres to create his immense live shows. And Outlook favourites returning include breakbeat garage pioneer Zed Bias, a true trailblazer of the underground without comparison, and Phaeleh performs his stunning live compositions on the beach and other spaces across the weekend at the festival.
On a much more house-orientated tip, Roy Davis Junior is one of the pioneers of the Chicago scene and a dedicated 4/4 groove-laden craftsman, whilst duos Bondax and Snakehips are guests right at the fore of the contemporary garage take on house music; Bondax remain hard to classify with their brilliantly transcendental sounds, and the mysterious Snakehips' limited releases work together disparate styles into their productions.
Retaining its love of hiphop, Outlook brings a further wealth of talent to Croatia. High Focus Records have announced their line-up at the festival, including The Four Owls, Jam Baxter and Dirty Dike amongst others, with extra UK action from new names Pete Cannon, London Zoo and Problem Child all added to the billing.
And flipping over to the dubstep side of the festival, Truth, Seven and Swindle are all catalysts of the scene's current dynamism and inspiration, revered for their forward-thinking production work and devastatingly bass-heavy sets.
Further acts include Gentleman's Dub Club, Newham Generals, Paleman, General Levy, Randall, Roska, Logan Sama, Kenny Knots, Solo Banton, Elijah & Skilliam, True Tiger, Cultural Warriors feat. Nello B, LV & Joshua Idehen (live), Fliptrix, Leaf Dog, BVA, Verb T, Jam Baxter, Edward Scissortongue, DJ Madnice, DJ Sammy B-Side, Earl Gateshead, MC DRS, Nucleus Roots, LX One, Royal T, Anushka, Barely Legal, Nomine, Safire, Benton, Amy Becker, Acre, Geode, BMB Spacekid, Jonny Dub, Livin Proof, Dr. Syntax, Split Prophets, Sonny Jim, Lee Scott, Onoe Caponoe, The Purist, 184, Disorda, Skuff, Jman, Cracker Jon & Too Late, Frankie Stew & Harvey Gunn, Konchis & Physiks, DJ Fingerfood, Jives, Patrice, Jroots, Jaksun, The Saint, Inkling, Passion Fruit, Dr. Meaker, Flava D, Etch, Gardna, Horus Records, Finna, Andy H, Oscar Luweez, Boyson, Finwa and Defenders of Style.
Outlook Festival are incredibly proud have Ms. Lauryn Hill taking centre stage for what is the festival's most inspirational booking yet, with support from 7-piece Leeds band Submotion Orchestra, Eglo singer Fatima, with her astonishingly rich, soulful voice, and new star Andrew Ashong.
Next up is Busta Rhymes performing a "best of Flipmode" inspired set, with dancehall and reggae icons Barrington Levy and Horace Andy both performing live, and one of the world's greatest hip-hop producers, Gangstar's DJ Premier, also taking centre stage. As does one of the world's most iconic reggae sound systems, Jah Shaka, with young Rasta revivalist Chronixx & Zinc Fence Redemption and Zouk Bass pioneers Buraka Som Sistema debuting at the festival.
Three drum and bass icons further demonstrate the scope of Outlook's vision; Goldie is one of drum and bass' enduring forces, DJ Marky brings his bouncing Brazilian drum and bass beats and Ram Records' Andy C also features. Detroit don Moodymann brings house and techno to Croatia, with Funkineven's house music further adding to the festival's breadth. The venerable statesman of his scene, David Rodigan, makes a very welcome return, as do Mala and Coki in their heavyweight dubstep Digital Mystikz guise. Joining Outlook are two garage legends; the MOBO-award winning MJ Cole, and another spinner who has influenced more than a few of the Outlook 2014 artists – DJ EZ. Genre-hopping Floating Points offers house, hip hop, dubstep, techno, jazz and occasional classical sounds, through to Paul Woolford's new Special Request project, combining rave, house, grime and jungle, with many more names confirmed too.
Outlook Festival – Weds 3rd – Sunday 7th September
@ Fort Punta Christo, Pula, Croatia / Tickets £140
Outlook Festival tickets are available here: http://outlookfestival2014sterlingtickets.eventbrite.com/?aff=Press1LineupLH
www.outlookfestival.com / @OutlookFestival
www.facebook.com/outlookfestival