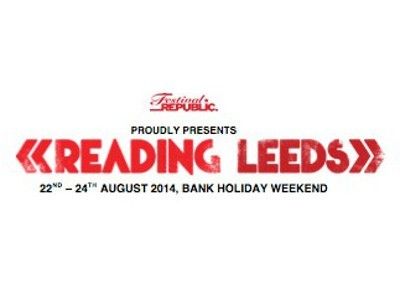 Over 50 incredible new names revealed for Reading & Leeds Festivals 2014!
In a year where Reading & Leeds Festivals have announced not three, but four of the world's biggest acts as headliners for 2014, the line-up continues to grow with over 50 additions across the stages. This year looks set to be the strongest yet with the best of UK and world talent across rock, indie, dance, alternative, grime and hip-hop and with only 120 days to go, the all-encompassing line-up remains completely unrivalled. Reading & Leeds Festivals are the best way to spend your August Bank Holiday weekend!
This year sees one of the most spectacular Main Stage line-ups ever! Undisputed modern rock gods Queens Of The Stone Age and pop-rock superstars Paramore share headline duties alongside the completely inimitable Arctic Monkeys and pop-punk legends Blink-182.
With a supporting cast including Vampire Weekend, Macklemore & Ryan Lewis, You Me At Six, Jake Bugg, Imagine Dragons, Foster The People and Deaf Havana there are now even more names set to tear up the Main Stage. Completing the line-up for the Main Stage are Brighton indie-punk duo Blood Red Shoes, Japanese metallers Crossfaith, Dry the River, Leeds boys Pulled Apart By Horses, punk trioGnarwolves, nu-metal luminaries Papa Roach, UK rock kings Young Guns and pop punk champions Tonight Alive and The Story So Far.
Over on the NME/Radio 1 Stage alongside headliners Courteeners, Bombay Bicycle Club and Disclosure will be UK anthemic rockers Twin Atlantic and last year's Main Stage openers Mallory Knox. Also appearing are fellow newcomers Lonely The Brave, shoegazer, post punk festival veterans The Horrors, multidirectional The Kooks and Brooklyn based musician Twin Shadow.
Reading & Leeds continue to bring the best in electronic music and dance to the BBC Radio 1 Dance Stage with an exclusive performance from special guest Duke Dumont Live, AlunaGeorge, Gesaffelstein, The Glitch Mob, Borgore, Adventure Club, Snakehips and Electric Youth taking to the stage along with headliners Netsky Live, Pendulum DJ Set and Flume.
The unique sounds of Gypsy-punks Gogol Bordello and emotional rock heroes Jimmy Eat World will act as the perfect Lock Up Stage headliners, along with Brody Dalle, Möngöl Hörde and Architects.
Elsewhere, the headliners have been revealed for the Festival Republic Stage and they will be the riff-heavy Southampton group Band Of Skulls, garage rockers Palma Violets and the energetic Augustines.
Also appearing across the Festivals' stages over the weekend will be A Wilhelm Scream, Baby Godzilla, Bear Hands,Bipolar Sunshine, Catfish And The Bottlemen, Darlia, Dave Hause, Every Time I Die,Hudson Taylor, Marika Hackman, Mayday Parade, Meridian Dan, P Money, PUP,Slaves, The Districts, The Flatliners, The Front Bottoms, The Orwells, The Skints, The Wonder Years, Touché Amoré and Wovenwar.

Artists announced so far for Reading & Leeds Festivals 2014
FRIDAY 22ND READING / SATURDAY 23RD READING / SUNDAY 24TH READING /
SATURDAY 23RD LEEDS SUNDAY 24TH LEEDS FRIDAY 22ND LEEDS

MAIN STAGE

Queens Of The Stone Age / Paramore (co-headline) Arctic Monkeys Blink-182
Vampire Weekend Jake Bugg Macklemore & Ryan Lewis
Enter Shikari Imagine Dragons You Me At Six
Jimmy Eat World Foster The People A Day To Remember
Deaf Havana The Hives Sleeping With Sirens
Blood Red Shoes Peace Papa Roach
Crossfaith Dry the River Young Guns
Hacktivist Pulled Apart By Horses Tonight Alive
Gnarwolves The Story So Far


NME / RADIO 1 STAGE

Courteeners Nero Disclosure
Metronomy Bombay Bicycle Club The 1975
SBTRKT Chvrches The Horrors
Warpaint Die Antwoord The Kooks
Temples Don Broco Clean Bandit
Twin Atlantic Cage The Elephant Jungle
Mallory Knox Lower Than Atlantis The Neighbourhood
Drenge Royal Blood Twin Shadow
Marmozets
Lonely The Brave


RADIO 1 DANCE STAGE

Netsky Live Pendulum DJ Set Flume
Annie Mac Andy C Klaxons
Gorgon City Gesaffelstein Boys Noize
Wilkinson The Glitch Mob Bondax
Borgore Ben Pearce
Duke Dumont Live Adventure Club Breach
AlunaGeorge Jacob Plant Snakehips
Electric Youth

LOCK UP THE PIT LOCK UP

Jimmy Eat World Of Mice & Men Gogol Bordello
Brody Dalle Architects Möngöl Hörde
A Wilhelm Scream , Baby Godzilla, Basement, Dave Hause, Eagulls, Every Time I Die, Issues, Letlive., Marmozets, Neck Deep, PUP, The Flatliners,The Front Bottoms, The Skints, The Wonder Years, Slaves, Touché Amoré , Wovenwar


FESTIVAL REPUBLIC STAGE

Palma Violets Band Of Skulls Augustines


1XTRA STAGE

Giggs Pusha T Danny Brown | Joey Bada$$


ALSO JUST ANNOUNCED

Bear Hands , Bipolar Sunshine, Catfish And The Bottlemen, Darlia, Hudson Taylor, Marika Hackman, Mayday Parade, Meridian Dan, P Money, The Districts, The Orwells.



OTHER ACTS ALREADY ANNOUNCED

Circa Waves, David Rodigan MBE, Hozier, I Am Legion, Krept & Konan, Lizzo, The Fat White Family, Vic Mensa, Wolf Alice.


READING FRIDAY 22ND AUGUST / LEEDS SATURDAY 23RD AUGUST
Confirmed to join headliners Queens Of The Stone Age and Paramore are
Blood Red Shoes, Crossfaith, Twin Atlantic, Mallory Knox , Duke Dumont Live, AlunaGeorge, Jimmy Eat World, Brody Dalle and Palma Violets!
MAIN STAGE
With Friday at Reading and the Saturday at Leeds bringing UK festival exclusive performances from co-headlinersQueens Of The Stone Age and Paramore, as well as an incredible line-up includingVampire Weekend, Enter Shikari, Jimmy Eat World, Deaf Havana and Hacktivist, there are now even more reasons to be excited about the Main Stage.
Brighton duo Blood Red Shoes made their Reading & Leeds debut back in 2007 and this year marks their fifth appearance. Having stepped up onto the coveted Main Stage for the first time in 2012, the band's punk ethos and squalling underground rock has rightly earned them a legion of fans and a cult status across the world. Their self-produced and self-titled fourth full length was released in March to critical acclaim and they are a welcome addition to this year's line-up. Japanese metalcore titans Crossfaith made their first trip to Reading & Leeds last year and proved themselves to be a true standout of the Rock Stage in 2013. Back this year for their performance on the Main Stage the band's 2013 album 'APOCALYZE' saw them travel the world with the likes of fellow metal and festival luminaries Bring Me The Horizon and Bullet For My Valentine. Expect one of the most energetic and heavy sets of the weekend.
NME/RADIO 1 STAGE
Joining stage headliners Courteeners, as well as Metronomy, SBTRKT, Warpaint, Temples and Drenge are the ever-popular Scottish rockers Twin Atlantic. The band recently burst onto the airwaves with new single and Zane Lowe's 'Hottest Record in the World', the anthemic 'Heart and Soul'. With an album due later this year crowds can expect to hear new material and fan favourites. Also confirmed for the bill this year are Cambridge alternative rockers Mallory Knox. The five-piece's crushing rock, paired with their excellent ear for a melody, as heard on their debut album 'Signals', put the band onto the front of magazines. They are true ones to watch and set to continue their meteoric rise in 2014.
BBC RADIO 1 DANCE STAGE
Joining headliner Netsky Live and Annie Mac, Wilkinson and more will be the debut live show of special guest Duke Dumont. With a reputation the world over as a real 'producer's producer' and having recently scored a second UK Number One with 'I Got U' there are fewer electronic acts as vital. Having flown into the public consciousness with their incredible Disclosure collaboration 'White Noise', London electronic duo AlunaGeorge made their debut at Reading & Leeds last year. Bringing hits from their incredible 2013 album 'Body Music', this set that promises to fill the BBC Radio 1 Dance Stage.
THE LOCK UP STAGE
Already announced for the Main Stage, emotional rock heroes Jimmy Eat World will also be playing an extra special headline set on the Lock Up. With a career spanning over two decades and a plethora of hits across eight albums including classics 'Clarity' and 'Bleed American' this is a chance to catch the band doing what they do best to close the day! Former Distillers and Spinnerette front woman Brody Dalle's fiery return as a solo act has been met with rapturous applause and that's hardly surprising given the quality of recent singles like 'Don't Mess With Me' and 'Meet The Foetus/Oh The Joy' from her new album 'Diploid Love'. Performing songs from her entire catalogue, this will be an emotional return for many and a wondrous discovery for those witnessing the guitar-wielding front woman for the first time.
FESTIVAL REPUBLIC STAGE
London Rough Trade signees Palma Violets have gone from strength to strength. Their garage and psych flecked indie rock has earned them nods for NME's 'Song of the Year', as well as a nomination in the BBC's coveted 'Sound Of' poll. Having made their debut on the stage in 2012, the band return triumphant to headline the Festival Republic Stage.

READING SATURDAY 23RD AUGUST / LEEDS SUNDAY 24TH AUGUST
Just confirmed to join Arctic Monkeys will be
Dry the River, Pulled Apart By Horses, Gnarwolves, Lonely The Brave, Gesaffelstein, The Glitch Mob, Borgore, Adventure Club and Band Of Skulls!
MAIN STAGE
With a line-up already including multi-BRIT and NME Award dominators Arctic Monkeys as headliners andJake Bugg stepping up to his rightful Main Stage position, as well as a supporting cast including Imagine Dragons, Foster The People, The Hives and Peace there are now even more names confirmed for the Main Stage this year!
With a new album due this summer, Dry the River will be bringing their captivating stealth-rock to the Festivals. Rightly making the step up to the Main Stage, the four-piece will debut songs from the new record alongside firm favourites like 'No Rest' and 'New Ceremony' from 2012's 'Shallow Bed'. Leeds boys Pulled Apart By Horses have made a name for themselves since their self-titled debut album in 2010. Their brand of jarring alternative rock and reputation for immensely energetic live shows propelled their single 'High Five, Swan Dive, Nose Dive' to huge radio success. Their 2012 critically acclaimed full length follow up 'Tough Love' solidified their reputation as one of the UK's prime rock exports. One of the only bands to lay claim to playing nearly every stage at the Festivals, they are back at Reading & Leeds for a Main Stage set to remember.
Cornwall via Brighton three-piece Gnarwolves are set to be one of the success stories of the year. With a number of independently released 7"s and incessant touring since their inception, this year marks debut album time for the skate punk trio. Their performance on the Lock Up Stage last year was road blocked and they belong on the Main Stage with expertly written minute and a half blasts of blissful, anthemic punk like 'Tongue Surfer' in their armory.

NME/RADIO 1 STAGE
Alongside UK rock hopefuls Don Broco, Lower Than Atlantis, Royal Blood and Marmozets, Cambridge's guitar-driven five-piece Lonely The Brave will be bringing their emotive rock and powerful vocals to the Festivals. Having made their debut last year on the Festival Republic Stage, these guys are a must see.

BBC RADIO 1 DANCE STAGE
Reading & Leeds always strives to bring the best in dance music to the festival and this year is no exception with two more exclusive performances. French techno artist and DJ Gesaffelstein is known for bringing hard techno back to its industrial roots. With remixes for A$AP Rocky and Lana Del Rey under his belt, his is a name that any dance connoisseur should be familiar with. LA three-piece The Glitch Mob bring their huge sounding twitching electronica for a set promising to wow crowds with their recent album having debuted at Number One on the Billboard Dance/Electronica chart.
Mixing dubstep, house and trap into his own unique sound, Israeli electronic producer Borgore will be making his Reading & Leeds debut for what is going to be an extremely exciting set. Meanwhile, Montreal based EDM duo Adventure Club, whose origins in hardcore and pop punk still ring true in their smash remixes of the likes of Brand New and Thrice, will be at the Festivals for a perfect amalgamation of distortion and repetitive beats.

FESTIVAL REPUBLIC STAGE
Headlining the Festival Republic Stage on this day, Southampton's Band Of Skulls will be bringing their recently released album 'Himalayan' to Reading & Leeds for a set of epic, riff-heavy rock. Having spent their time cutting their teeth supporting bands including festival headliners Queens Of The Stone Age, their live set is unsurprisingly nothing short of amazing.

READING SUNDAY 24TH AUGUST / LEEDS FRIDAY 22ND AUGUST
Just confirmed to join Blink-182 will be Papa Roach, Young Guns, Tonight Alive, The Story So Far, The Horrors, The Kooks, Twin Shadow, Snakehips, Electric Youth, Gogol Bordello, Möngöl Hörde and Augustines!
MAIN STAGE
With a new album currently being worked on pop-punk heavyweights Blink-182 are back to headline Reading & Leeds 2014 alongside Grammy Award winning hip-hop duo Macklemore & Ryan Lewis and many more. Together for over 20 years and one of the bands to bring nu-metal into the mainstream, Californian four-piece Papa Roach have remained as powerful and relevant as ever. With a new album due later this year the ever evolving band will be bringing their heavy, sleazy and melodic rock to the stage for a set that promises to encompass classic hits, through to songs from 2012's 'The Connection' and more. The British rock scene is proving to be as healthy as ever and with bands like Young Guns carrying the torch it's understandable. Having opened the Main Stage in 2010, this year the band are back in the studio with legendary producer Dan The Automator for their Virgin EMI debut and follow up to Top 20 UK Chart album 'Bones', and back on the Main Stage. Expect an exhilarating set.
One thing's for sure, pop punk is in rude health this year, Sydney's Tonight Alive are at the forefront of that and rightly so. Fronted by the powerful vocals of lead singer Jenna McDougall, and backed by the incredibly catchy tunes found on last years 'The Other Side' album, they are a true force to be reckoned with and this year marks their first visit to the Festivals. Alongside them are Californian quintet The Story So Far last seen in the UK as the support for A Day To Remember's huge Alexandra Palace show. The rise of this band of pop punkers has been meteoric. Be sure to catch their opening slot for slices of the passionate punk found on their album 'What You Don't See'.
NME/RADIO 1 STAGE
With a line-up already including breakthrough artists like Disclosure and The 1975 alongside fresh and upcoming artists Clean Bandit and Jungle, The Horrors make a welcome return to Reading & Leeds with upcoming new album 'Luminous'. Formed in 2005 the quintet have evolved since their debut 'Strange House', into creating the self-assured, strident shoegaze and psychedelia influenced post punk found on Top 40 albums 'Primary Colours' and 'Skying'. With multi-platinum and gold albums full of bonafide festival anthems like 'Naive' behind them it's no wonder that The Kooks have become firm festival favourites, back from what feels like an all too lengthy absence of recorded material the band will be heading to the festival for a UK exclusive performance with brand new EP 'Down'. Twin Shadow is the nom de plume of Los Angeles based George Lewis Jr. Currently in the studio working on the follow up to his critically-acclaimed album 'Confess'. Recently he released new single 'To The Top' which is being described as a "Stadium Sized Synth Pop Anthem'. Twin Shadow will be debuting a new live show on the NME/Radio 1 Stage this summer.

BBC RADIO 1 DANCE STAGE
Shadowy London based production duo Snakehips join the ever growing bill on the Dance Stage, bringing with them their mix of dance, electronica and fresh, futuristic soul as seen on remixes for Bondax, BANKS and The Weeknd and last year's single 'On & On'. Toronto electronic duo Electric Youth also join the line-up for a set of exuberant 80's influenced pop, expect neon synths and throwbacks to Madonna and their namesake Debbie Gibson.

THE LOCK UP
The whacky and worldly style of Manhattan's Gypsy punks Gogol Bordello need no introduction. Fronted by the ever energetic and eccentric Eugene Hutz and with a stage show full of theatrics, there is no better band to headline the Lock Up. Having first performed at the Festivals in 2004 regular visitors will know that this isn't just a normal set, it's a bonkers party and everyone's invited. Möngöl Hörde is the brainchild of none other than Reading & Leeds favourite Frank Turner who, alongside ex-Million Dead drummer Ben Dawson and current member of Turner's backing band The Sleeping Souls Matt Nasir, creates blistering hardcore punk far removed from his usual folk driven storytelling.

FESTIVAL REPUBLIC STAGE
Known for their life affirming, cathartic live shows, New York's Augustines return to headline the Festival Republic stage on this day. Their self-titled album released earlier this year has the most heart-wrenching tracks you will hear this summer, expect an incredible live show from a band who wear their hearts on their sleeves.

ALSO PLAYING AT READING & LEEDS FESTIVALS 2014
Blazingly passionate, intense and technical punk is the name of the game for Massachusetts' A Wilhelm Scream. Last year's fourth album 'Partycrasher' is a classic slice of melodic hardcore and they're back to show crowds exactly why they're one of the most exciting bands in the world.
Baby Godzilla have fast gained a reputation as one of the UK's most exciting and feral live acts. With shows often ending with the crowd and band as one, they are nothing short of incendiary and, with the kind of heavy rock tunes that back up this attitude, they're one of heavy music's brightest hopes.
Brooklyn, New York's Bear Hands have been touring their distinct brand of experimental indie rock and post punk since the band's formation in 2006, sharing the stage with the likes of Cage The Elephant, MGMT, Passion Pit, Awolnation and even GZA. Having last visited Reading & Leeds in 2009, this year marks their return to the Festivals just in time for the release of their new album 'Distraction'.
Manchester Adio Marchant aka Bipolar Sunshine has toured with the likes of Bastille, Rudimental, London Grammar and Phoenix and sold out shows in London and Manchester on his recent headline tour. He delivers a diverse and completely unique sound with dense, lush soundscapes, uncompromising subject matter and conversational vocals and has built up quite a fanbase with the release of his two EPs and recent single 'Where Did The Love Go'.
Catfish And The Bottlemen 's loud and explosive rock 'n' roll has seen them travel the length and breadth of the UK. Touring tirelessly has paid off, having been signed to Communion records, the group has been championed by the likes of Steve Lamacq and Zane Lowe.
Blackpool three-piece rockers Darlia play hooky, grunge-fuelled and ballsy rock music the type of which has been absent for far too long. Check out recent single 'Candyman' for a slice of melodic yet scuzzy noise.
With his roots firmly in the punk and hardcore scenes of Philadelphia, Loved Ones frontman Dave Hause has made a name for himself. Last year's Frightened Rabbit, Alkaline Trio and The Watson Twins featuring full length 'Devour' is his best work yet.
Every Time I Die are true masters of their style. The continually developing Buffalo, New York based band have been pushing the boundaries of riff heavy, melodic hardcore punk since 1998 and whilst their sound is often imitated it is never, ever bettered.
Having spent time on the road with huge acts like Jake Bugg and Kodaline, Irish folk duo Hudson Taylor are going from strength to strength. With a debut album currently in the works, 2014 is set to be their year.
Marika Hackman 's beautiful and spectral songwriting has seen her gain support from the likes of Huw Stephens and Zane Lowe. She is a true hopeful of the UK folk scene.
Having formed in 2005 Mayday Parade have, across four studio albums, created their own distinct take on alternative rock and this year make their Reading & Leeds debut.
To say that North London MC Meridian Dan's recent single 'German Whip' has become ubiquitous would be no exaggeration. Spearheading a breakthrough in a new generation of classic grime acts and speeding up the charts alongside cohorts JME and Big H, he is not to be missed.
South London Grime MC P Money has been at the top of his game since exploding onto the scene in 2005. Currently working on his debut album, set for release in the autumn, expect his electrifying set to feature brand new material as well as his crowd-pleasing classics.
To say that PUP are one of a kind would be no understatement. Their blistering punk is equally snarling and wildly melodic. With their debut self titled album containing the rip roaring single 'Reservoir' alongside the melancholy sing-alongs of standout track 'Yukon' they're truly a special live act.
Hotly tipped as ones to watch in 2014, Kent duo Slaves play full on noisy indie / garage punk the type of which refuses to be ignored. With a distinct lack of pretentiousness and a raw, uncompromising live show they could well be one of the breakout acts of the festival.
Bridging the gap between indie rock and blues-flecked folk, Pennsylvania's The Districts are full of soul and their recently released self-titled EP is just a taster of what's yet to come.
Toronto punk rockers and Fat Wreck Chords signees The Flatliners have made a name for themselves as one of the worlds premier straight up punk bands, full of energy and with plenty of tunes to back up their abundance of attitude.
Hailing from New Jersey, USA The Front Bottoms are a two-piece acoustic indie-punk band whose last album, 2013's 'Talon Of The Hawk', marries meticulously detailed lyrics with a truly emotionally charged musical backing.
The Orwells are being touted as the next big thing in true rock 'n' roll, championed by NME and tearing through already legendary sets at the likes of London's prestigious 100 Club, catch their Reading & Leeds debut this summer.
Blending classic reggae, dub and ska with modern punk and hip-hop, London's The Skints have toured tirelessly with everyone from Gogol Bordello to You Me At Six to Bedouin Soundclash to Gym Class Heroes, racking up an average of 150 shows a year. With their endless energy they are the perfect feel-good festival act.
Another key act for fans of all things pop punk are Philadelphia's own The Wonder Years. Last year's Billboard Top 20 album 'The Greatest Generation' was a tour de force in catchy and emotional rock.
The passion found in the music of Touché Amoré both live and on last year's critically acclaimed full length '…Is Survived By' is truly something to behold. From the snarled, throaty delivery of the ever-emotive frontman to the blazing pace and intricacy of the five piece's music, they are one of the most revered hardcore bands around.
From the ashes of metalcore legends As I Lay Dying comes Wovenwar. Quite rightly one of the most talked about newly formed bands in 2014, the instrumental lineup of As I Lay Dying are joined by Shane Blay of Texan metallers Oh, Sleeper for a more melodic progression on their old sound.

TICKET INFORMATION
Weekend tickets £205.00 plus £8.00 booking fee ● Day tickets Friday, Saturday, Sunday £92.50 plus £7.00 booking fee ● Early entry permits (Leeds only remaining) £15.00 ● Campervan permits £60.00 ● Lockers £16.00 ● Reading car parking £5.00 ● Weekend ticket prices include camping
Online/Telephone – Tickets are strictly limited to a maximum of four per person/address/payment card for those booking by telephone or online. Credit Card line: 0871 231 0821
Or online at: www.festivalrepublic.com www.readingfestival.com www.leedsfestival.com or See Tickets
In Person – Reading tickets can be bought at face value, in person when paid for in cash at outlets including the Reading Arts & Venues Box Office, The Hexagon. Leeds tickets can be bought at face value, in person when paid for in cash at outlets including Leeds Visitor Centre.
Please note that picture ID/proof of address will be required at the time of booking. Tickets are subject to availability. Limit of two per household/person for personal callers.
Children 12 and under are admitted free but MUST be accompanied by a ticket holding adult. Please note there is no separate children's area at this event.