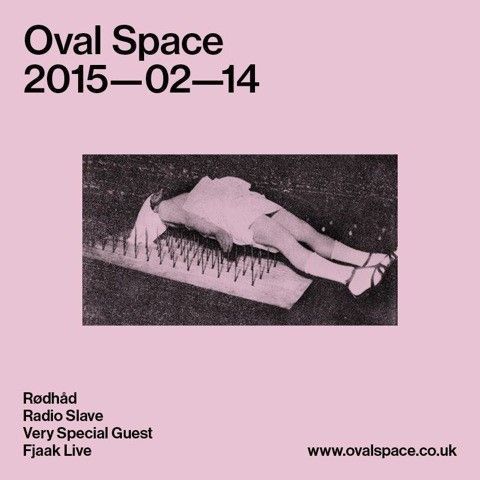 Oval Space Reveals New Changes for 2015
In just over two years, Oval Space has gone from being an abandoned medical supplies factory in a neglected part of London to becoming one of the capital's most vital and much loved music venues. A constantly evolving project, both in the diverse range of events it programs and structurally as a venue, Oval Space announces exciting new changes as it continues to push clubbing boundaries ever further.

For 2015 Oval Space will unveil a new set for its late night programme. New seating/relaxation areas are being designed and the amphitheatre layout will appear as a permanent fixture by popular demand, lending the space an altogether more 'club' feel. Bars are being spruced with a wider choice of drinks including cocktails and Club Mate, alongside excellent coffee and permanent late night food options. Lighting is being fully re-designed and sound has been enhanced as part of the overhaul. Oval Space will also upgrade its toilet facilities over its heavy maintenance window in early January.

Also new for 2015, Oval Space is delighted to introduce Ovation, its own live music promotion wing, which will be bringing industry recognised acts that rarely play in London to a wider audience. Launching the series is none other than Brainfeeder's finest, TOKiMONSTA on February 12th 2015 with special guests TBA. Having released her acclaimed mini-album Desiderium in September, this will be the futuristic dance-pop beatmaker's first live London show in five years. Not to be missed.

Finally, after a hugely successful inaugural year, Oval Space Music will be getting straight back to business in 2015 with Rødhåd, Radio Slave and Fjaak Live plus a Special Guest TBA on February 14th 2015.
OVATION
February 12th 2015
TOKiMONSTA
Special Guests TBA
Tickets – http://bit.ly/TOKiMONSTARA
Facebook – http://bit.ly/TOKiMONSTAFB

OVAL SPACE MUSIC
February 14th 2015
Rødhåd
Radio Slave
Special Guest TBA
Fjaak Live Show
Tickets – http://bit.ly/OSMFebruaryRA
Facebook – http://bit.ly/OSMFebruaryFB