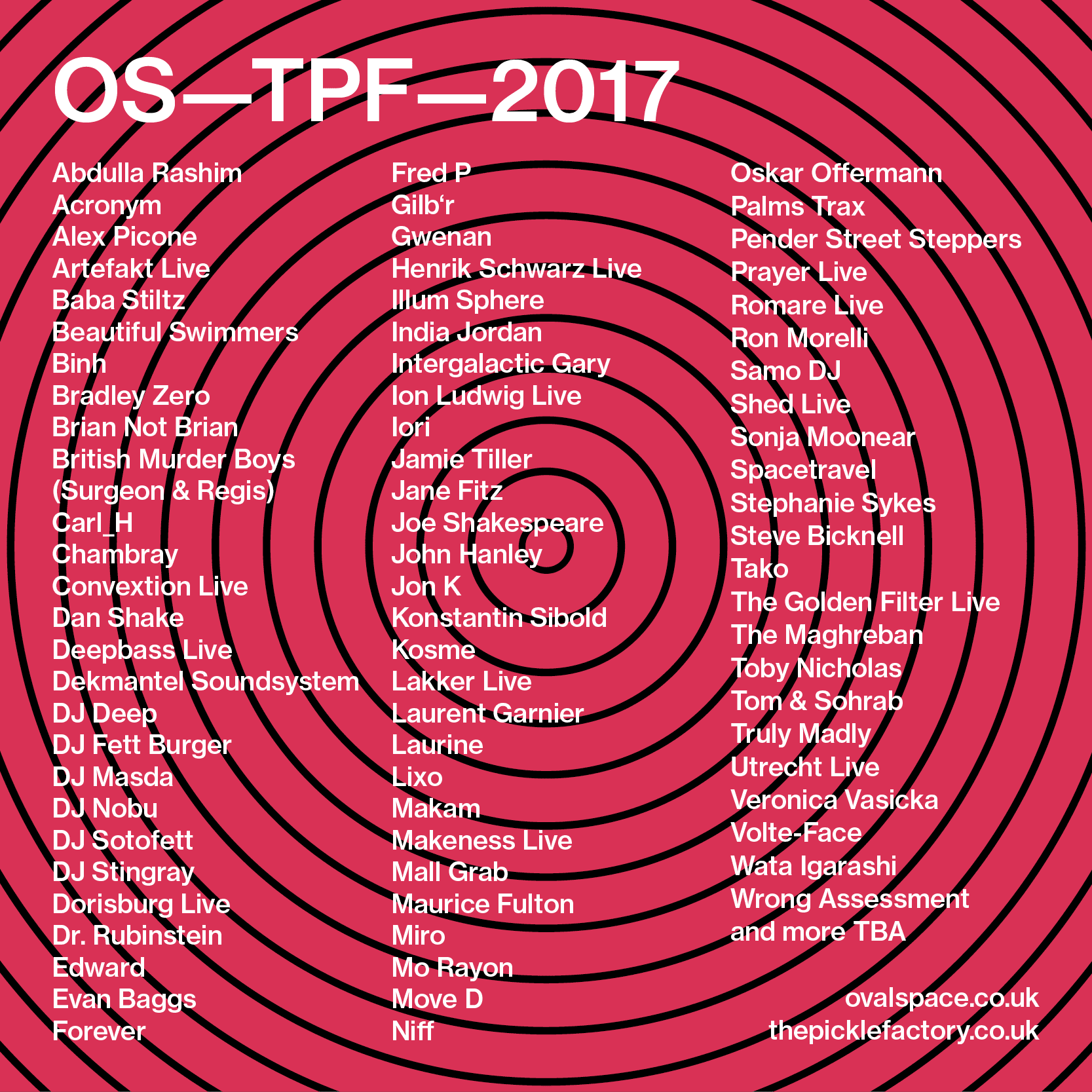 Oval Space & The Pickle Factory – Winter Programme
Oval Space and The Pickle Factory usher in 2017 with a new programme of events for January – March and a host of exciting updates, including: an enhanced d&b V Series soundsystem in Oval Space; a new layout to accommodate a commercial kitchen, expanded toilets and an expanded cloakroom in Oval Space; and a new after party for London in The Pickle Factory.
Highlights from the flagship Oval Space Music series include: Laurent Garnier (11th Feb), DJ Stingray (31st Mar), Sonja Moonear (3rd Mar), Beautiful Swimmers (24th Feb), DJ Nobu (10th Mar) and DJ Sotofett (27 Jan) – a clear statement of intent from Oval Space to move away from the obvious, and present London with altogether more left field and esoteric headliners in 2017.
Surgeon and Regis' legendary live moniker British Murder Boys has long passed into UK techno myth, a punk-meets-techno supergroup which was sadly retired in 2008… until now. On 25th March, Oval Space hosts a very special reunion of the BMB, the UK date of their first tour in nearly ten years. Lending support on the night will be veteran London techno artist Steve Bicknell, and Minimal Wave founder Veronica Vasicka.
The Pickle Factory continues to cement its position as a home for some of the most talented DJs, interesting label showcases and compelling all night long sets in 2017. Highlights from Q1 include: Mall Grab All Night Long (20th Jan), Convextion Live (3rd Feb) and Northern Electronics (10th Feb) & Seekers (24th Feb) label nights.
Sundays at The Pickle Factory are picking up pace, with Sunday Club* now taking place fortnightly, inviting firm favourite labels and artists such as Music From Memory, Versatile Records and Going Good.
In exciting news for the capital's long dormant after party scene, The Pickle Factory will also be unveiling a new after party in the coming weeks. At a time when London's once-vibrant after party scene is mostly consigned to pop-up spaces and warehouses, The Pickle Factory is set to launch a new, regular after party with very special unannounced guests, supported by some of our favourite London DJs.
Ovation will bring more progressive electronic live music to London throughout 2017: The Golden Filter (2nd Feb), Illum Sphere (5th Feb), Lakker (9th March). Romare will perform will a full live band in Oval Space (2nd March).
DJ Nobu, Jane Fitz, Evan Baggs, Dr Rubinstein and Fred P will take up their exclusive residencies across both venues this year.
Finally, the layout of Oval Space will be changing to accommodate refurbished and expanded toilets, an expanded cloakroom and a full commercial kitchen. Air conditioning is being installed and there will be further acoustic improvements, with additional d&b V Series equipment being installed to the sides and the rear of the venue.