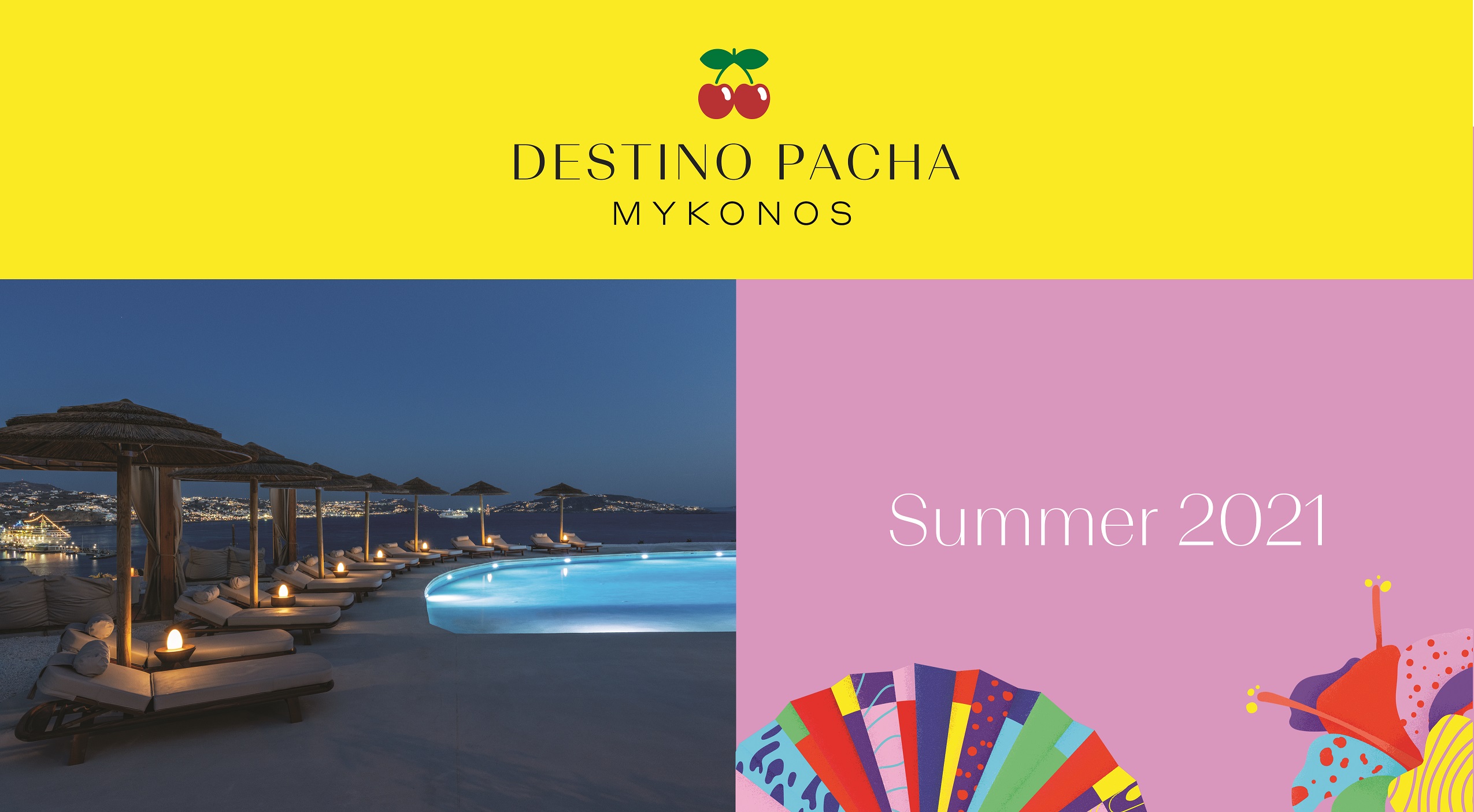 Pacha Group Kicks Off its International Expansion with Mykonos Openings
Destino Pacha Mykonos, a glamorous new resort from the iconic Pacha Group, will be opening on the Greek island of Mykonos on 1 June 2021. To celebrate the launch and international expansion, Pacha is also bringing its world-renowned immersive cabaret dining experience Lío to the island. The opening of Destino Pacha Mykonos and Lío Mykonos, the first Pacha openings outside of Spain, are an important step in the groups mission to bring its inimitable Ibizan experience to more people in more ways.
Overlooking the white sands and turquoise waters of the Aegean Sea, Destino Pacha Mykonos occupies one of the best spots on the island. Comprising 34 rooms, with six spacious sea-view suites, the hotel combines traditional Mykonian architecture with innovative touches by Pacha Group. The elegant tiled floors and white-washed walls are complemented by natural wood, stone and linen, and the use of glass opens up views across the water.
Designed for ultimate indulgence, the famous Pacha pool scene with its buzzy restaurant, lounge and bar is at the core of the Mykonos experience. Playing host to an intriguing array of artists and performers, guests can expect a mix of world-renowned DJs and local talent and, can soak-up the unique spirit of Ibiza, Greek island style.
The all-day Mediterranean restaurant serves up locally sourced fare, featuring plenty of freshly caught seafood. A dose of health will be provided by Destino Pacha's wellness offering, which includes soothing massages and rooftop yoga.
Launching alongside Destino this summer will be Lío Mykonos. After the success of Lío's pop ups in London and Sardinia, the one-of-a-kind immersive cabaret dining experience will land permanently in Mykonos town. Curated by Pacha's Creative Director Joan Gracia and dubbed one of Ibiza's 'wildest nights', revellers can expect a unique and surprising display of burlesque, circus performance and gastronomy to come together to stimulate the senses.
Nick McCabe, CEO of Pacha Group comments, "Destino Pacha Mykonos will be our first hotel outside of Spain and its opening is an important milestone in the evolution of Pacha. The low-key party vibe of this beautiful Greek island chimes perfectly with our birthplace and the opening of Destino, alongside Lío, is a fitting kick-off to our international expansion."
The opening follows the announcement of Casa Pacha Formentera, a new boutique luxury hotel on Ibiza's pretty little sister island of Formentera and will be joined by several more launches from the brand in 2022. The company's existing properties include Destino Pacha Resort, restaurant and cabaret experience Lío, The Pacha Hotel and the legendaryPacha Nightclub.
[website] Room prices start at 260 euros per night.
The Pacha Group is an international holding company that operates in the music, leisure, entertainment, hospitality, fragrance and fashion sectors, among others, with a large international presence through its brands: Pacha Ibiza (Night club) , Lío, Destino Pacha Resort and The Pacha Hotel. A business group characterized by exporting the Ibiza lifestyle to the whole world, a carefree, fun, sophisticated lifestyle committed to the environment and the people of the island.