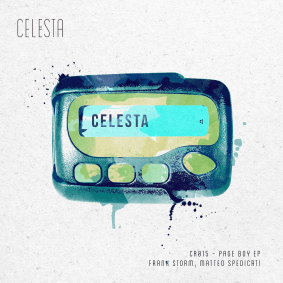 Frank Storm & Matteo Spedicati - Page Boy EP
Celesta Recordings welcomes Unusual Suspects resident Frank Storm and Italian talent Matteo Spedicati to the label this May to deliver their Page Boy EP.
Founded in 2013, AJ Christou's Celesta Recordings has quickly become a go-to imprint for many of House and Tech House's most prominent artists such as Jamie Jones, Santé and Hector Couto, whilst releasing material from the likes of wAFF, Francisco Allendes, Joey Daniel, Hermanez and Neverdogs. Following their recent release on Hot Creations, Christou now welcomes Unusual Suspects favourite Frank Storm and fast rising Italian DJ/producer Matteo Spedicati for their Celesta debuts, as the duo deliver their fresh three track EP entitled 'Page Boy' for the labels first release of 2018.
Title track 'Page Boy' opens up proceedings as Storm and Spedicati lay the focus on sharp, metallic drum licks and suspenseful builds, whilst a blooming, ever-evolving lead line takes hold to reveal a production geared for the peak time.
Next up, 'Ordinary Lines' welcomes a vibrant, rolling groove, echoed out vox samples and bumping sub tones, before 'Whoa Buck' punctuates the EP, introducing a series of infectious vocals, skipping hats and hypnotic, warping synths throughout.
Frank Storm & Matteo Spedicati 'Page Boy' EP is out on Celesta Records on 4th May 2018.
Tracklist
1. Page Boy
2. Ordinary Lines
3. Whoa Buck