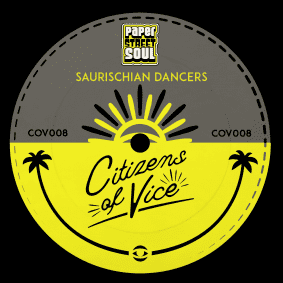 Paper Street Soul – Saurischian Dancers
The Citizen's of Vice collective welcomes brand new collaborative production and live act, Paper Street Soul for a fresh three tracker.
UK nu disco projects Cuz Electric (Rich Hall, Megan Jones) and Slync (Ian Stanford) make up this new outfit and bring disco, boogie, funk, soul, jazz, house and more to their grooves. With classy vocals, live instrumentation and years of expertise they are an act very much to watch.
Dreamt up in deepest darkest West Midlands, this EP came together over a couple of months. Collaborating over the ether, the trio have combined live guitars, bass, percussion and analogue hardware with a modern electronic edge.
Opener 'Fallin Down' is a supersized cut with huge disco licks and diva vocals all complimented with big keys. It's joyous and timeless and sure to get hands in the air. The equally excellent 'Always (On My Mind)' has cosmic pads and laser-like chords with plenty of echo and effects all making it a retro-future gem. Closing out the package is the smooth and seductive 'Moonpig' with its deep drums and cooing vocals, trilling Balearic riffs and soul infused grooves.
This is a brilliant breakout debut EP from this super-hot new disco group.
Tracklist:
1- Fallin Down
2- Always (On My Mind)
3- Moonpig