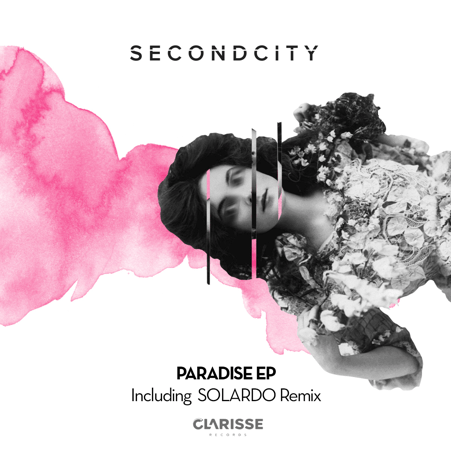 Secondcity - Paradise EP
Everyone from Coldplay to LL Cool J, Robert Hood to Lana del Rey has had their say as to what 'Paradise' sounds like: now it's the turn of SecondCity to define what life is like on Clarisse cloud nine. Rowan Harrington's two previous Clarisse communications had him remixing Mendo's' 'Magic' and restyling Dario D'Attis & Yvan Genkins' 'Afro Call' last year, while his soaraway smash 'I Wanna Feel' emphatically ensured the safety of Ibizan piano house. Now with a Balearic residency under his belt at Sankey's Tribal Sessions, festival dates overflowing from his dairy and heavyweight backing across the board, it's safe to say SecondCity isn't one to be settling for a silver medal position.
The chunky swing of 'Paradise', full of new jack dons and denizens of the loverman brand, is classically Clarisse in its mechanical management of the dancefloor. Trained to crisp clubbers' suntans and priding itself on ploughing through rough, nuggety terrain in opposition to its smooth vocal quips, SecondCity's kick drums are on a can't stop-won't stop mission to put some heavy starch into sharp suits. A two-pronged, one-track mind where flirting meets focussed beats.
Having the word 'sun' in their name should help tell you what Solardo are all about on the remix. Appearing on Chase & Status' More Than Alot and Riva Starr's Snatch! labels already this year, their idea of 'Paradise' is to bubble up an acid boogie giving more spotlight to the original's suave-talking sugar daddy. The Boiler Room-bigged up duo of Mark Richards and James Elliot sprinkle their Solardo solution with more than a dash of energetic fun, paying dues to the theory that everybody needs a 303 and coming to the crowd as a cool breeze rather than an acid sweat storm.
For more information on Clarisse, please visit:
http://www.clarisserecords.com/
http://www.facebook.com/clarisse.records
http://www.soundcloud.com/clarisse-records
http://classic.beatport.com/label/clarisse-records…
http://www.residentadvisor.net/record-label.aspx?i….
http://www.twitter.com/clarisserecords
https://www.youtube.com/user/ClarisseRecords