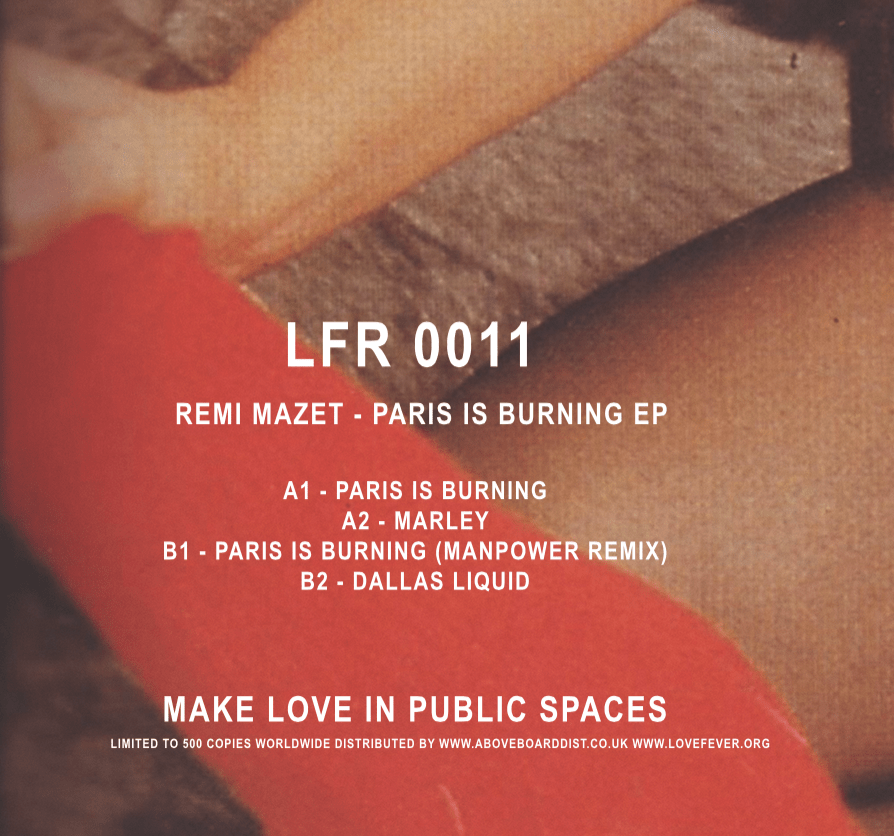 Remi Mazet - Paris Is Burning
This September sees the return of London's Love Fever imprint with an infectious 4-track EP entitled 'Paris Is Burning' from French producer Remi Mazet, featuring a remix from Man Power.
Since 2012 Love Fever has become an evolving platform for artists such as Bicep, Kim Ann Foxman, Citizenn and Max Graef, as well as a label renowned for adopting upbeat vibes spanning disco-funk and sultry house whilst purveying fresh talent. Love Fever's latest venture is from London-based artist Remi Mazet known for his appearances on La Vie En Rose, Hot Waves and Colors. Meanwhile, Man Power has been turning many heads in recent years with releases on John Talabot's Hivern Discs, Throne of Blood and an acclaimed album on Jennifer Cardini's Correspondant.
Kicking off the release, 'Paris Is Burning' is driven by a chugging low end and ominous vocals, before 'Marley' deploys a gloopy bassline reminiscent of classic funk rhythms and laid-back bell hits. A hypnotic Man Power remix of 'Paris Is Burning' then focuses on rolling percussion and cascading chimes, until the slick final cut 'Dallas Liquid' rounds off the package with a smooth rhythmic drive and jazzy keys.
Remi Mazet 'Paris Is Burning' EP drops on Love Fever Records 9th September 2016.
Tracklist:
1. Paris Is Burning
2. Marley
3. Paris Is Burning (Man Power Remix)
4. Dallas Liquid
www.twitter.com/lovefvr
https://soundcloud.com/love_fever
https://www.facebook.com/love.fever.records/?fref=ts
https://www.facebook.com/remimazetmusic/?fref=ts