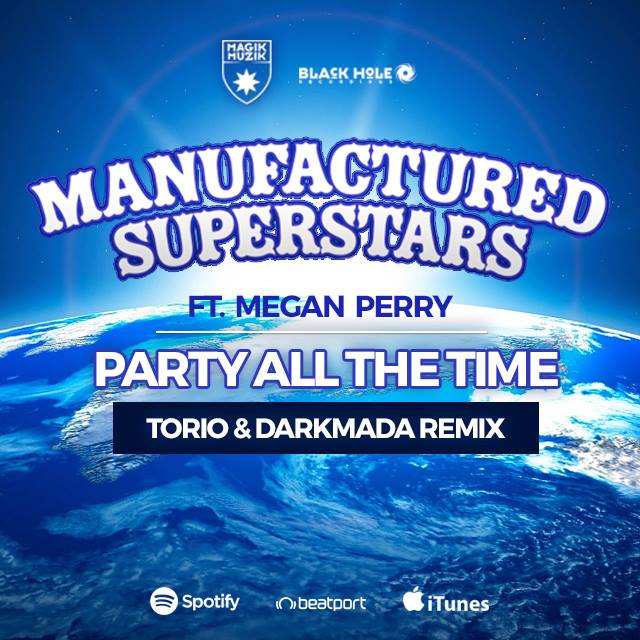 Manufactured Superstars ft. Megan Perry - Party All The Time (Torio & Darkmada Remix)
American DJ and producer Torio has been at the forefront of the Electronic music scene in his native country thanks to his vast array of peak time bangers and perfectly crafted DJ sets. Hailing from Chicago, the birthplace of House, Torio is the mastermind behind hit records such as: 'Believe', 'Miracle', 'This Is The Night', 'Can You Take Me', 'Ever After' and 'Time After Time', entering the Beatport Charts with nearly every new release and officially remixing Tiesto along the way – monumental achievements for any calibre of artist.
His fellow countrymen Darkmada have been making huge noises in the Dance music scene as well and have quickly become one of the industry's most exciting and promising new duos. After grabbing the attention of many of the world's leading DJs and labels, thanks to their impressive collection of Main Room bootlegs, Darkmada have released on renowned labels such as Vicious Recordings and Peak Time Music, a testament to their hard working ethos and studio talents.
Torio and Darkmada got into the studio together to producer their first collaboration together, which comes in the form of an official remix of Manufactured Superstars monster track 'Party All The Time', which features the stunning vocals of stellar singer and songwriter Megan Perry. Full of infectious melodies, driving bass-lines, heavy drums and Megan's emotional yet perfectly executed vocals, Torio and Darkmada's remix has everything you need for a peak time DJ set – sure to cause chaos on dance floors across the globe. 'Party All The Time (Torio & Darkmada Remix)' is available now on all major platforms so make sure you grab your copy now before it flies off the record store shelves.
Available on Spotify
https://open.spotify.com/track/60RcpZT2GvW2KCki6lB0Xs
Also Here
https://magikmuzik.choons.at/pattrmxs
Torio Online
http://djtorio.com
https://www.facebook.com/djtoriomusic
https://twitter.com/DJ_Torio
https://soundcloud.com/dj_torio
https://www.instagram.com/dj_torio
Darkmada Online
http://www.darkmada.com
https://www.facebook.com/Darkmada
https://twitter.com/darkmada
https://soundcloud.com/darkmada
https://www.instagram.com/darkmadaofficial
https://www.youtube.com/user/darkmadaofficial