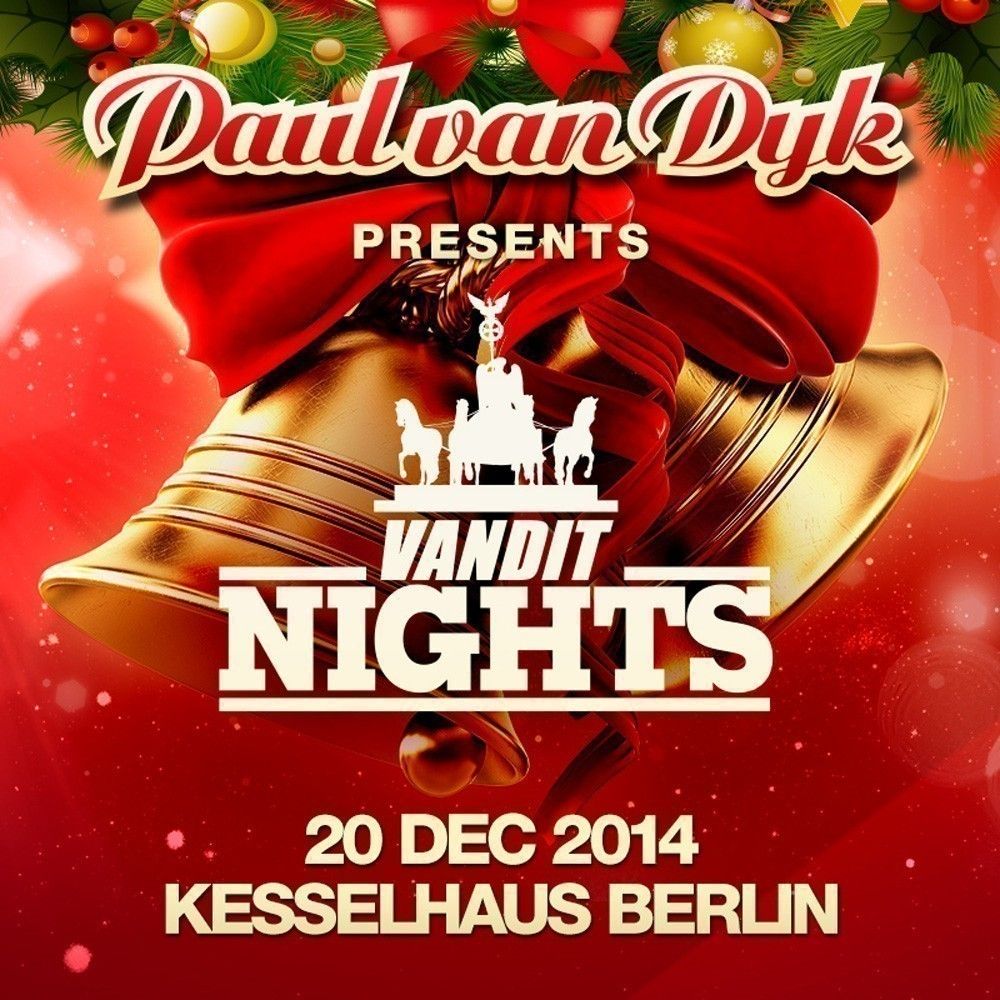 Paul van Dyk Pres. VANDIT Winter Night 2014
Christmas… It seems an age away, right? Well as every clued-up clubber knows, Old Father Time tends to run a whole lot faster this time of year! Before you can steal your first bit of Stollen, scribble a 'Dear Santa' or dive into a vat of glühwein, it'll be upon us, like that big, all-consuming festive tornado that it is!
Fortune favours the prepared around this time of year and with that uppermost in mind, we bring you news of Paul van Dyk's annual can't-be-missed, mistletoe-kissed Christmas knees-up, in the likely snowy surrounds of Berlin. Outside it'll be dark, foggy, atmospheric and backlit by colourful lights and once you get inside… well, pretty much the same, once the smoke machine kicks in!! The big difference will be you'll be in the warm embrace of your clubbing kith & kin, listening to the finest electronic music available, spun by a handpicked selection of the world's finest & most seasonally minded DJs!
For the 2014 edition, that'll mean The UK's Tim Mason, King of the Magic Island Roger Shah and last and by far from least, VANDIT's very own vanguard, Mr. Paul van Dyk.
Fix up those tix here: http://bit.ly/1BMkTPe
There's really few better places to find yourself in the final days before Christmas than in the German capital. There, tying the proverbial bow on your 2014 present pile, VANDIT's Winter Night will return to its regular haunt: the legendary Kesselhaus Kulturbrauerei.
Ready to rock on the night will be a troika of uber-talented spin-masters… Tim Mason will be bringing his uplifting brand of stomping house to das Haus. Topping off his track-rich 2014 (which has seen him put out a clutch of releases through Steve Angello's Size Records), the Brighton-based spinner will be there to brew his inimitable sound in the Kulturbrauerei.
Causing a no doubt temperate air-current to whistle through the Kessel, Roger Shah will be channelling plenty of his Magic Island mentality into the VANDIT Nights turntables. Christmas filtered through the Ibizan/Barbadian/Hawaiian prism? Well 'Mele Kalikimaka' to that brother!
Drawing a close to another incredible year, master of ceremony duties on the 20th naturally enough will fall to Paul van Dyk. With his 'Come With Me' (We Are One) collaboration with Ummet Ozcan delivering another festival smash, 'Only In A Dream' out Nov 7 (full details below) and the grand scape of 'The Politics Of Dancing 3' awaiting in the wings, anticipation for the night will be sky high!
So don't let your Xmas turn into an Xmess – plan now! Tickets available from today via this link: http://bit.ly/1BMkTPe and come December 20thh all roads will again stretch to Berlin and the Kesselhaus!
PAUL VAN DYK, JESSUS & ADHAM ASHRAF FEAT. TRICIA MCTEAGUE – 'ONLY IN A DREAM'
Two months after Paul van Dyk's weeklong run at Beatport's #1 with his Ummet Ozcan collaboration, 'Come With Me', the electronic music savant brings dancefloor citizens another clean-through-the-hoop slam-dunk! 'Only In A Dream' provides PvD fans old & new with another enticing hint as to what lies inside the forthcoming 'The Politics Of Dancing 3's 'box'.

Having caught PvD's ear in a remarkably short space of time, the co-production chair for 'Dream' is shared with bright-young-studio-things Jessus & Adham Ashraf. In keeping with their quickly propagating sounds, the Columbian/ Egyptian pairing channel trancier frequencies into the track.
Equipping 'Only In A Dream' with its embracive once-heard/never-forgotten vocal is English singer/song-writer Tricia McTeague. No stranger to music's upper tier, she's worked previously with esteemed producers like Nile Rodgers and Narada Michael Walden; has sung support for legends like Lionel Ritchie & Elton John and now grafts her Morissette/Vega-like expressionism, chapter & verse into Paul & Co's, 'Dream'.
van Dyk's own versions cover the homebase with the Original Mix ready to chuck the ear of radio, while its Club Mix compatriot zeroes straight to the heart of the dancefloor.
Remix-wise, VANDIT Records master sergeant Chris Bekker drops a booming near-instrumental vision, with lucent melodies, 303 sonics and canyon-like depth to its production. Owen Westlake – previously known for his rewires of tracks by Tiësto and others – drops 'Only In A Dream' further into the deep house frame. Hookily looping and shadowing its chorus, in & out of the production fabric, he stirs Dream's waters even deeper.