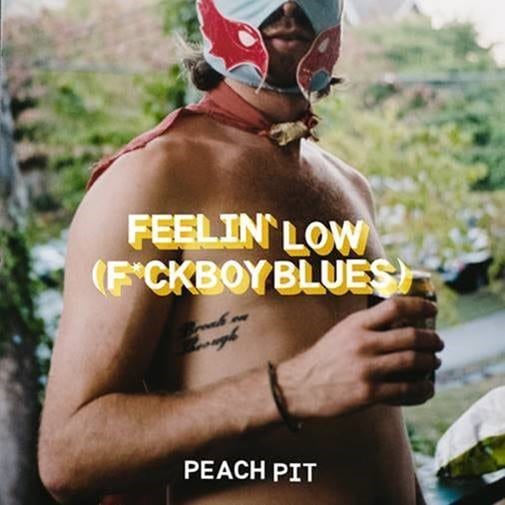 Peach Pit Release New Song "Feelin' Low (F*ckboy Blues)"
Peach Pit have released their new single "Feelin' Low (F*ckboy Blues)." Produced by John Congleton [St. Vincent, Best Coast] and written by Neil Smith, Chris Vanderkooy, Peter Wilton, and Mikey Pascuzzi, "Feelin' Low" is the first song from Peach Pit since their infectious debut album Being So Normal in 2017. The band has also shared the official video for the track, which was directed by their long-time collaborator Lester Lyons-Hookham – watch HERE.
Lead-singer Neil Smith says: "We actually wrote 'Feelin' Low' a number of years ago, and when listening back, it reminds me of last summer and how flakey I was being. The first line of the song is 'I want something more or less than what I have,' which is me trying to say how disconnected I can get. I'm constantly flip-flopping between wanting more connection with the people around me and pulling away to deprive myself of it, it's a weird cycle I get into. Last year our friends threw a wrestling-themed surprise party for our bud Daniel's birthday – I can't remember exactly why, but I was feeling really down about something so I decided not to go. The video for 'Feelin' Low' was inspired by that party and really conveys the experience of being surrounded by lots of people yet still feeling seemingly alone."
Known for their vibrant live show, Peach Pit will join Two Door Cinema Club on the west coast run of the Irish band's headline tour. The shows kick off tonight in Seattle, WA and include performances at Oakland's Fox Theater and Los Angeles' Hollywood Palladium before concluding in Houston, TX on November 14. Peach Pit will also perform at this year's Tropicalia Festival – see full routing below.
"Feelin' Low (F*ckboy Blues)" is lifted from Peach Pit's forthcoming sophomore album due next year via Columbia Records. Stay tuned!
Peach Pit On Tour:
11/01 Seattle, WA Showbox SoDo *
11/02 Portland, OR McMenamins Crystal Ballroom *
11/04 Oakland, CA Fox Theater *
11/06 Los Angeles, CA Hollywood Palladium *
11/08 San Diego, CA The Observatory North Park *
11/09 Phoenix, AZ The Van Buren *
11/10 Los Angeles, CA Tropicalia Festival
11/12 Dallas, TX South Side Ballroom *
11/13 Austin, TX ACL Live at the Moody Theater *
11/14 Houston, TX White Oak Music Hall *
11/16 Urbana, IL UIUC College Show
* – with Two Door Cinema Club
Peach Pit's songs feel like a close friend telling you a story. The Vancouver quartet—Neil Smith [vocals, guitar], Chris Vanderkooy [guitar], Peter Wilton [bass], and Mikey Pascuzzi [drums]—refine this signature storytelling over a soundtrack of breezy guitars and some ballsy distortion on their forthcoming sophomore album, expected next year via Columbia Records.
As legend has it, these high school buddies from North of the Border achieved a major breakthrough in 2016 with their self-titled viral anthem, "Peach Pit." It eventually surpassed 25 million Spotify streams and heralded the Sweet FA EP in 2017, which also includes their hit single "Seventeen." Meanwhile, the band's 2017 full-length debut Being So Normal yielded a string of off-kilter anthems a la "Tommy's Party" [13 million streams], "Alrighty Aphrodite" [11.5 million streams], and "Drop the Guillotine" [8.2 million streams]. Along the way, they have built a cult following in large part due to their stellar live show. Peach Pit has performed everywhere from Bonnaroo, Shaky Knees Music Festival, and CBC Music Festival to Bumbershoot and Capital Hill Block Party in addition to attracting acclaim from Vice, Substream, Exclaim, and more.
2019 saw them hunker down and record alongside GRAMMY® Award-winning producer John Congleton [St. Vincent, Best Coast] over the summer. The first single "Feelin' Low (F*ckboy Blues)" illuminates a shift. Like any good tale, it ends on a twist.
"Five years ago, I was on a backpacking trip in Thailand with my best friend Tomas," front-man Neil Smith recalls. "We made a bet over a card game tournament while we were there. The loser had to get 'Skunk' tattooed on his butt. On the last day in the Tokyo airport, Tomas beat me, so I had to get the butt tattoo with our other friend as the tattoo 'artist.' All of a sudden, everyone bursts out laughing. I was like, 'Oh my God, what have I done?' Long story short, I now have 'Fuckboy' tattooed on my butt. So, that's what 'Feelin' Low' is about."
In the end, you'll remember these songs (and stories) for a long time to come.