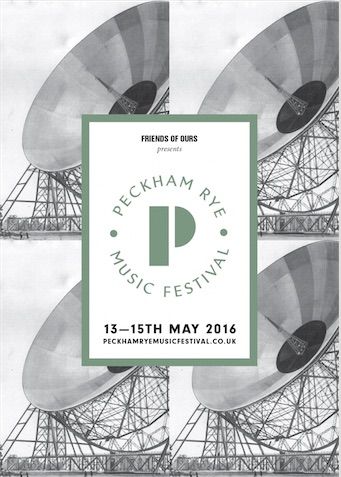 Peckham Rye Music Festival
Peckham Rye Music Festival announces it's inaugural multi venue London festival launching in May 2016.
Taking place from the 13th – 15th May this highly anticipated new weekend festival will celebrate the local music scene and bring together the artists, labels and record shops that create a fresh and exciting vibe in this ever evolving, creative and buzzy corner of London as well as bringing in headline acts from across the globe to play at well loved independently run local venues.

Peckham Rye Music Festival will also be working with renowned music platform CDR http://cdr-projects.com to organise music production workshops and seminars for local young people with involvement from the artists performing at the festival also. These workshops will take place at the CLF Art Café // Bussey Building during the day on Friday 13th May.

The spirit is of a truly independent festival, run by a core-team of dedicated music lovers and friends who embrace a broad spectrum of expertise and bring solid music industry knowledge to the table.
Friends Of Ours comment: "We're so excited about bringing some of our favourite artists to Peckham to play alongside friends that make the local scene what it is. From the workshops we've got planned on the Friday, all-day dancing on the Saturday and the slightly more chilled plans for Sunday it's going to be a really fun weekend."

Peckham Rye Music Festival venues announced so far:

Bussey Building // CLF Art Café // Rye Wax
Canavan's Peckham Pool Club
The NINES
The Four Quarters
Peckham Springs
The Gowlett

Early bird tickets are on sale from today at just £18.
Artists, workshops and additional venues will be announced from next week.

For all the latest Peckham Rye Music Festival news: http://www.peckhamryemusicfestival.co.uk

PECKHAM RYE MUSIC FESTIVAL LISTINGS INFORMATION:

WHAT: Peckham Rye Music Festival 2016
WHEN: Friday 13th – Sunday 15th May
TIMES: 12.00 – 23.00
WHERE: Various Peckham venues
PRICE: Early bird tickets £18 – later release tickets up to £35
TICKETS: http://www.residentadvisor.net/event.aspx?795727
WEBSITE: http://www.peckhamryemusicfestival.co.uk

FIND & FOLLOW:
https://www.facebook.com/PeckhamRyeFest
@PeckhamFest
Insta: PeckhamRyeMusicFestival
http://cdr-projects.com