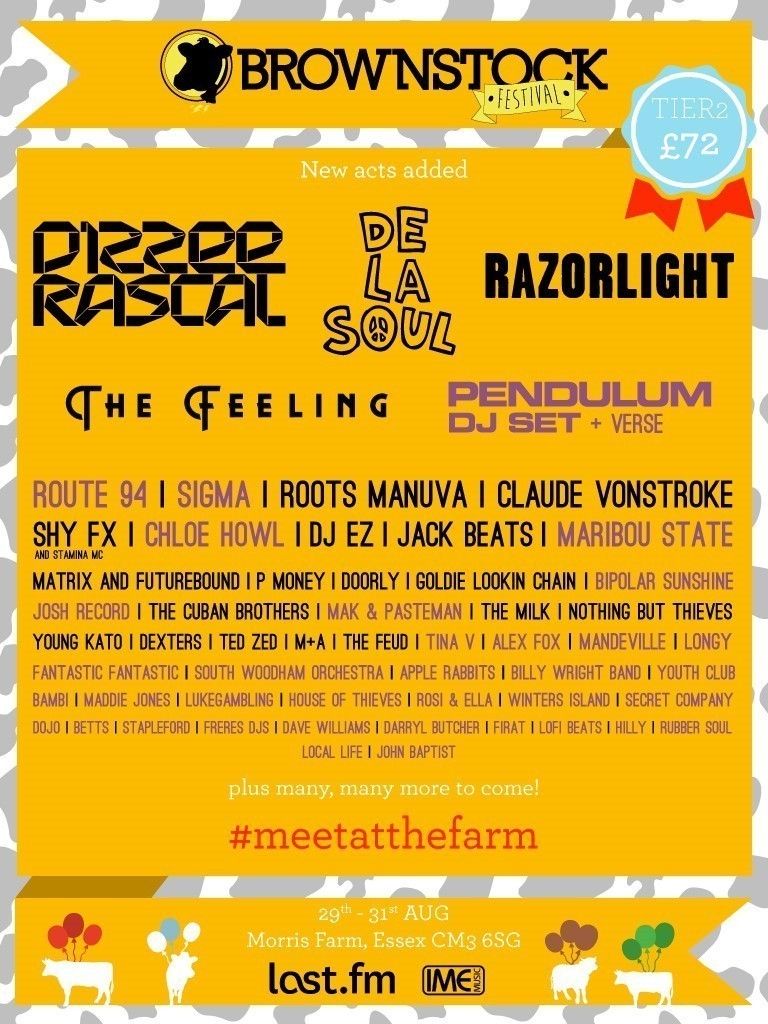 Pendulum, Route 94 & more added to Brownstock Festival line up
Brownstock Festival has announced that Pendulum (DJ + Verse), Route 94 and Sigma will be appearing in the dance tent at Brownstock 2014 and that Chloe Howl, Bipolar Sunshine, Josh Record and Tina V will play the main stage in support of headliners Dizzee Rascal, De La Soul and Razorlight. The festival has also added a host of upcoming and local unsigned support acts to the 2014 festival bill.
Brownstock Music Festival is a small independent music festival run by the Brown family on their farm near Chelmsford, Essex. This year the festival will be held on the 29th August to the 31st August 2014 and is celebrating its 10th anniversary with a birthday party theme.
Pendulum (DJ)
Heavyweight drum and bass group Pendulum known for their distinctive sound which mixes hard rock and electronic music will be back at Brownstock. They played in the Brownstock Good Shed area in 2011 and absolutely brought the house down. Expect no less from their 2014 live performance.
Route 94
Deep house music producer Route 94 will also be heading to the Brownstock Good Shed Dance Tent for this year's Festival. Hi debut single "My love" has had huge commercial success charting at number 1 in three countries during 2014.
Sigma
Drum and Bass duo consisting of Cameron Edwards and Joe Lenzie will also be appearing in the Good Shed. They have been building up a catalogue of hit singles with "Nobody to Love" topping the UK singles chart earlier this year.

Chloe Howl
BBC sound of 2014 nominated singer songwriter Chloe Howl will play the main stage at Brownstock 2014. She has already been shortlisted as 2014 Brit Awards critic's choice. Described by the Guardian as "running on turbo" it is certainly the case that her career has really started to fly. Certainly one not to miss at this year's event.

Josh Record
Singer songwriter Josh Record will play the main stage. In March 2014, Josh Record released "For Your Love" on Virgin Records. Zane Lowe of BBC Radio 1 made it his "Hottest Record in The World" in February 2014. The Times stated that "Record has a sensational debut album in him". This debut album Pillars is released in July just ahead of this year's festival. Undoubtedly he is one to watch.

First acts announced for Treehouse Stage
Alongside these main stage and dance tent releases Brownstock has announced the following names for The Treehouse Stage (hosted by Freres)
Alex Fox, Mandeville, South Woodham Orchestra, Fantastic Fantastic, Apple Rabbits, Longy, Billy Wright Band, Youth Club, Bambi, Maddie Jones, Luke Gambling, House of Thieves, Rosi & Ella, Winters Island, Secret Company and Dojo, Betts, Stapleford, Freres DJs, Dave Williams, Darryl Butcher, FIRAT, LOFI Beats, Hilly, Rubber Soul, Local Life, John Baptist
Adam Brown festival Director commented on the new line up additions. "We are really excited about the variety in this year's festival line up. Additionally to have two acts with 2014 number one hit singles is amazing and we are just so excited about seeing new acts whose careers are on an exponential curve at the moment, such as Chloe Howl and Josh Record"

About Brownstock Festival
Brownstock Festival is a Music Festival run by the Brown family on their farm in Essex. 2014 will see the festival's 10 anniversary year since it began as a small event for 150 people. The festival will have a Birthday Party theme to mark the occasion as it welcomes thousands of visitors through the gates in late August. Party games and birthday a birthday fancy dress theme is planned. The festival is still completely independent giving it a uniquely rustic and handmade feel.
Beyond the main stage and dance tent the Essex festival is also scattered with themed areas hand built or handpicked by the Brown family. There are a total of 6 music stages at the event and a variety of festival areas. New for this year is The Pirate Bar. Visitors should also look out for the Treehouse Stage, hand built by Farmer's Daughter Anna Brown, up in one of the old oak trees in the festival field.
Expect comedy shows, circus performances and a Saloon Bar with country music and entertainments. One of the highlights of the weekend is the chance to try home raised Aberdeen Angus Beef from the farm which is served alongside an extensive variety of festival food, handpicked by the Brown family.
Dates: 29th August to 31st August 2014
More information at www.brownstock.co.uk
See www.facebook.com/brownstock for all line up updates, festival news
Twitter @Brownstockfest