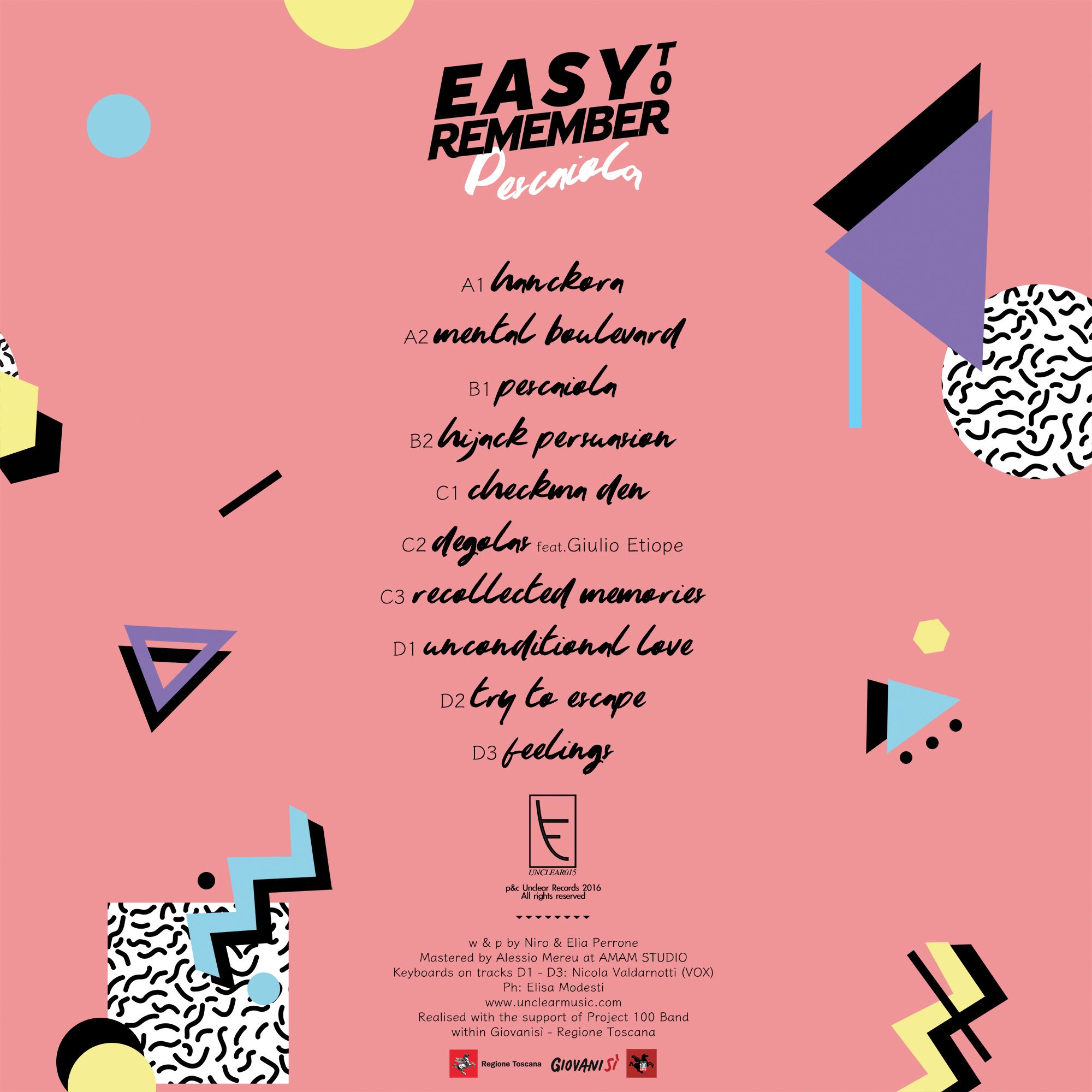 Easy To Remember - Pescaiola LP
Italy's Unclear Records is back mid July with a long player from label-heads Easy To Remember, entitled 'Pescaiola' and featuring 10 compositions from the duo.
Following a string of releases featuring material from the likes of Baby Ford, Roman Fluegel, Gigi Masin, Gerry Read and Juju + Jordash the Unclear imprint has carved out quite the reputation for purveyors of raw, underground electronic music. Here we see Italian brother duo Elia and Niro Perrone, founders of the label and also notably known for their events at Klang Club in Italy, release their debut long player in the shape of 'Pescaiola' the name of the suburbs the pair grew up and paying homage to their musical roots growing up together.
Across the duration of the 'Pescaiola' LP Easy To Remember serve up a amalgamation of raw and intriguing electronic, house and techno cuts. Opener 'Hanckora' lays down a lo-fi infused Hip Hop style to kick things off, while 'Checkma Dem' lies in similar territory with the addition of some vocal stylings as well.
For the most part though Easy To Remember lay the focus on emotive house music, title track 'Pescaiola' plays on multi-layered melodies and retro synths, 'Hijack Persuasion' focuses on gritty rhythm and soft atmospherics and 'Try To Escape' brings to light ethereal synth leads and snaking bass grooves. The duo instil some funk influence into the LP as well via 'Feelings' and some experimental touches as well with their Giulio Etiope collaboration 'Degolas' amongst others. All in all Easy To Remember deliver a refreshing take on modern electronica across the project and further prove Unclear is a force to be reckoned with in the underground.
Easy To Remember's 'Pescaiola' LP is out on Unclear Records 13th July 2016.
Tracklist
1. Hanckora
2. Mental Boulevard
3. Pescaiola
4. Hijack Persuasion
5. Checkma Den
6. Degolas feat. Giulio Etiope
7. Recollected Memories
8. Unconditional Love
9. Try To Escape
10. Feelings