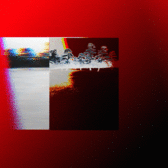 Aacht - Touches / Distant EP
Coming hot off Altego's Atlas / Undying Mind EP, which augured AVANT/GARDE's versatility, the label presents its latest signee: German techno and electronica producer Aacht, ready to break onto the scene with this new two-track EP – Touches / Distant, out on the 31st May.
Aacht's EP, strongly influenced by Japanese culture, will be released alongside a limited edition print magazine made of photographs taken by the artist on a trip to Tokyo. Altering the pictures, Aacht offers a haunting vision of Japan's amorphous relationship between nature and urbanism.
About AVANT/GARDE:
Artist collective & label AVANT/GARDE aims to bring on board artists from a wide spectrum of musical backgrounds, with a focus on visual arts and the way they highlight musical experiences. Its cross-disciplinary projects connect dance music and contemporary arts, drawing new relationships between sound and image, artist and audience. Since its inception in 2014, the label's output has remained eclectic and fluid, embracing flux and change.