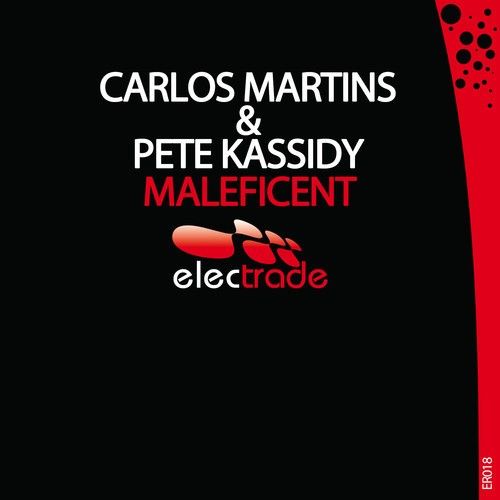 Pete Kassidy & Carlos Martins – Maleficent
Industrious, young French duo Pete Kassidy & Carlos Martins are back on form with an Electro House potential-chart topper 'Maleficent'. Set for release on the 4th of February, 2015, this single is eyeing to instil these two up-and-coming DJs and producers at the pinnacle of the dance music world. Nice based electronic music wizard Carlos Martins has joined forces with rising star Pete Kassidy, who has already shared the stage with top international DJs such as: Calvin Harris, Joachim Garraud, Niki Belucci, John Dahlback, Chuckie, Laurent Wolf, Antoine Clamaran, Gregori Klosman, Bart B More, Javi Mula, Klaas, and Brodinski amongst many others.
'Maleficent' kicks off with a bang, introducing an infectious drum groove serving as a foundation for a ripping bass-line and a catchy, rhythmic synth loop. Immediately displaying a lush stack of effects, the duo shows their immense sound building skills – keeping every phrase sounding new and inventive throughout the track's length. Pete Kassidy & Carlos Martins enhance the single with a unique uplifting, phasing lead synth melody. The main melody descends into a mellow section, which quickly ascends via a siren-like pitch shifting effect. The French Riviera duo unleashes the hardest of drops characterised with a series of harsh, Dubstep-like sounds and a colossal drum beat. Dropping the energy levels once more, the production goes into the main melody again, this time driven by a half-time drum groove adding impact with a combination of fills. A dark phrase acts as an anticipator for a huge ascension that introduces a flanged version of the lead melody, which leads the track to a sub-bass driven finale. 'Maleficent' has a mystical aura to it, combining dark elements to euphoric, uplifting components, truly displaying Pete Kassidy's & Carlos Martins' versatility and ability to use different sounds, feels and texture to create a distinctive project.
'Maleficent' has now reserved its place on Pool e Music's vast catalogue. Home to another 25 record labels, Antoine Clamaran's and Laurent Pautrat's brainchild is a Progressive House and Electro music specialist. Since its beginnings in 2002, Pool e Music has been a hit generating machine, releasing singles by elite artists such as: Peter Luts, Roger Sanchez, Gadjo, The Drill, Eddie Thoneick & Kurd Maverick, Sunfreakz, Tristan Garner, Natural Born Grooves, Ian Carey, Paris Avenue, Jean-Claude Ades and Armin Van Buuren to name a few. Through their latest track 'Maleficent', Pete Kassidy & Carlos Martins have established themselves as key figures and future ambassadors of this top-notch label.