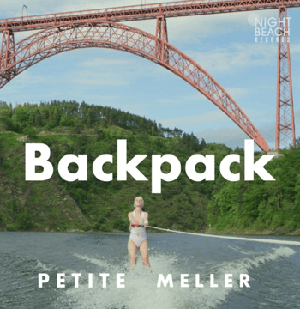 PETITE MELLER – Backpack / Backpack (Marlin Remix)
Petite Meller announces her forthcoming single Backpack, which gets a release April 14th via London-based label Night Beach Records with a remix from Marlin.
With a bright saxophone jazz intro and hooky melody, Backback is an instantly catchy and memorable pop song. The track is brought to life with a colourfully shot video shot in the French Riviera. This video was directed by A.T.Mann and Napoleon Habeica, styled by Nao Koyabu, designed by Vin & Omi, Bella Gonshorovitz and Michael Polkanov, and shot by Clemens Krueger. Meller says the video represents a memoir of summer French holidays, an homage to the French New Wave films such as Godard's Pierrot Le Fou, and George Anri Cluzot's masterpiece L'Enfer."Pushing the unconscious libidinal dream into reality, that's what fascinates me."
Petite Meller was born and raised in Paris. A purveyor of obscure, visceral pop that celebrates the surreal and the absurd, Meller says:"I only make music for the reason that I didn't have anyone to dance with," Since dropping her much talked-about video for Backpack- a charming slice of French-Riviera inspired pop- Meller has moved to New york and is now penning new material. Backpack comes off the back of Petite Meller's recent Icebear track- her adaption of Grauzone's Eisbar- featuring Joe Fleisch.
https://soundcloud.com/petite-meller
https://twitter.com/petitemeller
http://www.nightbeachrecords.com/