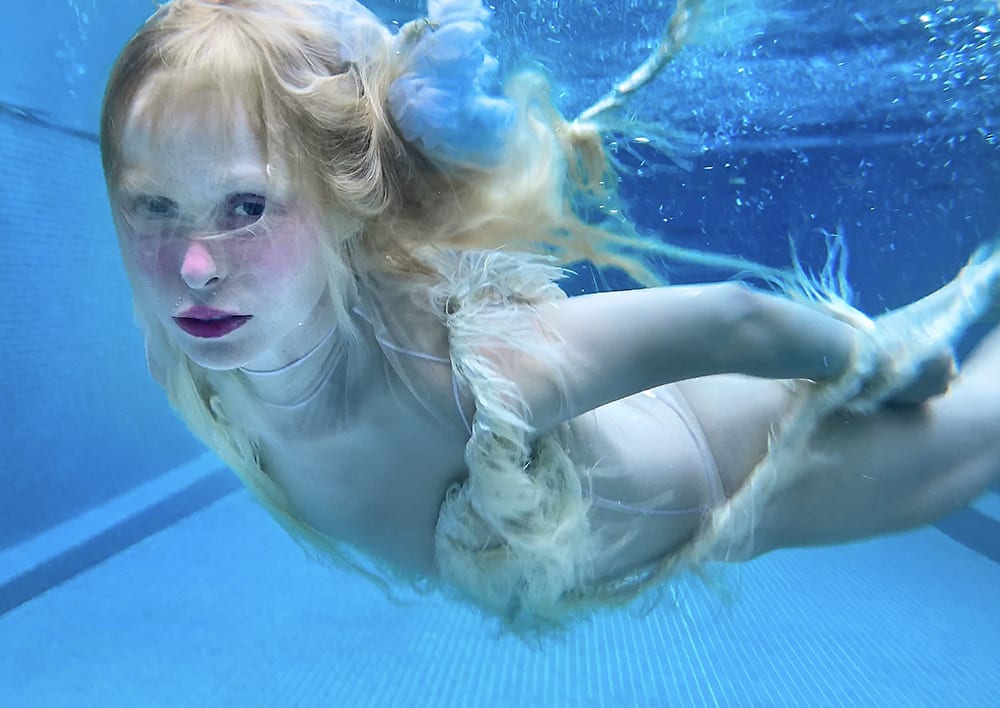 Petite Meller releases brand new single "Dying Out Of Love"
Petite Meller has released her brand new single Dying Out Of Love today with an accompanying video. The music was written by Petite Meller's producer HYENA aka Andreas Söderlund who composed the piece as a present for his wife, for their wedding day.
Known for her catchy, toe-tapping alt pop melodies, Petite Meller this time strikes out with a classical ballad recorded with a 40-piece orchestra in Stockholm under her new genre she names Ork Pop. With Vivaldi, Mahler and Bach inspiring her new music, fans are treated to her most epic piece to date, taking part in her creation, filming themselves. The lyrics to Dying Out of Love sear with emotion, as Petite laments separation and heartbreak over delicate strings- a timely anthem for our current times.
The concept was inspired by Petite's friend who curates images of resting women in art on her Instagram Present Passive. Petite then wrote to her fans, asking them to film themselves undertaking performance art in public places, in similarly passive postures inspired by her signature video aesthetic.
Contributions soon flowed in, and the resulting video features filmmaker Sierra McKenzie, a car engineer from Rimini, Solle- a rapper from LA, Anibal- a model from Mexico, the Madonna and Lada Gaga collaborative Swedish stylist Bea Åkerlund and more. Fans filmed themselves lying in public spaces such as Moscow Central, New York's Grand Central station and Paris' Arc de Triomphe du Carrousel, letting the world continue around them. The video shows the act of lying in public places as a Solidarity with the passive mental state and loneliness of our times.
Petite went through a breakup during quarantine, and the video depicts her in her floating underwear symbolizing a new rebirth. The resulting visual is otherworldly, contemplative, lonely, comforting but inherently invoking the new world we now live in; an essence of longing- our 'resting era'. Amidst our uncertain confinement the musical orchestration elevates and become a source of vital energy.
Petite Meller is a singer-songwriter, philosopher and composer. Her signature style of wearing blusher and a hand bandage represents the purpose of her music – to heal and overcome. Over the years she has crafted her unique brand of "Nuvo Jazzy Pop" music, which is often compared to electronic Paul Simon's "Graceland" and a Bowish Nikka Costa. Petite lyrical subjects reference philosophy, as she gained this inspiration after mastering a degree in philosophy at The Sorbonne.
Petite Meller's new project is a combination of dramatised melancholy inspired by Mahler and Vivaldi to create her "Nuvo Ork Pop". Her colourful videos such as Baby Love, Backpack, Milk Bath, and Barbaric she describes as "little homages to Hitchcock, Tarkovsky and Antonioni". Petite released her debut album Lil Empire in 2017 by Island Records UK, and lead single Baby Love was dedicated by Petite to "the Girls of Africa"- the group of children kidnapped in Nigeria by Boko Haram. The video was shot in Africa and has gained over 12 million views on YouTube. Petite was Nominated at the MTV EMA's 2017 as Best New Artist for her song The Flute. Petite has become a muse for top photographers such as Douglas Kirkland, Ellen Von Unwerth Testino and Jean-Baptiste Mondino. She is working on her anticipated second album, an epic space opera, where she has collaborated with The Moscow Royal Symphony, HYENA and American song-writer Diane Warren to name a few.