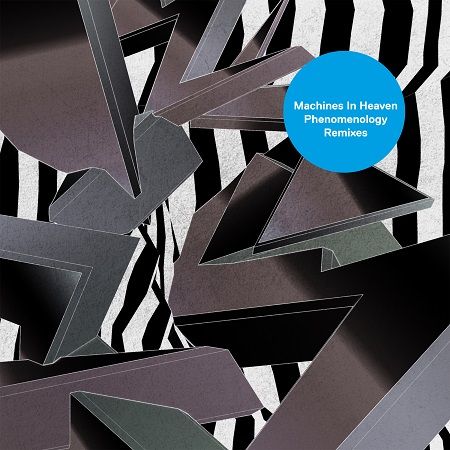 Machines in Heaven - Phenomenology (Remixes)
Following the release of their game-changing 'Phenomenology' LP, Glasgow's avant-funkers Machines In Heaven return with two extra special remixes, out now via Hot Gem Tunes.

First up, NYC-born, Berlin-based DJ/producer Curses puts a characteristically cinematic spin on the cosmic disco banger '20xx'. By using gritty synth layers and pulsing percussion, the Safer At Night label owner's 80s Italo and haunted snare flavours reinvigorate the track to give it a new life all of its own. Here, the Rinse France stalwart and former Verboten NYC resident again showcases his deft hand when it comes to plying original material into something versatile and otherworldly.

Bookending that is something a little closer to home: as one fourth of Scottish art-rock legends Franz Ferdinand, there isn't much that Paul Thomson hasn't seen or done. From critically acclaimed collaborations with 80s cultists to winning the Mercury Prize, the stickman's honours list is as long as it is varied; meaning that when he does tread new ground, you can bet it's for something worth getting excited about. After over 10 years of DJ sets and live radio mixes, Pabs, as he is affectionately known, makes his much welcomed remix debut by taking Machines in Heaven's 'Ruix Con' and injecting it chock full with electrolytes; transmogrifying the original into a peppy, DFA-indebted disco banger.

Since winning 'Best Electro Act' at the Scottish Alternative Music Awards (SAMAs) in 2014, Machines In Heaven have been developing both their recorded sound and live show. Touring extensively across the UK with standout performances at T In The Park, Electric Fields, Wickerman and Kelburn Garden Party, they have drawn comparisons to the iconic sounds of DFA Records, Prince, Aphex Twin and Glasgow's decibel-decimating finest Mogwai. 'Phenomenology' aptly represents the continued refinement and diversification of their unique sound; something which makes them harder to categorise with each fresh release. Yet one thing seems certain – the future belongs to the Machines.