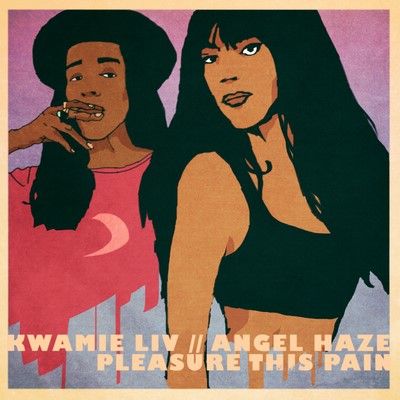 Angel Haze With Kwamie Liv - PLEASURE THIS PAIN
Following the internet frenzy around the recent release of "Babe Ruthless", artist Angel Haze, returns online today with the official visual release to her featured single "Pleasure This Pain" alongside Danish artist Kwamie Liv. The animated visual directed by Baby Duka and Kwamie Liv, highlights both musicians on a road trip that leads into an emotional shoot-out and embracing the concept of feeling pleasure in the mix of pain. Kwamie Liv quotes the "Pleasure This Pain" visual as feeling like the right moment. "We wanted to create a limitless playground that Angel and I could live in for that song, and animation is perfect for that," says Liv.

"Pleasure This Pain" acts as the follow up single from Angel Haze's forthcoming 2015 project :Back To The Woods", a 13-track mix set to release on September 14th via Noizy Cricket!! You can watch the "Pleasure This Pain" video here:


"It was an unexpected collaboration. We share the same management and somehow found ourselves on a four-hour Skype call that then inspired Kwamie to start the song. It was beautiful and organic" says Angel Haze on the Kwamie Liv collaboration.

In celebration of her September 14th project release date for "Back To The Woods", Angel Haze will be hosting a live album listening party and performance in London, at Birthdays on September 4th, 2015.

About Angel Haze:
"Impossible" and "Babe Ruthless" come after the release of Angel Haze's 2013 project Dirty Gold— the rapper's debut album that propelled her into two MTV VMA Award Nominations for "Best Female Hip Hop Artist." Angel Haze has become most notable for her edgy and vicious lyrical ability – yet her diverse appeal which amounted her mass success through the release of "Battle Cry", a 2014 hit single which featured Grammy-Nominated Singer/Songwriter Sia and accumulated over 4.5 Million YouTube views.