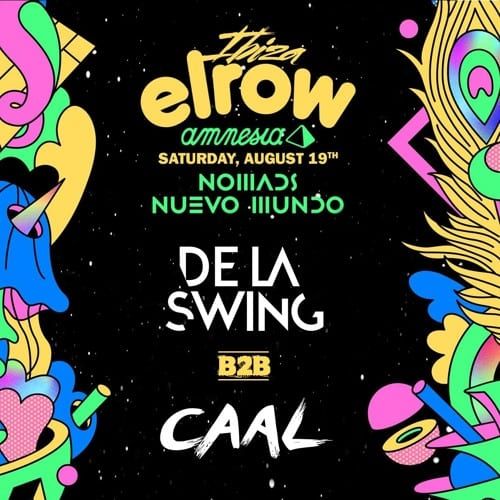 Podcast 199: De La Swing b2b CAAL @ Elrow at Amnesia Ibiza
Recorded live mix on Elrow at Amnesia Ibiza. Saturday, August 19th 2017.
---
CAAL
Resident Dj at Amnesia Ibiza and music producer from Barcelona (Spain).
Caal Smile is always in a good mood and that's what he transmits to the dance floor when his behind the decks. His vital energy, happy and outgoing character outside the Dj booth are qualities that have an impact in his sets and show why he's a Amnesia Ibiza resident: not only is he capable of taking 5000 clubbers where he wants just with his music but is able to transform their mood so they have a unique experience. All this with current beats, house with lots of groove and sounds directly for the dance floor, combined with an excellent technique, full of samples, loops, acapellas and other tricks that make his sets unique.
With his roots from Buenos Aires and Barcelona, he forged his career as a professional House music Dj at Pacha Barcelona. Since 2007 he's a resident at one of the best clubs in the world, Amnesia Ibiza. Summer after summer he's at parties such as the Balearic "People From Ibiza", the legendary "La Troya" or the rampant "Foam Party" on Sundays. Caal has also played in dozens of countries worldwide with great success: England, France, Germany, Albania, Ukraine, Turkey, Morocco… All these achievements have led him to be a nominee at the Deejaymags Awards for several years running for best resident of a club in Ibiza and for best Dj of the year.
The artistic side of Caal does not end here, his talent in the studio has attracted the interest from some of the major labels in the world and his work is highly recognized by some of the worlds Top Djs. His track "Mamboo", produced with studio partner Lutiani, was selected by Roger Sanchez for his compilation album "Release Yourself 10th Anniversary", released by the label Stealth. Music is what feelings sound like…
---
De La Swing
Elrow (Bcn-Ibz) / Monegros Desert Festival resident dj
Barcelona
Spain
Domingo Bellot, born in Madrid in the 80's started his musical career at the age of 16. He is influenced by techno as well as Drum&bass. His technical skills, ability to connect with the public and diverse musical style has made him one of the most versatile dj´s in Spain. Over the past 5 years De La Swing has shared the turntables with a class dj´s such as: Marco Carola, Loco Dice , Richy Hawtin, Dubfire, Laurent Garnier, Joseph Capriati, Adam Beyer , Paul Ritch , Pac Osuna , Vitalic, etc .. and has played at festivals like Monegros Desert Festival (Spain), Eastern Electric Festival (London), Kingsday Madness (Holland) & Origin Festival (South Africa) being quickly a well-known and familiar dj name in Spain, France,Italy and Holland.
Since 2010 is one of the pillars resident dj´s of ElRow, the after hour that became in a glimpse, one of the best club of Europe and probably of the world. ElRow, based in the ever growing electronic hub of Barcelona, is the brainchild of the organisers of Europe's only desert festival, Monegros, and owners of the acclaimed techno club Florida 135. Attracting stellar line ups and captivating the hearts of the world's greatest DJs. Every Sunday morning more than 5000 clubbers religiously attend ElRow where these 7 residents keep everyone dancing until the last second that the club is open
In the study De la Swing is a solid and fertile mind having produced and remixed for labels like Elrow music, music Florida, Drakos Recordings and Amazing Lab
Its more underground side we can enjoy with your aka "Smoke Signal", participating as a resident in Ker Club (Barcelona) where every Friday and Saturday the most exquisite clubbers attending the most recognized club Barcelona, ​​sharing his talent with artists such as Martinez Brothers, Art Department, Maceo Plex, Maya Jane Coles, Seth Troxler, Scuba, Los Suruba etc …
De la Swing in a continuous evolution of the sound, where the depth, darkness and fun are always present in his sets and throughout which, he shows his creativity and innovation on stage, driving his passion and vibrancy to create a different story every time, while establishing a unique connection with the crowd.
www.elrow.com